Des médecins (et personnel médical) répliquent.
Doctors and Nurses Fight Back
Les articles sont en ordre chronologique croissant (plus vieux d'abord) / Articles are in chronological order (oldest first, recent articles at the bottom) -> articles plus récents
Les vidéos affichant cet image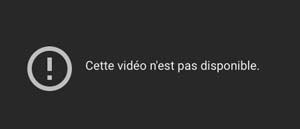 ont été censurés par YouTube depuis leur mise en ligne....
---
Ressources
Collectif « Laissons les médecins prescrire »
« Soignants non vaccinés » pour les soignants et non-soignants. (groupe Télégramme)
Declaration of Canadian Physicians For Science and Truth
---


L'épidémie, les mutants, les visons et le traitement
Bulletin d'information scientifique de l'IHU - Nous avons le droit d'être intelligents !
Pr Didier Raoult, Directeur de l'IHU Méditerranée Infection.
(YouTube - 18 minutes - 15/12/2020)

Dr. Sherri Tenpenny Explains How The Depopulation Covid Vaccines Will Start Working In 3-6 Months. (ForbiddenKnowledge - 19/2/2021)
10,000 Canadian Doctors Tell The World Pandemic is a Fraud - Bullshit - U.S. / Canada Border is Open. (BitChute - 1 minute - 23/5/2021)
Why I spoke out against lockdowns: On the necessity of challenging the Covid consensus. (Martin Kulldorff, professor of medicine at Harvard Medical School - Spiked - 4/6/2021)


Masque & Covid / La perspective d'un scientifique et chercheur.
(ThéoVox - 51 minutes - 1/7/2021)


La vaccination à l'épreuve des faits : Une mortalité inédite. (Laurent MUCCHIELLI, sociologue; Hélène BANOUN, pharmacien biologiste; Emmanuelle DARLES, maîtresse de conférences en informatique; Éric MENAT, médecin généraliste; Vincent PAVAN, maître de conférences en mathématique; Amine ULMILE, pharmacien des hôpitaux - ReinfoCovid.fr - 16/8/2021)
Notices of Liability for Vaccine Harm and Death Sent to the EMA and all Members of the European Parliament – Sep 13, 2021 Letter. (Doctor4CovidEthics - 13/9/2021)
Selon le Dr Amine Umlil, malgré les obstacles, « le droit est du côté des soignants ». (FranceSoir - Vigilance Pandémie - 14/9/2021)


Pr Sucharit Bhakdi : Vacciner vos enfants est un crime.
(Ça tombe des nues ? - Odyssee - 2 minutes - 20/9/2021)


Federal Govt Doctor Says "Government Doesn't Want to Show the Vaccine is Full of Sh*t" Project Veritas released an undercover video that captures O'Malley's HHS colleagues discussing their concerns about the new vaccine, claiming the government is intentionally hiding reports of adverse side effects from the public. (Caldron Pool - 21/9/2021)
"The Political Takeover of Medicine and the Patient/Doctor Relationship Must End": The Physicians Declaration vs. COVID Cultism "We cannot sit idly while patients are forced to go home and sicken in place. These policies may actually constitute crimes against humanity." (Rod Lampard - Caldron Pool - 22/9/2021) -> mRNA inventor, Dr. Robert Malone takes the stand.
Florida Surgeon General Bashes Virus Hysteria: 'Done with Fear,' Vaccines 'Treated Almost Like a Religion'. (Paul Bois - Breitbart - 21/9/2021)


Project Veritas : ''' Vaccins dénoncés ''' (Partie 1)
(Phillipe Le Bel - Odyssee - 13 minutes - 21/9/2021)


Pulmonary Nurse of 31 Years Testifies How he Unknowingly Killed Patients by Following COVID Protocols. (Brian Shilhavy - Health Impact News - 22/9/2021)


Un microbiologiste répond à un médecin qui s'attaque à Anne Casabonne
(Heureux Les creux - YouTube - 28 minutes - 22/9/2021)


Les conséquences de la vaccination sur la fertilité. (Dr. Alexandra Henrion-Caude - JeminformeTV - 24/9/2021)


MAL TRAITÉS : le documentaire sur la Covid-19 à voir d'urgence. (lien alternatif)
(Alexandre Chavouet - Viméo - 87 minutes - 25/9/2021)
-> Documentaire incontournable : les meilleurs médecins et chercheurs du monde parlent... en faveur de leurs patients et confirmé par des dizaines de milliers de médecins dont les Dr Raoult, Sacré, Toussaint, Zelenko, etc., etc... Plus de 58 000 médecins et chercheurs médicaux ont signé la Grande Déclaration Barrington rédigé par trois éminents chercheurs des trois plus grandes universités américaines :

Plus de 5000 médecins et scientifiques accusent les gouvernements d'incompétence (criminelle) contre le COVID-19. (Edouard Husson - Le Courrier des Stratèges - 28/9/2021)
Justice Centre defends free speech, Dr Charles Hoffe, against College of Physicians. (Canadian Justice Centre for Constitutional Freedoms - 30/9/2021)
The daily horror of being a GP: The NHS is forcing us to betray our parents. (Jane Smith - UnHerd - 1/10/2021)
Des infirmières canadiennes lanceuses d'alerte disent que de nombreuses personnes meurent des vaccins contre le Covid, les hôpitaux sont remplis de personnes entièrement vaccinées. (Profession Gendarme - 2/10/2021)


Belgian physicist on the COVID-19 response from scientists and the healthcare community Mr. Jean-Jacques Crèvecoeur, a Belgian physicist and recipient of several awards, was one of the few scientists to have debated the H1N1 vaccination in the mainstream media in Quebec.
(Alexandra Lavoie - Rebel News - 28 minutes - 3/10/2021)
-> interview en FRANÇAIS

2 Chirurgiens de l'Armée Américaine immobilisent les Pilotes "Vaxxinés" et appellent à l'Arrêt des "Vaxxins" Covid pour les Militaires ! (Le Portail du Grand Changement - 4/10/2021)
US Air Force doctor warns pilots of 'sudden cardiac death' after jabs The affidavit of Lieutenant Colonel Theresa Long is also part of a federal lawsuit against the US Army's forced vaccination regime. (Free West Media - 4/10/2021)
"Le président Biden a motivé le peuple à se poser des questions" Dr Richard Fleming. (FranceSoir - 5/10/2021)
Unethical Conduct of the College of Physicians and Surgeons Council. (Canadian Justice Centre for Constitutional Freedoms - 5/10/2021) -> Rath and Company and the Justice Centre, in conjunction, are suing the Government of Alberta with regards to Orders made by the Chief Medical Officer of Health and select unconstitutional sections of the Public Health Act.
Why This Doctor Risked The Nobel Prize to Speak Out Against Universal Covid-19 Vaccination. (Benjamin Harnwell - ChurchMilitant - 6/10/2021)
Soignante non-vaccinée, elle obtient gain de cause auprès du tribunal administratif de Cergy. (FranceSoir - 6/10/2021)
On garde l'urgence sanitaire alors qu'on est en SOUS MORTALITÉ!: Entrevue avec le docteur à la retraite Robert Béliveau. (CHOI 98,1 RadioX - 6/10/2021)
Doctor Says Physicians Are Being "Hunted" For Speaking Out by Press & Medical Boards Dr Robert Malone branded a "terrorist" by Italian media. (Paul Joseph Watson - Summit News - 7/10/2021)
UCLA doctor 'willing to lose everything' escorted from medical facility for refusing COVID vaccine: 'This is what happens when you stand up for freedom'. (Paul Sacca - The Blaze - 8/10/2021)
Médecin suspendu : "j'ai un problème avec la façon dont l'autorité agit" Dr Alexandre Leroy. (FranceSoir - 8/10/2021)
Les individus non vaccinés contre le Covid-19 ne pourront plus quitter le Canada par voie aérienne. (RT France - 9/10/2021)
Dr Peter McCullough : la crise sanitaire actuelle est une crise de la compassion. (Vigilance-Pandemie.info - 2 minutes - 10/10/2021)
Dr Scott Jensen : "la liberté en matière de santé", principe suprême. (FranceSoir - 12/10/2021)
911 System in Jeopardy as First Responders Reject Jab. (Tyler Durden - Zero Hedge - 12/10/2021)
Does Biden Want the Sick to Get Sicker? Hospital CEO Crushes Biden's Vaccine Mandate. (Dillon Burroughs - The Western Journal - 13/10/2021)
Il est temps d'agir pour la paix sociale: Que fait le Collège des médecins? (Michel Robillard - Samizdat - 15/10/2021)
Even doctors in red states are being punished for saving people from COVID. (Daniel Horowitz - The Blaze - 19/10/2021)
Lettre ouverte à Mmes Mrs les Sénateurs et Députés, adressée par N et G Delépine médecins cancérologues. (Nouveau Monde - 23/10/2021)
Témoignage du clinicien Jean Stevens contre l'obligation vaccinale. (Vigilance Pandémie - 28/10/2021)
'I Had To Stand Up And Try To Do Something:' Professor of Medicine on Suing School Over Vaccine Mandate. (Jan Jekielek and Zachary Stieber/The Epoch Times - Tyler Durden/Zero Hedge - 31/10/2021)
Un autre médecin du Québec dénonce l'injection forcée des enfants avec la technologie à ARNm. (Gilles B. - YaPasDePRESSE - 31/10/2021)
Dr. Ben Carson blasts COVID vaccinations for children: 'This is really a giant experiment'. (Sarah Taylor - The Blaze - 1/11/2021)
Viral video shows nurse being escorted out of hospital after her religious exemption is denied: 'Count the costs'. (Chris Enloe - The Blaze - 1/11/2021)


Analyses sanguines post-injection : l'inquiétude grandit...
Jérémie Mercier reçoit le médecin généraliste luxembourgeois Benoît Ochs
(CrowdBunker - 74 minutes - 1/11/2021)

Témoignage d'un médecin belge, Dr Thierry Hertogue, victime d'effets secondaires du vaccin « Mon apparence a veilli de 5 à 10 ans en 5 mois… » (Vigilance Pandémie - 1/11/2021)
Doctor Banned From Using Social Media Over "Masks Do Nothing" Claim Takes Case to High Court: "This is about freedom of expression." (Paul Joseph Watson - Summit News - 5/11/2021)
Theresa Long, médecin de l'armée américaine, alerte sur la vaccination contre le Covid-19. (FranceSoir - 8/11/2021)
"Il y a quelque chose qui ne colle pas" : le pavé dans la mare du Pr Peter Doshi. (FranceSoir - 9/11/2021)
Vaccination des enfants : des chercheurs polonais dénoncent des "essais cliniques" grandeur nature. (FranceSoir - 10/11/2021)
INTERVIEW: Emergency room doctor who fled from Canada to the United States: I wanted to learn more about what made this doctor decide to flee Canada — and to get his thoughts on the vaccine mandates and severe health-care staff shortages that we're presently suffering with across our country. (Dakota Christensen - Rebel News - 13/11/2021)
"Il faut donner le signal du retour à la raison et à la vraie science" : le message du Pr Perronne au peuple suisse. (Anthropo-logiques - 25/11/2021)
New York ER Closes as Employees Refuse to Comply With Vaccine Mandate: Workers were given an ultimatum to either get vaccinated or be banned from coming to work. (Steve Watson - Summit News - 26/11/2021)
Doctor Banned For Questioning Efficacy of Masks Wins High Court Case: Censorship was "clearly wrong and cannot stand." (Paul Joseph Watson - Summit News - 6/12/2021)
La médecine libre contre l'autoritarisme de la politique sanitaire. (Pierre-Antoine Pontoizeau - FranceSoir - 6/12/2021)
« La fin de la pandémie est une décision politique et non épidémiologique », dixit le Dr Jay Bhattacharya: Stop au terrorisme politico-sanitaire covidiste ! (Le libre-penseur - 7/12/2021)
Les soignants suspendus réintégrés à l'hôpital Nord Franche-Comté. (FranceSoir - 9/12/2021)
Doctothon 24 heures en France (10/12/2021)
Four Alberta doctors sue AHS over Vaccine mandate. (Canadian Justice Centre for Constitutional Freedoms - 10/12/2021)
Hospitals: You know, maybe firing unvaccinated staff isn't such a great idea after all. (Chris Field - The Blaze - 13/12/2021)
'Very Sad': Ben Carson Criticizes Federal Vaccine Surveillance Expansion Bill. (Joy Pullmann - The Federalist - 15/12/2021)
Suspendues : le clip du collectif "Dose de Liberté". (FranceSoir - 21/12/2021) -> Composé d'orthophonistes suspendues pour avoir refusé le vaccin contre le Covid 19, le collectif « Dose de Liberté » se réunit autour de leur clip "Suspendues".
Shock Video: Dr. Zelenko Warns If He Dies It's An "Assassination Attempt on The Truth". (Adan Salazar - InfoWars - 22/12/2021)
Lettre ouverte à l'Ordre des infirmières et infirmiers du Québec - Objet : Manquements à la mission de protection du public? (Infirmières debout - 24/12/2021)
Coup de théâtre en France : le Syndicat de la Médecine Générale apporte son soutien aux non-vaccinés. (Cheikh Dieng - Le courrier du soir - 25/12/2021)
Christian Perronne, témoignant devant la commission européenne du Luxembourg. (8 minutes - 1/1/2022) -> Perronne est médecin, professeur et un infectiologue français qui a été consultant au gov français et a siégé sur un comité de l'OMS qui gère les maladies infectieuses en Europe et au Moyen Orient
Analysis Overview: COVID-19 Genetic Vaccine Safety in Children. (Robert W Malone MD - undated 1/1/2022?)


Témoignage d'une personne travaillant dans un hôpital du canton de Vaud.
(Sabrina - YouTube - 6 minutes - 3/1/2022)


"Everyone Who Died With Covid Should Be Considered Murdered": Nurse Promoting Early Treatment Exposes Scamdemic in Epic School Board Rant. (Infowars - 6/1/2022)
"I Do Not Want to Have a Vaccination": NHS Doctor Tells UK Health Secretary on Camera. (Lily Zhou/The Epoch Times - Tyler Durden/Zero Hedge - 9/1/2022)
Une épidémie de non-vaccinés? (Christian Leray M.A., Nicolas Derome PhD, Jean-Yves Dionne Pharm.D., Marc Ferron M.Sc., Danielle Fisch M.D., Stéphane Guay M.Sc., Franck Hugbéké D.M.D., René Lavigueur M.D., Bernard Massie PhD, Euridice Prado DDS PhD, Alain Roux M.D., Nathalie Ste-Marie M.Sc., Snezana Stanojlovic M.D. - ReInfoCovidQC - 10/1/2022)
Mass Formation: Deployed on You After Over 200 Years of Study: Junior academics cited by "Forbes", AP, Reuters and "The Independent" have not done their homework. (Robert W Malone MD - 10/1/2022)
Prominent Doctor, Boston College Parent Leads Petition Against University Booster Mandate. (Tim Meads - DailyWire - 12/1/2022)
Dr Steve James: I'd sacrifice my job over vaccine mandates: The NHS consultant who challenged Sajid Javid explains all to Freddie Sayers. (UnHerd - 12/1/2022)
Dr. Mehmet Oz challenges Dr. Anthony Fauci to a debate, calls him 'a petty tyrant' and 'the J. Edgar Hoover of public health'. (Alex Nitzberg - The Blaze - 13/1/2022)


There's Something Much Bigger Going On Here | Dr. Robert Malone 2022
(INSPIRED - YouTube - 5 minutes - 14/1/2022)
Dr. Robert Malone, co-inventor of the mRNA technology explains how 10's of thousands of physicians & scientists are being canceled simply for questioning the official narrative.

We need to talk about the vaccines: Public debate on side-effects is being censored. (Vinay Prasad - UnHerd - 19/1/2022) - > Prasad is Associate Professor of Epidemiology and Biostatistics at the University of California, San Francisco. He is a practising hematologist and oncologist.
"Do Not Comply" - Top Doctors Speak At 'Defeat The Mandates' Rally In DC. (Tyler Durden - Zero Hedge - 23/1/2022)
Dr. Malone's Message to Parents: If Your Child is Harmed By COVID Vax 'You Will Carry the Burden for the Rest of Your Life'. (Debra Heine - AmGreatness - 23/1/2022)
Des lanceurs d'alerte partagent des données médicales du ministère de la Défense qui font exploser le débat sur la sécurité des vaccins. (Daniel Horowitz - Actuintel - 26/1/2022)
Why Weren't These Vaccines Put Through the Proper Safety Trials For Gene Technology, Asks a Former Pharmaceutical Research Scientist. (Dr. John D. Flack - Daily Sceptic - 7/2/2022)
"They Will Not Silence Me": Doctor Who Discovered Omicron Was Pressured Not to Reveal It's Mild. (Tyler Durden - Zero Hedge - 9/2/2022)
"On ne peut plus accepter ces mensonges d'État" Christian Perronne. (FranceSoir - 10/2/2022)

Effets secondaires : la face cachée des vaccins – Documentaire (projection & débat avec le Dr. Christian Perronne)
(Raphaël Berland - Magazine Nexus - CrowdBunker - 1:41hres - 12/2/2022)
Censuré par YouTube...
Western Governments Tried to Gag Doctor Who Identified Omicron as "Mild:" Dr Coetzee alleges that she was told by European governments "not to publicly state that Omicron was a mild illness." (Rod Lampard - Caldron Pool - 12/2/2022)
'We've known how to cure COVID since about March of 2020': Dr. Robert Malone "This is a clear pivot consequent to their horrible polling numbers," Malone said, referring to the recent scramble by Democratic governors to lift COVID-19 mandates. (Natalia Mittelstadt - Just the News - 15/2/2022)
Doctors Group Demands Investigation Into Sudden Increase In Young Male Deaths In UK. (Owen Evans/The Epoch Times - Tyler Durden/Zero Hedge - 17/2/2022)
Former Harvard Prof. Martin Kulldorff: 'Science and Public Health Are Broken. (Charlotte Cuthbertson/The Epoch Times - Tyler Durden/Zero Hedge - 17/2/2022)
MUST WATCH: Dr Peter McCullough on The Caldron Pool Show Dr McCullough, a leading cardiologist and epidemiologist and the most published physician in his field, cites numerous studies and papers in addressing the question of whether the COVID vaccines are "safe and effective." (Evelyn Rae - Caldron Pool - 21/2/2022)
Dr. Byram Bridle on COVID vaccines, public health mandates at Freedom Convoy in Ottawa "At best [the vaccines] are not working at all. At worst, they're actually causing harm and actually promoting the very infection they're designed to stop." (Alexandra Lavoie - Rebel News - 25 minutes - 28/2/2022)


Rencontre entre Louis Fouché et Robert Béliveau
(Réinfo Covid Québec - YouTube - 62 minutes - 1/3/2022)

Démission. (Dr Jean-Luc LEBRUN - ReinfoCovid.fr - 6/3/2022)
Senior Epidemiologist Apologizes to Daughter's Generation For "Morally Wrong" Lockdown Measures. (Paul Joseph Watson - InfoWars - 8/3/2022)
Top Canadian doctors tell university not to boot students for refusing vaccine, testing: 'Therefore, there is now no material difference in likelihood that a UBC student or staff member who is vaccinated or unvaccinated may be infected and potentially infectious to others,' the doctors wrote. (Jack Bingham - LifeSite - 8/3/2022)
L'infirmière, qui avait refusé de se faire vacciner, réintégrée dans son EHPAD dans l'Orne. (Nolwenn Le Jeune - France Bleu - 9/3/2022)
Dr. Naomi Wolf Details Unsettling Pfizer Documents, Enlisted 161 Attorneys to Address 'Crimes of Extraordinary Scale' [VIDEO] "We're starting to see what was really done to the American people and to people around the world." (Gregory Hoyt - Red Voice Media - 12/3/2022)


Dr Zelenko : ''C'est l'heure du choix''
(JanClode87 - Odyssée - 4 minutes, English, avec sous-titres français - 15/3/2022)

NHS in Crisis: COVID 19 Vaccines A Duty of Care and why Doctors are leaving the NHS. (UKColumn - 15/2/2022)
The AHPRA Inquisition Against Australian Health Professionals: "Without question, health care in Australia is now under the dark cloud of totalitarianism." (Caldron Pool - 16/3/2022)
Des scientifiques du monde entier réunis mercredi et jeudi à l'IHU de Didier Raoult pour l'International covid summit. (FranceSoir - 42 minutes - 31/3/2022)
Censored: Doctors and Researchers Testify to Massive Fraud of The COVID-19 Response. (Banned.Video/InfoWars - 31/3/2022)
A Doctor's Open Letter to Fauci and the Medical Establishment. (Houman David Hemmati - DailyWire - 5/4/2022)
Numerous Health Problems More Likely Due To COVID-19 Vaccines Than Coincidence: VAERS Data Analysis. (Petr Svab/The Epoch Times - Tyler Durden/Zero Hedge - 5/4/2022)
Effets secondaires des vaccins: les scientifiques allemands jettent plusieurs pavés dans la mare. (FranceSoir - 9/4/2022)
Robert Malone Says He Will Sue New York Times Unless It Corrects 'Defamatory' Article. (Zachary Stieber/The Epoch Times - Tyler Durden/Zero Hedge - 10/4/2022)
The lockdown on dissent: Jay Bhattacharya talks to Brendan O'Neill about how the scientific establishment suppressed the Covid debate. (Brendan O'Neill - Spiked - Audio - 53 minutes - 5/5/2022)
Declaration IV - Restore Scientific Integrity A Joint Statement, representing 17,000 Physicians and Medical Scientists to end the National Emergency, Restore Scientific Integrity, and Address Crimes Against Humanity. (The Global Covid Summit - 11/5/2022)
Australian nurse breaks silence on Covid-19 vaccines and being censored The nurse described her personal experiences on the frontlines of the Covid-19 pandemic and detailed the ridicule she faced for speaking out against the prevailing medical narrative. (Yasmin Sawyer - Rebel News - 17 minutes - 12/5/2022)
L'un des pionniers de l'ARN messager fait une affirmation percutante. (Profession Gendarme - 2 minutes - 18/5/2022) -> le docteur Robert Malone, expert en vaccins qui détient plusieurs brevets sur la technologie thérapeutique d'ARNm