Le passeport vaccin - la menace de perte de liberté
A vaccine rammed down our throats - The threat of lost freedom
Les élites postmodernes, trop hypocrites pour parler ouvertement de vaccin obligatoire, ne hésitent plus d'exploiter la PEUR de perdre ses droits et sa liberté comme principal moyen de persuasion...

We can't let the godlike surveillance we're under be used to "calculate" our citizenship scores, or to "predict" our criminal activity; to tell us what kind of education we can have, or what kind of job we can have, or whether we can have an education or a job at all; to discriminate against us based on our financial, legal, and medical histories, not to mention our ethnicity or race, which are constructs that data often assumes or imposes. And as for our most intimate data, our genetic information: if we allow it to be used to identify us, then it will be used to victimize us, even to modify us—to remake the very essence of our humanity in the image of the technology that seeks its control. Of course, all of the above has already happened.
(Edward Snowden (2019) Permanent Record - p. 333)

Qu'en sera-t-il si la confiance du peuple dans les médecins et le système de santé servait d'arme contre le peuple??

"Ne fais jamais rien contre ta conscience, même si l'Etat te le demande."
(Albert Einstein: Source)

N'est-ce pas sujet de réflexion sérieuse que l'on soit prêt à imposer ce vaccin de manière aussi coercitive plutôt que patiemment convaincre le peuple de ses bénéfices médicaux véritables?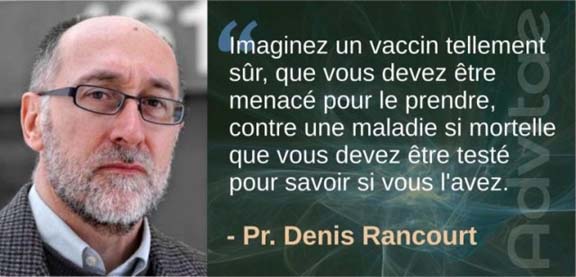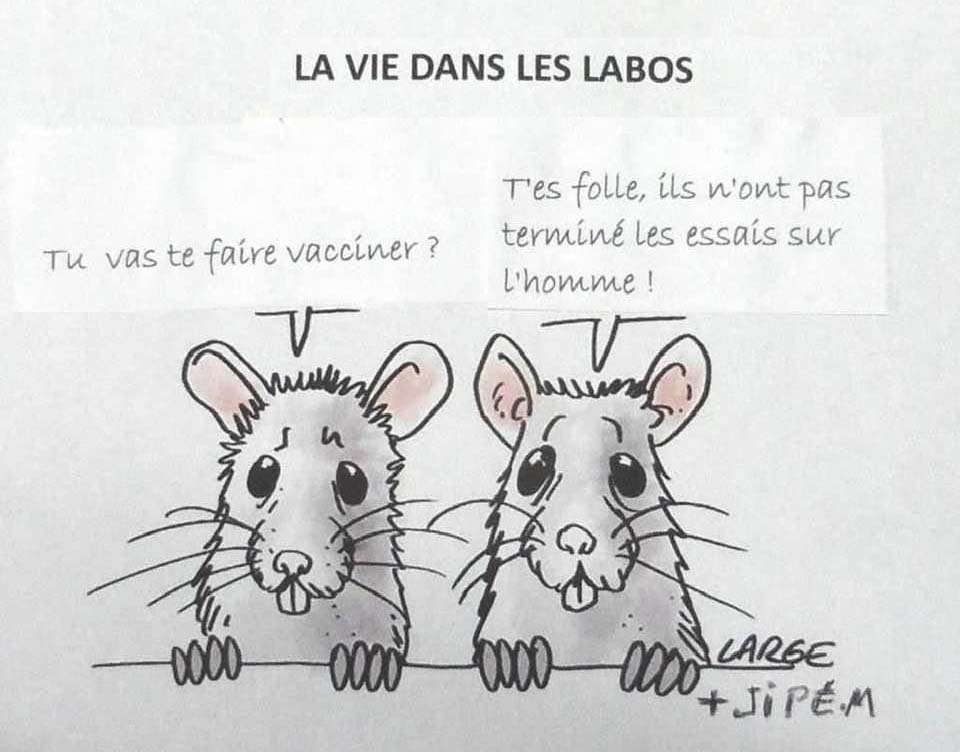 Les articles sont en ordre chronologique croissant (plus vieux d'abord)
---
La menace de pertes de nos libertés
Le Folketing a adopté une loi urgente de grande portée contre la couronne: Un certain nombre des propositions initiales du gouvernement ont été ajustées. (Thomas Klose Jense - Nyheder - 12/3/2020) -> GoogleTranslate
2022: A Vaccination Passport. The EU Keeps Quiet Over Suspicious Documents. (Daniele Pozzati - Strategic Culture Foundation - 28/6/2020)
CoV19 passeport vaccinal, dictature sanitaire, Commission Européenne et OMS… des documents bien suspicieux dont (presque) personne ne parle… Horizon 2022, un passeport de vaccination… l'UE rase les murs au sujet de documents bien suspicieux. (Daniele Pozzati - Resistance71 - 1/7/2020)
Trump to mobilize military to deliver COVID vaccine to millions 'very, very quickly': Trump said that a military general is overseeing the logistics of delivering the vaccine once it is developed. (Martin Bürger - LifeSite - 31/7/2020)
China Proposes 'Global Mechanism' to Track Humans for COVID-19. (Andrea Morris - FaithWire - 24/11/2020)
'Immunity Cards' to Be Issued to All Americans; Enable CDC to Track COVID-19 Vaxx Status in Database. (Tyler Durden - Zero Hedge - 3/12/2020)
Dr. Guillemant, CNRS : Le Principal But de la Vaccination n'est pas d'ordre sanitaire. (Fide Post - 4/12/2020)
Bill Gates Admits COVID Vaccine Changes DNA, Now Doctors Rebel! (John O'Sullivan - Principia Scientific International - 5/12/2020)
« La principale finalité de la vaccination n'est pas sanitaire ». (Philippe Guillemant - Le LIbre Penseur - 14/12/2020)
Spain to register people who refuse the coronavirus vaccine and share the data with other countries: But the vaccine is not mandatory, they say. (Phil Shiver - The Blaze - 29/12/2020)
Fauci Floats Possibility That COVID-19 Vaccine Will Be Mandatory For School And Travel. (Elizabeth Louise - Daily Caller - 1/1/2021)
Passeport sanitaire ? Non merci ! (Collectif Reinfocovid - 1/2/2021) -> France
J'ai 75 ans, je suis médecin, pas cobaye, je ne me ferai pas vacciner. (Gérard Delépine - Riposte laïque - 6/2/2021)
Annonce du "passeport sanitaire" lors du point de presse du 25 février. (Christian Dubé, ministre de la santé Québec - FaceBook - 25/2/2021)
'Everyone Agreed' on Vaccine Passports, Says Merkel at EU Coronavirus Summit. (Kurt Zindulka - Breitbart - 26/2/2021)
Mandatory Vaccinations Arrive in UK While Britain's children face the mandatory swab. (Katie Hopkins - FrontPage Mag - 26/2/2021)
'Dystopian Nightmare': Microsoft Teams Up With Schools to Create Covid 'Daily Pass' For Kids. (Amanda Prestigiacomo - DailyWire - 1/3/2021)
« Moi, le passeport vaccinal, je ne comprends pas », William Dab, ancien DG de la Santé. (Aguelid - Le libre penseur - 2/3/2021)
Vaccine Passports Will Lead to Algorithmic Discrimination, Warns Privacy Firm CEO. (Kurt Zindulka - Breitbart - 9/3/2021)
Being forced to take COVID vaccine to keep your job would be 'illegal': Canadian lawyer 'Any medical treatment including vaccination, without the informed consent of the citizen is unconstitutional.' (Pete Baklinski - LifeSite - 12/3/2021)
Réflexion métaphysique sur les vaccins. (Jacques Duverger - Bible & Science Diffusion - 14/3/2021)
« Derrière ce pass sanitaire, il existe une volonté de surveillance et de soumission » « L'enfer de la santé est pavé de bonnes intentions ». (Me Gilbert Collard - Boulevard Voltaire - 24/3/2021)
La vaccination de masse pourrait grandement abaisser et contourner nos anticorps pour causer une bombe biologique de masse : l'échappée immunitaire. Un virologue belge lance l'alerte ! (Geert Vanden Boossche, expert vaccinal - FaceBook - 25/3/2021)
Liberal Author Naomi Wolf Warns 'Vaccine Passports' Are the 'End of Human Liberty in the West'. (Victoria Taft - PJMedia - 30/3/2021)
The coming death match against vaccine passports in the states: 'Remember, these governors are just getting warmed up'. (Daniel Horowitz - The Blaze - 31/3/2021)
Vaccine passports: the end of liberty as we know it Britain could become a two-tier, papers-please society. (Mark Johnson - Spiked - 31/3/2021)
Vaccine Passports Are A Serious Threat To American Civil Liberties Are Americans supposed to accept that the government, private employers, and businesses such as airlines and Costco may stop you and demand that you show your COVID-19 papers? (Harmeet K. Dhillon - The Federalist - 2/4/2021)
Vaccine Passports Would Be State Reaching Too Far into Britons' Lives, Warns Senior Tory MP. (Victoria Friedman - Breitbart - 5/4/2021)
Dr. Fauci Says No To Vaccine Passports: 'It's Not Gonna Be Mandated From The Federal Government'. (Dylan Housman - Daily Caller - 5/4/2021)
Texas Gov. Greg Abbott bans COVID-19 vaccine passports: 'Don't tread on our personal freedoms' NEWS 'These vaccines are always voluntary and never forced'. (Sarah Taylor - The Blaze - 6/4/2021)
Venues are rebelling against vaccine passports A Liverpool comedy club is the latest venue to reject this authoritarian measure. (Spiked - 7/4/2021)
Why we must oppose vaccine passports: They will subject the most everyday of our freedoms to official approval. (Josie Appleton - Spiked - 7/4/2021)
ON VACCINE PASSPORTS: What are we to think of mandatory vaccine passports? (Bill Muehlenberg - 7/4/2021)
Idaho Becomes Fourth State To Ban 'Vaccine Passports'. (Tim Pearce - DailyWire - 8/4/2021)
New York's First-In-Nation Vaccine Passport Is Super Easy To Fake: REPORT. (Andrew Kerr - Daily Caller - 8/4/2021)
MORE ON THE DANGERS OF VACCINE PASSPORTS – more reasons to say no. (Bill Muehlenberg - 9/4/2021)
Over 56k Australians Sign Petition Opposing Vaccine Passports. (Caldron Pool - 11/4/2021)
Nearly 1,000 Church Leaders Sign Letter Opposing Vaccine Passports. (Protestia - 13/4/2021)