Paul Gosselin (2007)
In the creation / evolution debating game one creationist strategy is to point out that evolution is not science and is held uncritically and dogmatically by a large number of evolutionists, as are myths or religious beliefs. One standard evolutionist response to this critique is to deny this and offer as proof the changes the evolutionary theory has gone through since 1859. Then one will find discussed the transition from Darwin's approach to Evolution (19th century heredity theories) to that of neo-Darwinism (mendelian genetics + mutations) or, nearer to our times, neo-Darwinism (slow gradual accumulations of mutations) to "punk eek" (punctuated equilibrium as proposed by SJ Gould & Niles Eldrige -> "Hopeful monsters"). On the face of it, this may seem a sufficient response, but only until one takes a closer look at how science operates. This is the sort of thing raises evolutionist's "righteous indignation" at creationists (who mix science and religion). Evolutionists would use the following argument:
"To my knowledge, no major journal in any scientific discipline requires its submissions be accompanied by a statement of belief. Such a practice is anathema to the practice of science. Science is performed methodically: a reasonable hypothesis is proposed, evidence is gathered to test the hypothesis, and the hypothesis is modified or discarded if the evidence contradicts it. Should continuous trials and evidence support the hypothesis, it may become accepted by the community of scientists as a viable theory. Statements of belief, however, require adherents to begin with a theory - no, a conclusion fixed in stone - and perform the evidence gathering afterwards. By adopting a statement of belief, the creationists have turned the practice of science on its head.
A troubling implication of the statement of belief is that the subscribing creationist is not free to alter his theories should the evidence contradict them. Rather, he must disregard any evidence that might oppose the literal Genesis account of creation or the great Noachian deluge. Either that, or he must concoct a wildly imaginative tale to mesh the physical evidence with the literally interpreted Bible. The latter approach is often taken by creationists not wishing to appear as if they are ignoring the scientific problems with their creation scenarios. Examples of such fanciful tales include the existence of a "water vapor canopy" surrounding the Earth prior to the great flood, the creation of starlight in transit, and the hydrological sorting of fossils during the great flood."
Creationists would respond in pointing out that scientific journals often have an implicit "statement of belief" that screens what will or will not get published. The only way to find out what this statement of belief is, is to do an experiment and submit an unorthodox article. It goes without saying that authors of articles working within the dominant theory will never notice this particular requirement and one should expect them to vehemently deny it's existence. The unexamined life is sometimes less complicated... Actually I've learned about such matters the hard way as a few years ago I wrote an article in social anthropology on the ideological/mythological aspects of evolution which I submitted to a French journal of religious studies. This journal had already published articles on myth in contemporary society (but nothing on evolution of course), so I thought there might be an opening... I contacted the editor and he was interested in such an article. I sent it in and in the peer review process it was given for review to two experts on evolution (evolutionists) and guess what... ? Basically, they flushed it down the toilet! The editor of the journal didn't have the guts to go against these experts, so the only option was to go someplace else...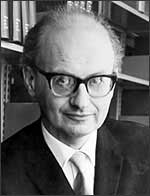 But, back to more general issues... Another angle on the scientific status of the theory of evolution is one taken by an interesting philosopher of science, the late Imre Lakatos. Lakatos did most of his work in the sixties and early seventies and viewed science as operating on two levels. He calls scientific theories, scientific research programmes. These involve two main elements; first of all a hard core (or 'negative heuristic') and, secondly, a protective belt (or 'positive heuristic'). The 'hard core' of a scientific research programme is composed of a number of metaphysical hypotheses, which direct the research, but are not, and cannot be submitted to experiment themselves. The 'protective belt', however, is a group of models that which are developed on the basis provided by the hard core'. These are then used to account for empirical problems and CAN be submitted to experiments. Very often in the course of developing a scientific research programme, the models in the 'protective belt' will need some fine tuning, and, occasionally, major adjustments. At times they may simply be thrown out and deemed of no further use. The 'protective belt' of a scientific research programme can then be understood as a buffer zone or a research programme's 'digestive system' which takes care of anomalies, that is facts that don't easily fit into the theory. At times, though, the 'protective belt' just can't account for the anomalies and thus secondary hypotheses will be brought in to account for them. The basic issue is that the 'protective belt' can be modified at any time to provide an explanation for recalcitrant phenomena. Lakatos, in the following quote, illustrates these two concepts (1978: 50):
"The negative heuristic specifies the 'hard core' of the programme which is 'irrefutable' by the methodological decision of its proponents; the positive heuristic consists of a partially articulated set of suggestions or hints on how to change, develop the 'refutable variants' of the research- programme, how to modify, sophisticate, the 'refutable' protective belt."
Once this is understood, then one can look at evolutionism in a different way. As we pointed out previously changes in evolutionism such as the transition from Darwinism to neo-Darwinism in the early 20th century or, in the late 20th century, neo-Darwinism to "punk eek" would fit right in with modifications and adjustments being done on evolution's 'protective belt'. So if evolutionists assume these changes are indicative of science, the next question to be asked, however, is: "What is the basic group of metaphysical beliefs that could be called evolutionism's 'hard core' ?" As Lakatos points out THESE beliefs ARE held quite dogmatically, they are NOT subject to experiment nor do they change over time, nor are they subject to criticism. Usually they are implicit presuppositions that everyone takes for granted. Their epistemological status, then, is quite comparable to Genesis 1, or the Gilgamesh Epic or the Rig Vedas, etc. They are then, in anthropological terms, mythology. They are then beliefs quite comparable to belief in witches, the afterlife or angels.
Ok, so what is evolutionism's 'hard core' ? There are at least two main metaphysical beliefs (held as presuppositions) underlying the theory of evolution:
1) Life has developed (from the first cell to its present diversity) up to ALL the biodiversity we presently observe (including man), solely via natural processes. This means basically that the universe is a closed system (no outside "meddling" is admissible).

2) Very long periods of time are required to produce the postulated results[1].
Now some shrewd evolutionist's may take heart that since evolutionary theory has a hard core and may claim that this is a confirmation that evolution is a scientific theory. Well this balloon can be punctured too if the following points are considered:
1) Such a view glosses over an important fact: the mythical aspects of science itself:
A French article, by the philosopher of science Mario Bunge, discusses the basic metaphysical presuppositions (or beliefs) involved in scientific research, or what, from Lakatos' point of view you could call the 'hard core' of science itself. Bunge divides the metaphysical presuppositions of science into two groups. The first group he calls the "hypothèses gnoseologiques" (basically, epistemological presuppositions, defining what can we know). Bunge describes five of these (Bunge 1976):
(1) Reality is knowable and can be known.
(2) There are many sources of knowledge: experience the senses, action, intuition, and reason.
(3) Scientific theories are representations of objects presumed/believed to be real.
(4) Scientific theories all contain concepts not related to empirical sensations/reality.
(5) The degree of truth of scientific theories can only be established (provisionally) with the help of experiments. (my translation)
As far as general metaphysics goes, Bunge lists (among a multitude of presuppositions found in specific theories), ten presuppositions implicit in the scientific cosmology concerning the world/reality around us and it's properties. Here are a few:
- There is an objective world outside the observer[2].
- The world is composed of things.
- The forms of things are proprieties of these things.
- All things obey laws.
- There are many laws.
- Things can be grouped by systems.
- All systems, except the universe, are in interaction with other systems in certain regards, and isolated from other systems in other regards[3].
- Nothing comes from nothing and no specific thing can be reduced to nothing[4].
Concluding his article, Bunge remarks that in his view (1976: 205):
"(1) Scientific research is conducted in the light of an array of ontological principles, which constitute the metaphysics of science. (2) The axiomatic formulation of general scientific theories exposes to view the metaphysical ideas whose development and systemisation are the business of scientific metaphysics. (...) (5) Just recognising the existence of these metaphysical theories breaks down the barrier between metaphysics and science and, by implication, dissolves the problem of demarcation between these disciplines. There is, thus, no incompatibility science and metaphysics, but between superficial science and metaphysics and also between fundamental science and anti-scientific metaphysics." (my translation)
Scientists, in general, are not aware of these presuppositions, but that doesn't diminish the crucial role they play in the development of the scientific method[5] (use of experiments to understand the world around us). I expect that Bunge may not approve of my use of the term "cosmology" (but then again he might...), but the points he makes above already bring to light a reality that neo-positivistic theories (and ideologies inspired by this theory) would rather not come to the attention of a wider public. Science involves metaphysics and metaphysics is a part of religion[6].
2) Most scientific theories have few or no ideological implications.
This is actually the most important point. Try and see if you can derive any philosophical or ideological implications from, let's say for example, light being either a particle or wave phenomenon. What ideological difference does it make ?? Not much. This isn't to say that some philosophical genius couldn't concoct something, but it would likely be forced and probably it wouldn't be a mass-market product[7]. Evolutionism, on the other hand, like one of those all-purpose cleaners advertised on North-American TV, has a multitude of ideological uses it can be put to (often with horrendous results). So this is the specific spot where evolutionism parts ways with most scientific theories. Ian Barbour points out just a few examples of the multi-purpose ideological roles evolution has already played in the past (1966: 413):
"Spencer saw in it a justification for laissez-faire capitalism, Nietzche for political absolutism, and Kropotkin for cooperative anarchism; Marx wanted to dedicate Das Kapital to Darwin for lending support to dialectical materialism. To Huxley (Julian -P.G.), evolution and the UNESCO charter convey the same message. These conclusions seem to depend largely on the prior ethical commitments that lead an author to select particular aspects of evolution as definitive."

Some Concluding Food for Thought
In my research on the demarcation problem, I have noticed philosophers of science attempting to balance (usually unconsciously) a consistent demarcation criteria (science/non-science) against the the disruptive effects that it's application might have with regard to the academic status quo (and evolution in particular)… Few philosophers of science will even touch such matters, but (perhaps unintentionally) Imre Lakatos does offer us a peek at how one might go about balancing these schizophrenic demands (in Motterlini1999: 24):
So basically, the demarcation problem is a fun mind-game philosophers enjoy playing, but when they realize the implications regarding the theory of evolution, they quickly back off... Too many applecarts could be overturned...


---
References
Barbour, Ian (1966) Issues in Science and Religion. Englewood Cliffs NJ, Prentice-Hall 470 p.
Bunge, Mario (1976) Les Presupposes et les Produits metaphysiques de la Science et de la Technique contemporaine." pp. 193-206 in "Science et Metaphysique." Dockx, Settle, et autres editors. Ed. Beauchesne Paris 254 p
Jaki, Stanley L. (1967) The Role of Faith in Physics pp. 187-202 Zygon Vol.2 no.2 June
Lakatos, Imre (1978) The methodology of scientific research programmes. Cambridge U. Press Cambridge UK 250 p.
Motterlini, Matteo ed. (1999) For and Against Method. Imre Lakatos and Paul K. Feyerabend University of Chicago Press 161 p.