Une crise, des restrictions, les vaccins et des masques sans fin
Get Used to Masks, Endless Vaccines and Permanent LockDown

En attendant la variante, Epsilon, Zêta, Êta, Thêta, Iota, kappa, Lambda, Mu, Nu, Ksi/Xi, Omicron, Pi, Rhô, Sigma, Tau, Upsilon, Phi, Khi/Chi, Psi, Oméga.
Et pour la suite, faudra trouver un autre alphabet. Des caractères chinois peut-être???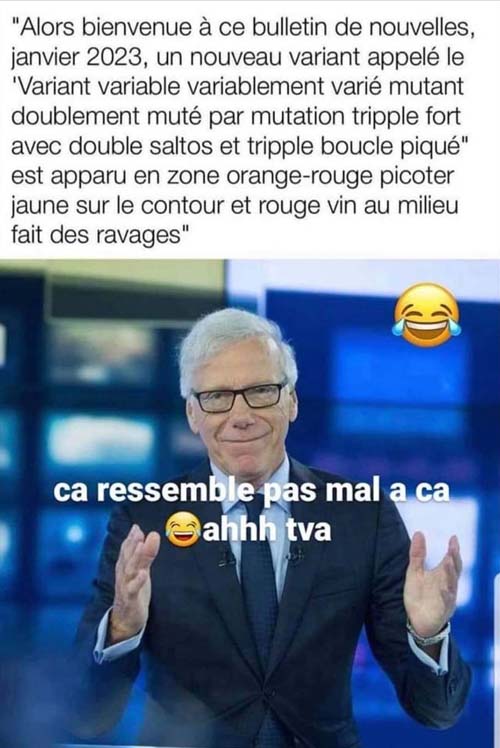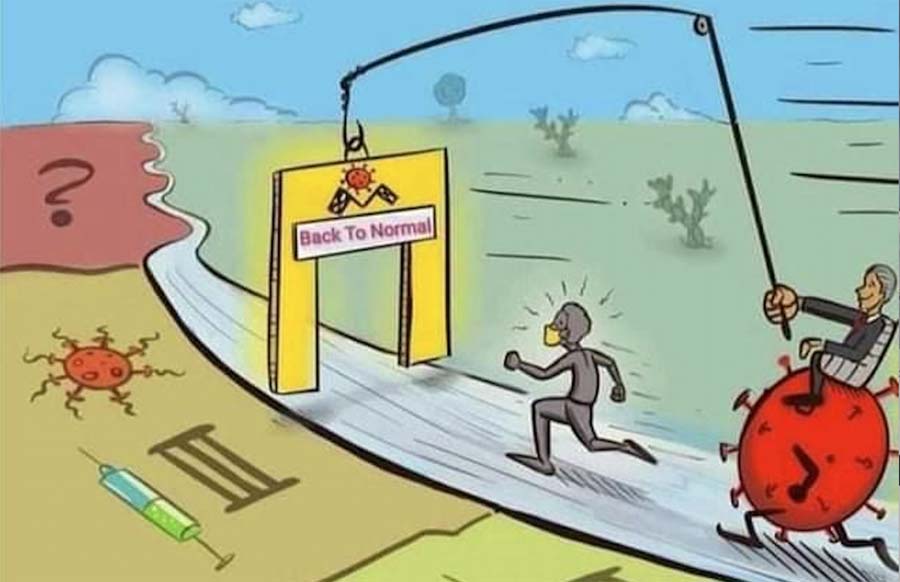 Benda explique l'État totalitaire: « où, par définition, la notion de personne et a fortiori de droits de la personne disparaît, l'Etat dont l'âme est cette maxime qu'on pouvait lire sur tous les établissements nazistes : Du bist nichts, dein Volk ist alles, et leur mépris pour l'Etat conçu comme un ensemble de personnes distinctes, revêtues d'un caractère sacré en tant que personnes. »
Et dans une note il pousse plus loin son explication de ce que c'est l'État totalitaire
« On peut encore l'appeler totalitaire (le mot est loin d'être univoque) en ce qu'il exige que la totalité de l'homme lui appartienne, alors que l'État démocratique admet que le citoyen, une fois qu'il a satisfait aux obligations de l'impôt et du sang, connaisse la libre disposition d'une grande partie de lui-même dès qu'il n'use pas de cette liberté pour le détruire : éducation de ses enfants, choix de son culte religieux, droit d'adhérer à des groupes philosophiques, voire politiques, non conformistes. Cette liberté laissée à l'individu est d'ailleurs un grand élément de faiblesse pour l'État démocratique ; mais celui-ci, encore une fois, n'a pour idéal d'être fort. Les systèmes totalitaires ne sont d'ailleurs pas nouveaux. « A Sparte, dit Plutarque, on ne laissait à personne la liberté de vivre à son gré ; la ville était comme un camp où l'on menait le genre de vie imposé par la loi. » (Vie de Lycurgue.) Chose naturelle dans un État où les citoyens étaient, dit Aristote (Politique, II, 7), « comme une armée permanente en pays conquis ». L'exemple de Sparte montre une fois de plus combien l'idée d'ordre est liée à l'idée de guerre. »
(Julien BENDA - La trahison des clercs. 1926 [citations tirés de la Préface à l'édition de 1946] Ebook)


Les articles sont en ordre chronologique croissant (plus vieux d'abord) / Articles are in chronological order (oldest first, recent articles at the bottom) -> articles plus récents
---
On prévoit/on a besoin de/ une 2e, 3e, 4e 5e, 6e, 7e, 8e, 9e, 10e vague de Covid19?? -> c'est-à-dire Il FAUT entretenir la crise, donc une crise perpétuelle et PERMANENTE???
On met donc de côté la science pour jouer les diseurs de bon aventure et les prophètes de pacotille...
94% of Democrats Think A Second Coronavirus Wave Is Coming. (John Carney - Brietbart - 20/5/2020)
The Los Angeles letter mentioned remarks made last week when Ferrer said that absent a COVID-19 vaccine, some form of restrictions would last "the next three months," and Garcetti said the city would "never be completely open until we have a cure." (Source: Justice Department Warns Los Angeles Stay-at-Home Extension Could be Illegal. - Breitbart News)
Health Expert: Mask Wearing, Some Social Distancing Will Continue For 'Several Years'. (Tim Pearce - DailyWire - 7/7/2020)
Will the government ever let the crisis end?: Excess deaths have been below average for five weeks now. So why are we facing new restrictions? (Simon Marcus - Spiked - 29/7/2020)
Anthony Fauci Floats Eye Protection and Masks for Every Flu Season Ever. (John Nolte - Breitbart News - 30/7/2020)
'We're in for a bad and rocky ride:' Ex-WHO doctor who helped eradicate smallpox predicts COVID-19 turmoil for years. (Ken Alltucker - USA TODAY - 3/8/2020)
Dr. Fauci issues dire warning on 'lurking' viruses, says COVID-19 is 'worst-case scenario,' 'worst nightmare.' A professor of virology weighs in without the alarmism. (Sarah Taylor - The Blaze - 7/8/2020)
Joe Biden: I am 'Prepared' to 'Shut' The United States 'Down' to Stop The Coronavirus. (Ryan Saavedra - DailyWire - 21/8/2020)
WHO Chief 'Hopes' "Once-In-A-Century Health Crisis" Will End in Two Years. (Tyler Durden - ZeroHedge - 24/8/2020)
Fauci casts another shadow on recovery, says US won't return to normal until 'end of 2021': Doom and gloom (Phil Shiver - The Blaze - 11/9/2020)
La bataille pour faire durer la pandémie: La bataille pour faire durer la pandémie. (Emma Kahn pour FranceSoir- 24/09/2020)
Biden's Coronavirus Advisor Suggests Near Two-Month, Nationwide Lockdown to Control Virus. (Caldron Pool - 12/11/2020)
Un responsable de l'OMS prédit une troisième vague épidémique début 2021 en Europe. (RT France - 23/11/2020)
Bill Gates Says Lockdowns Should Carry on Into 2022: Billionaire vaccine pusher Bill Gates wants local businesses and services to remain closed, with lockdowns, masks and social distancing continuing throughout all of next year and into 2022. (Steve Watson/Summit News - Tyler Durden/ZeroHedge - 14/12/2020)
COVID-19 will be 'with us for the next 10 years', warns vaccine chief. (George Martin - Yahoo News - 22/12/2020)
Post-Christmas COVID Surge Likely — Worst Is Yet to Come. (Pam Key - Breitbart - 27/12/2020)
WHO: Bigger Pandemic Than COVID Is Comin: "This pandemic has been very severe … it has affected every corner of this planet. But this is not necessarily the big one." (Steve Watson - Summit News - 29/12/2020)
Fauci Predicts New, More Contagious COVID-19 Strain Will Spread Across U.S.: "Unfortunately, that's just the reality of the way these viruses spread." (Joseph Curl - DailyWire - 31/12/2020)
Les reportages des « mutations » du COVID montrent que les confinements sont conçus pour durer éternellement. (Brandon Smith - Réseau International - 1/1/2021)
"Nous allons vivre avec ce virus pour toujours", déclare le patron de Moderna, fabriquant de vaccins anti-Covid. (Léo Kersauzie - Médias Presse.Info - 18/1/2021)
Les histoires de « mutations » de la Covid-19 montrent que les confinements sont conçus pour durer éternellement. (Brandon Smith/Alt-Market - Volti/Les moutons enragés - 18/1/2021)
UK Govt Scientific Advisor Predicts Annual Coronavirus Vaccine. (Victoria Friedman - Breitbart - 2/2/2021)
Politicians Seem Loath to Let COVID End. (Anders Koskinen - Chronicles Mag - 11/2/2021)
Dr. Anthony Fauci: I Do Not Think We'll Be Back to Normal by March 2022. (Charlie Spiering - Breitbart - 3/3/2021)
"All the Modelling" Predicts Another Covid Surge This Year, Says Chris Whitty. (LockDown Sceptics - 9/3/2021)
Biden: Obey Dr. Fauci Or You'll Be Locked Down Past July 4. (Tristan Justice - The Federalist - 12/3/2021)
Fauci says new lockdown may come if restrictions lifted too quickly, moves goalposts on social distancing: 'Risky and potentially dangerous'. (Chris Enloe - The Blaze - 14/3/2021)
Masks and Social Distancing "Could Last Years", Says Public Health England Official. (LockDown Sceptics - 22/3/2021)
NPR article suggests that Americans should continue wearing masks after pandemic ends to cut down on flu, cold transmission NEWS Notably, they do not quote or cite a single American medical professional who recommends that. (Leon Wolf - The Blaze - 3/4/2021)
The 'Masks Forever' Crowd Is Real. Here's What They Want. (Kaylee Greenlee - Daily Caller - 22/4/2021)
Far From Immune to The Never-Ending COVID Regime, Red States Are a Ripe Target — Unless Their Governors Act Now: The unending COVID regime isn't a nightmare scenario, it's an existential threat to our liberties, a possible and unexamined risk to our health, and right here among us. (Christopher Bedford - The Federalist - 27/4/2021)
Fauci: Infections Are Too High to Let Kids Go out Unmasked – 'We Have Children Wearing Masks' Outside Until They're Vaccinated. (Ian Hanchett - Breitbart - 27/4/2021)
Les experts sanitaires encouragent les CDC à rendre le port du masque permanent: Même si Fauci admet que les CDC doivent commencer à assouplir les règles. (Aube Digitale - 27/4/2021)
Why lockdown has become a lifestyle The culture of fear has made a lifetime of quarantine look attractive. (Frank Furedi - Spiked - 30/4/2021)
Totalitarian Elites Want to Extend COVID-19 Lockdowns Forever For 'Climate Change' Power-hungry government officials' eyes have been opened to how far they can stretch their 'emergency powers,' and climate change is their next frontier. (Connor Tomlinson - The Federalist - 30/4/2021)
Herd Immunity? Maybe Never, Experts Now Say. (Joseph Curl - DailyWire - 3/5/2021)
Fauci: 'Quite Possible' Seasonal Mask Wearing Will Become Permanent in America. (Pam Key - Breitbart - 9/5/2021)
Anthony Fauci: We Will Require Coronavirus Vaccine Booster Shots 'Within a Year'. (Charlie Spiering - Breitbart - 19/5/2021)
Fully Vaccinated People Will Still Have to Self-Isolate If They Come into Contact with Covid after June 21st. (LockDown Sceptics - 25/5/2021)
Dr. Fauci Warns Against Declaring Virus Victory 'Prematurely': 'We Still Have a Ways to Go'. (Hannah Bleau - Breitbart - 31/5/2021)
Australia's forever lockdown Melbourne has been shut down again over a handful of new Covid cases. (James Bolt - Spiked - 8/6/2021)
Covidisme : un conseiller du gouvernement britannique affirme que l'obligation du port du masque devrait être maintenue « pour toujours » ! (Le libre penseur - 14/6/2021)
Lambda Variant's "Unusual" Mutations May Make It Resistant to Vaccines, Researchers Fear(monger). (Isabel van Brugen/The Epoch Times - Tyler Durden/Zero Hedge - 6/7/2021)
Rona Forever: Pfizer Seeking Approval for 3rd Coronavirus Vaccine Dose. (Simon Kent - Breitbart - 9/7/2021)
Government Minister Suggests New Lockdown Before the Current One Has Even Ended: "Of course" Brits could face yet another lockdown. (Paul Joseph Watson - Summit News - 16/7/2021)
Anthony Fauci Champions The Forever Pandemic: Dr. Anthony Fauci welcomed back mask mandates regardless of vaccination status on Friday during an interview on Fox News with Neil Cavuto. (Tristan Justice - The Federalist - 24/7/2021)
Iceland's Chief Epidemiologist Suggests COVID-19 Restrictions Could Last For Up to 15 Years: It never ends. (Paul Joseph Watson - Summit News - 29/7/2021)
Fauci: Third Coronavirus Vaccine Shot for People with Weakened Immune Systems 'Very High Priority'. (Joshua Caplan - Breitbart - 5/8/2021)
Swedish Expert Claims People Could Require as Many as Five Covid Vaccine Shots. (Chris Tomlinson - Breitbart - 5/8/2021)
Anthony Fauci: Coronavirus 'Will Disappear' When an Unknown 'Majority' Are Vaccinated. (Wendell Husebø - Breitbart - 10/8/2021)
Lockdown Insanity Forever: Melbourne is now in the longest and hardest lockdown on the planet. (Bill Muehlenberg - 1/9/2021)
Dr. Chant: COVID Will be With us "Forever," People Will Have to "Get Used To" Endless Booster Vaccines: Little hope on the horizon for inmates of 'prison island'. (Paul Joseph Watson - Summit News - 6/9/2021)
'You're Only as Good as Your Last COVID Test'. (Trevor Thomas - American Thinker - 9/9/2021)
COVID-19: l'OMS pessimiste sur la capacité des vaccins à mettre fin à la pandémie. (AFP - TVA Nouvelles - 10/9/2021)
Fauci: May Take 'Many, Many' More Vaccine Mandates to Get Pandemic Under Control. (Hannah Bleau - Breitbart - 14/8/2021)
Lifetime Subscription: Premier Signals "Booster Passports" Next Year, Proof of THIRD Injection Needed Early 2022: But whatever protection a third shot seemingly offered also appears to be short-lived, as Israel's national coronavirus czar has suggested injections may be required for "protection" every few months. (Caldron Pool - 21/9/2020)