Des médecins (et personnel médical) répliquent.
Doctors and Nurses Fight Back
Les articles sont en ordre chronologique croissant (plus vieux d'abord) / Articles are in chronological order (oldest first, recent articles at the bottom) -> articles plus récents
Les vidéos affichant cet image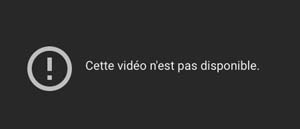 ont été censurés par YouTube depuis leur mise en ligne....
---
Ressources
---
Why I spoke out against lockdowns: On the necessity of challenging the Covid consensus. (Martin Kulldorff, professor of medicine at Harvard Medical School - Spiked - 4/6/2021)


Masque & Covid / La perspective d'un scientifique et chercheur.
(ThéoVox - 51 minutes - 1/7/2021)


Notices of Liability for Vaccine Harm and Death Sent to the EMA and all Members of the European Parliament – Sep 13, 2021 Letter. (Doctor4CovidEthics - 13/9/2021)
Selon le Dr Amine Umlil, malgré les obstacles, « le droit est du côté des soignants ». (FranceSoir - Vigilance Pandémie - 14/9/2021)


Pr Sucharit Bhakdi : Vacciner vos enfants est un crime.
(Ça tombe des nues ? - Odyssee - 2 minutes - 20/9/2021)


Federal Govt Doctor Says "Government Doesn't Want to Show the Vaccine is Full of Sh*t" Project Veritas released an undercover video that captures O'Malley's HHS colleagues discussing their concerns about the new vaccine, claiming the government is intentionally hiding reports of adverse side effects from the public. (Caldron Pool - 21/9/2021)
"The Political Takeover of Medicine and the Patient/Doctor Relationship Must End": The Physicians Declaration vs. COVID Cultism "We cannot sit idly while patients are forced to go home and sicken in place. These policies may actually constitute crimes against humanity." (Rod Lampard - Caldron Pool - 22/9/2021) -> mRNA inventor, Dr. Robert Malone takes the stand.
Florida Surgeon General Bashes Virus Hysteria: 'Done with Fear,' Vaccines 'Treated Almost Like a Religion'. (Paul Bois - Breitbart - 21/9/2021)


Project Veritas : ''' Vaccins dénoncés ''' (Partie 1)
(Phillipe Le Bel - Odyssee - 13 minutes - 21/9/2021)


Pulmonary Nurse of 31 Years Testifies How he Unknowingly Killed Patients by Following COVID Protocols. (Brian Shilhavy - Health Impact News - 22/9/2021)


Un microbiologiste répond à un médecin qui s'attaque à Anne Casabonne
(Heureux Les creux - YouTube - 28 minutes - 22/9/2021)


Les conséquences de la vaccination sur la fertilité. (Dr. Alexandra Henrion-Caude - JeminformeTV - 24/9/2021)


MAL TRAITÉS : le documentaire sur la Covid-19 à voir d'urgence. (lien alternatif)
(Alexandre Chavouet - Viméo - 87 minutes - 25/9/2021)
-> Documentaire incontournable : les meilleurs médecins et chercheurs du monde parlent... en faveur de leurs patients et confirmé par des dizaines de milliers de médecins dont les Dr Raoult, Sacré, Toussaint, Zelenko, etc., etc... Plus de 58 000 médecins et chercheurs médicaux ont signé la Grande Déclaration Barrington rédigé par trois éminents chercheurs des trois plus grandes universités américaines :

Plus de 5000 médecins et scientifiques accusent les gouvernements d'incompétence (criminelle) contre le COVID-19. (Edouard Husson - Le Courrier des Stratèges - 28/9/2021)
Justice Centre defends free speech, Dr Charles Hoffe, against College of Physicians. (Canadian Justice Centre for Constitutional Freedoms - 30/9/2021)
The daily horror of being a GP: The NHS is forcing us to betray our parents. (Jane Smith - UnHerd - 1/10/2021)
Des infirmières canadiennes lanceuses d'alerte disent que de nombreuses personnes meurent des vaccins contre le Covid, les hôpitaux sont remplis de personnes entièrement vaccinées. (Profession Gendarme - 2/10/2021)


Belgian physicist on the COVID-19 response from scientists and the healthcare community Mr. Jean-Jacques Crèvecoeur, a Belgian physicist and recipient of several awards, was one of the few scientists to have debated the H1N1 vaccination in the mainstream media in Quebec.
(Alexandra Lavoie - Rebel News - 28 minutes - 3/10/2021)
-> interview en FRANÇAIS

2 Chirurgiens de l'Armée Américaine immobilisent les Pilotes "Vaxxinés" et appellent à l'Arrêt des "Vaxxins" Covid pour les Militaires ! (Le Portail du Grand Changement - 4/10/2021)
US Air Force doctor warns pilots of 'sudden cardiac death' after jabs The affidavit of Lieutenant Colonel Theresa Long is also part of a federal lawsuit against the US Army's forced vaccination regime. (Free West Media - 4/10/2021)
"Le président Biden a motivé le peuple à se poser des questions" Dr Richard Fleming. (FranceSoir - 5/10/2021)
Unethical Conduct of the College of Physicians and Surgeons Council. (Canadian Justice Centre for Constitutional Freedoms - 5/10/2021) -> Rath and Company and the Justice Centre, in conjunction, are suing the Government of Alberta with regards to Orders made by the Chief Medical Officer of Health and select unconstitutional sections of the Public Health Act.
Why This Doctor Risked The Nobel Prize to Speak Out Against Universal Covid-19 Vaccination. (Benjamin Harnwell - ChurchMilitant - 6/10/2021)
Soignante non-vaccinée, elle obtient gain de cause auprès du tribunal administratif de Cergy. (FranceSoir - 6/10/2021)
On garde l'urgence sanitaire alors qu'on est en SOUS MORTALITÉ!: Entrevue avec le docteur à la retraite Robert Béliveau. (CHOI 98,1 RadioX - 6/10/2021)
Doctor Says Physicians Are Being "Hunted" For Speaking Out by Press & Medical Boards Dr Robert Malone branded a "terrorist" by Italian media. (Paul Joseph Watson - Summit News - 7/10/2021)
UCLA doctor 'willing to lose everything' escorted from medical facility for refusing COVID vaccine: 'This is what happens when you stand up for freedom'. (Paul Sacca - The Blaze - 8/10/2021)
Médecin suspendu : "j'ai un problème avec la façon dont l'autorité agit" Dr Alexandre Leroy. (FranceSoir - 8/10/2021)
Les individus non vaccinés contre le Covid-19 ne pourront plus quitter le Canada par voie aérienne. (RT France - 9/10/2021)
Dr Peter McCullough : la crise sanitaire actuelle est une crise de la compassion. (Vigilance-Pandemie.info - 2 minutes - 10/10/2021)
Dr Scott Jensen : "la liberté en matière de santé", principe suprême. (FranceSoir - 12/10/2021)
911 System in Jeopardy as First Responders Reject Jab. (Tyler Durden - Zero Hedge - 12/10/2021)
Does Biden Want the Sick to Get Sicker? Hospital CEO Crushes Biden's Vaccine Mandate. (Dillon Burroughs - The Western Journal - 13/10/2021)
Il est temps d'agir pour la paix sociale: Que fait le Collège des médecins? (Michel Robillard - Samizdat - 15/10/2021)
Even doctors in red states are being punished for saving people from COVID. (Daniel Horowitz - The Blaze - 19/10/2021)
Lettre ouverte à Mmes Mrs les Sénateurs et Députés, adressée par N et G Delépine médecins cancérologues. (Nouveau Monde - 23/10/2021)
Témoignage du clinicien Jean Stevens contre l'obligation vaccinale. (Vigilance Pandémie - 28/10/2021)
'I Had To Stand Up And Try To Do Something:' Professor Of Medicine On Suing School Over Vaccine Mandate. (Jan Jekielek and Zachary Stieber/The Epoch Times - Tyler Durden/Zero Hedge - 31/10/2021)
Dr. Ben Carson blasts COVID vaccinations for children: 'This is really a giant experiment'. (Sarah Taylor - The Blaze - 1/11/2021)
Viral video shows nurse being escorted out of hospital after her religious exemption is denied: 'Count the costs'. (Chris Enloe - The Blaze - 1/11/2021)


Analyses sanguines post-injection : l'inquiétude grandit...
Jérémie Mercier reçoit le médecin généraliste luxembourgeois Benoît Ochs
(CrowdBunker - 74 minutes - 1/11/2021)

Témoignage d'un médecin belge, Dr Thierry Hertogue, victime d'effets secondaires du vaccin « Mon apparence a veilli de 5 à 10 ans en 5 mois… » (Vigilance Pandémie - 1/11/2021)
Doctor Banned From Using Social Media Over "Masks Do Nothing" Claim Takes Case to High Court "This is about freedom of expression." (Paul Joseph Watson - Summit News - 5/11/2021)
Theresa Long, médecin de l'armée américaine, alerte sur la vaccination contre le Covid-19. (FranceSoir - 8/11/2021)
"Il y a quelque chose qui ne colle pas" : le pavé dans la mare du Pr Peter Doshi. (FranceSoir - 9/11/2021)
Vaccination des enfants : des chercheurs polonais dénoncent des "essais cliniques" grandeur nature. (FranceSoir - 10/11/2021)
INTERVIEW: Emergency room doctor who fled from Canada to the United States I wanted to learn more about what made this doctor decide to flee Canada — and to get his thoughts on the vaccine mandates and severe health-care staff shortages that we're presently suffering with across our country. (Dakota Christensen - Rebel News - 13/11/2021)
New York ER Closes as Employees Refuse to Comply With Vaccine Mandate: Workers were given an ultimatum to either get vaccinated or be banned from coming to work. (Steve Watson - Summit News - 26/11/2021)