"Les hommes se sont intéressés à la science parce qu'ils s'attendaient à trouver une loi dans la nature, et s'ils s'y attendaient, c'est qu'ils croyaient en un Législateur. Chez les scientifiques les plus modernes cette croyance a disparu; il sera intéressant de voir combien de temps lui survit une croyance à l'uniformité. Deux conséquences significatives sont déjà apparues: l'hypothèse d'une sous-nature sans loi, et le renoncement à la prétention que la science est vraie. Nous vivons peut-être plus près de la fin de l'âge de la science que nous le croyons."
CSL Miracles 1947/1985. p. 107

"Quite probably, the break-through to the scientific miracle was only possible because some men were passionately, sincerely, whole-heartedly concerned with Truth. Will such passion survive the habit of granting oneself different kinds of truth according to the day of the week ?"
p. 93 in Ernst GELLNER (1992/1999) Postmodernism, Reason and Religion.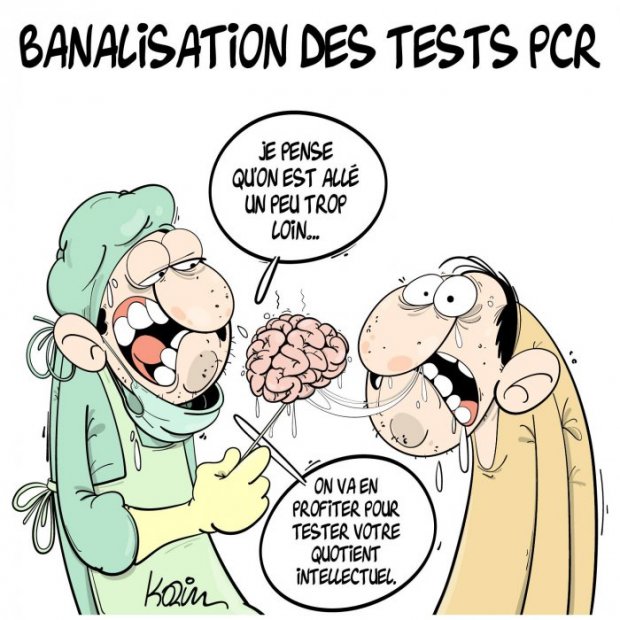 Les articles sont en ordre chronologique croissant (plus vieux d'abord) / Articles are in chronological order (oldest first, recent articles at the bottom) -> articles plus récents
---


Test du coronavirus – un jeu de hasard pseudoscientifique ?
(KlagemauerTV - avec traduction français - YouTube - 5 minutes - 19/3/2020)


Le président de la Tanzanie fait tester une papaye; elle est déclarée positive à la COVID-19. (Journal de Montréal - 8/5/2020)
Your Coronavirus Test Is Positive. Maybe It Shouldn't Be: The usual diagnostic tests may simply be too sensitive and too slow to contain the spread of the virus. (Apoorva Mandavilli - New York Times - 29/8/2020)
L'OMS et Bill Gates ont un problème et il s'appelle PCR! C'est par elle qu'un totalitarisme sanitaire s'enracine. (blog de Liliane Held-Khawam - 10/9/2020) -> Interview avec Kary Mullis, inventeur de la réaction en chaîne par polymérase (Test PCR)
L'un des buts réels, inavouables, des tests PCR ? Avis de la généticienne Alexandra Henrion-Caude, ancienne directrice de recherche à l'INSERM... (TVS24)
Lies, Damned Lies and Health Statistics – the Deadly Danger of False Positives. (Dr Michael Yeadon - LockDown Sceptics - 20/9/2020)
Du nouveau concernant les tests P C R ! (Peter EL Baze - 27/9/2020)
Le prélèvement nasal n'est pas un test de dépistage du Covid-19. (Dr C. - Réseau International - 28/9/2020)


Tests PCR, vous avez dit contagieux ?
(Ema Krusi - YouTube - 12 minutes - 30/9/2020)


Des experts internationaux suggèrent que jusqu'à 90 % des cas canadiens de COVID pourraient être des faux positifs. (Joseph - Réseau International - 1/10/2020)
The Trouble With PCR Tests. (Swiss Policy Research - 1/10/2020)
Un test nasal Covid lui perce la paroi du cerveau: Une quadragénaire, testée avant une banale opération pour une hernie, a vu du liquide transparent sortir de ses narines. Il s'agissait d'une fuite de liquide céphalo-rachidien. (20min.ch - 2/10/2020)


Crimes against Humanity: information & legal action regarding the Corona Crisis
(Reiner Fuellmich - YouTube - 49 min. - 3/10/2020)


Témoignage d'une infirmière de laboratoire de prélèvements Covid – tests PCR. (Paroles de Dieu - vidéo 5 minutes - 5/10/2020)


Covid 19 & tests PCR : Crimes contre l'humanité ? l'avocat Reiner Fuellmich
(Fils de Pangolin - YouTube - 49 min. - 5/10/2020) -> traduction française


Covid-19: la PCR nous ment-elle? (Alain SUPPIN, IMédecin - Front Populaire - 6/10/2020)
How Good is the PCR Test at Detecting the Virus? (LockDown Sceptics - 8/10/2020)
The Truth about PCR Test Kit from the Inventor and Other Experts. (Best Article - 8/10/2020)


Kary Mullis : "Le test PCR ne permet pas de savoir si vous êtes malade"
(Fils de Pangolin - YouTube - 11 min. - 9/10/2020) -> traduction française


Interview with an NHS Nurse: "Where's the challenge? Where's the crisis? Where's this Covid?" (Will Jones - LockDown Sceptics - 10/10/2020)
The problem with Covid testing: Diagnostic testing expert Clare Craig explains why Britain's Covid statistics don't add up. (Spiked - 5/11/2020)
CDC Knew of COVID-19 Test Issues Before Sending to States. (Jason Devaney - NewsMax - 6/11/2020)
Fauci Admitted The Truth About COVID-19 Tests In July And Has Misled The Public Since". (Tyler Durden - ZeroHedge - 10/11/2020)
Elon Musk: I Got A COVID Test Four Times in One Day. 'Two Came Back Negative, Two Came Back Positive.' (Paul Bois - DailyWire - 13/11/2020)
Grammy Winner Erykah Badu Questions Coronavirus Test Results: 'Left Nostril Positive. Right Nostril Negative'. (Hannah Bleau - Breitbart News - 14/11/2020)
Le test PCR va au tribunal : au Portugal, mais aussi en Allemagne et dans de nombreux pays. (FranceSoir/CrashDebug - 30/11/2020)
For The First Time, a US State Will Require Disclosure of PCR 'Cycle Threshold' Data in COVID Tests. (Tyler Durden - Zero Hedge - 6/12/2020)
Tested 'Positive' For COVID-19? be Sure to Ask This Question: The lockdowns are based on surging "cases" which are based on positive PCR test results. (Tyler Durden - Zero Hedge - 6/12/2020)
Le test PCR en justice. (ReinfoCovid - 10/12/2020)
False Positives in PCR – a Primer. (LockDown Sceptics - 15/12/2020)
Is the Rise in Community Infections an Artefact of Increased Testing and False Positives? (LockDown Sceptics - 15/12/2020)
Besoin de preuves? Un parlementaire autrichien a révélé le caractère défectueux des tests COVID-19 en démontrant comment un verre de Coca Cola a été testé positif au COVID-19. (Guy Bouilliane - 15/12/2020)


Le test PCR
(Franjo - YouTube - 21/12/2020)


L'étau se resserre sur la clique de Davos. (Jean-Michel Grau - Riposte laïque - 8/2/2021) -> Rappelons en préambule que le procès intenté contre le Dr Drosten par l'avocat allemand Reiner Fuellmich a pour but de le poursuivre pour crimes contre l'humanité, pour avoir faussé le protocole des tests PCR pour le compte de la clique de Davos.
Lockdown Sceptics' Legal Experts on Covid Testing in Schools. (Dr David McGrogan - LockDown Sceptics - 28/2/2021)
L'OMS confirme que le test Covid-19 PCR est invalide, les estimations des « cas positifs » sont sans fondement. Le confinement n'a aucune base scientifique. (Prof Michel Chossudovsky - Profession-Gendarme - 24/3/2021)
Covid-19 : les tests naso-pharyngés « ne sont pas sans risque », prévient l'Académie de médecine Si la plupart des prélèvements sont bénins, « de graves complications commencent à être décrites dans la littérature médicale depuis quelques semaines », rapporte le collège scientifique. (Le Monde avec AFP - 8/4/2021)
Test PCR : l'Académie de médecine alerte sur les risques de lésions liés à leur banalisation. (FranceSoir - 12/4/2021)
Pepsi Max Tests Positive for COVID-19. (LockDown Sceptics - 21/4/2021)
Sweden Drops PCR Tests: RNA From Viruses Can Be Detected For Months After Infection. (Technocracy News - 20/5/2021)
How children are spoofing Covid-19 tests with soft drinks. (Mark Lorch - BBC - 5/7/2021)
Why is The CDC Quietly Abandoning The PCR Test For COVID? (Tyler Durden - ZeroHedge - 25/7/2021)
Les CDC et la FDA ont falsifié le protocole de test « Covid » en utilisant des cellules humaines mélangées à des fragments du virus du rhume… Les tests PCR ne font que détecter le rhume. (Mike Adams - Vigilance-Pandemie.info - 31/7/2021)
FDA document admits "covid" PCR test was developed without isolated covid samples for test calibration, effectively admitting it's testing something else. (Ethan Huff - NaturalNews - 1/8/2021)
Le variant Delta, les tests PCR et «la dissonance Covid». (F. William Engdahl - Mondialisation.ca - 19/8/2021)
House of Lords Member Asked Why Brits Are Forced to Take PCR COVID Tests on Returning to UK But Illegal Migrants Aren't Brits face harsher restrictions than foreign asylum seekers. (Paul Joseph Watson - Summit News - 3/9/2021)
Video: "The PCR-RT is a Process. It Does Not Tell You that You Are Sick": The Late Dr. Kary Mullis, Nobel Laureate and Inventor of the PCR-RT. (Kary B. Mullis - Global Research - 12/10/2021)
In case you thought the PCR test detects an actual virus…wrong. (Jon Rappoport - No MoreFake News - 14/9/2021)
A Nationally Televised Example of The Chaos False Positive COVID Tests Create. (Quoth the Raven/QTR's Fringe Finance - Tyler Durden/ZeroHedge - 25/9/2021)
Oregon Senators Call For Investigation Into Alleged COVID-19 Statistical Manipulation. (Tammy Hung/The Epoch Times - Tyler Durden/Zero Hedge - 12/10/2021)
Technocrat Says Pandemic Won't Be Over Until at Least 2024: Didn't comply hard enough. (Paul Joseph Watson - Summit News - 1 minute - 12/10/2021)
La FDA rappelle des millions de kits de test covid en raison de résultats erronés. (Robert du 09 - Les moutons enragés - 13/11/2021)
PCR Tests and the Rise of Disease Panic. (Ian McNulty - Brownstone Institute - 2/12/2021)
FDA Maintains PCR Tests Are "Gold Standard" Despite CDC Dropping Over Positive Results 'Up To 12 Weeks.' (Tyler Durden - Zero Hedge - 31/12/2021)
Rapid antigen tests debunked after social media claims fruits and drinks tested positive. (Tamara Ugolini - Rebel News - 20 minutes - 1/1/2022)
Oncology Professor: Obsessive COVID Testing 'Hysteria' Is Like 'Self Harm' "Life-saving work is being jeopardised". (Steve Watson - Summit News - 10/1/2022)
COVID Testing Company Faked Results, Lied To Patients And Improperly Stored Samples: Lawsuit. (Tyler Durden- Zero Hedge - 1/2/2022)
The Mis-Use of PCR Tests and Other Ways the Psychotic Covid Panic Narrative Was Created. (Dr Carl Heneghan And Dr Tom Jefferson - Daily Sceptic - 30/8/2022)
Disarming The PCR Test : 3 Facts You Need to Know. (Abir Ballan, MPH - 18/10/2022)
Les écouvillons des tests PCR conçus pour implanter de l'hydrogel DARPA au lithium dans le cerveau et attaquer la glande pinéale ? (Joseph Stroberg - Profession Gendarme - 3/8/2023)