Un monde sans argent liquide?
A World Without Cash?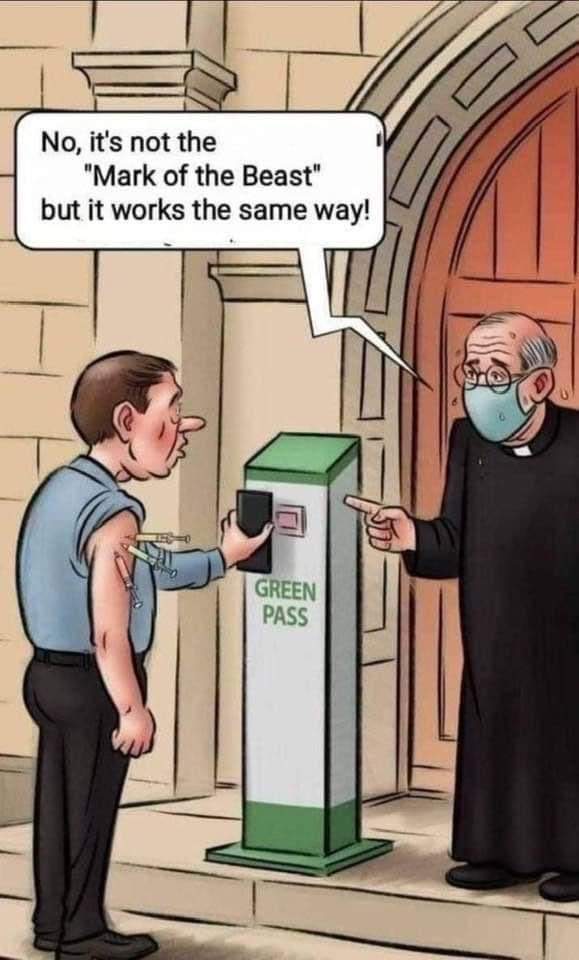 Puis je vis monter de la terre une autre bête, qui avait deux cornes semblables à celles d'un agneau, et qui parlait comme un dragon. Elle exerçait toute l'autorité de la première bête en sa présence, et elle faisait que la terre et ses habitants adoraient la première bête, dont la blessure mortelle avait été guérie. Elle opérait de grands prodiges, même jusqu'à faire descendre du feu du ciel sur la terre, à la vue des hommes. Et elle séduisait les habitants de la terre par les prodiges qu'il lui était donné d'opérer en présence de la bête, disant aux habitants de la terre de faire une image à la bête qui avait la blessure de l'épée et qui vivait. Et il lui fut donné d'animer l'image de la bête, afin que l'image de la bête parlât, et qu'elle fît que tous ceux qui n'adoreraient pas l'image de la bête fussent tués. Et elle fit que tous, petits et grands, riches et pauvres, libres et esclaves, reçussent une marque sur leur main droite ou sur leur front, et que personne ne pût acheter ni vendre, sans avoir la marque, le nom de la bête ou le nombre de son nom. C'est ici la sagesse. Que celui qui a de l'intelligence calcule le nombre de la bête. Car c'est un nombre d'homme, et son nombre est six cent soixante-six. (Apoc. 13: 11-18)

Si au mois de mars 2020 on nous disait que "C'est juste pour deux semaines..." depuis il FAUT constater que le comportement de la secte hypocrite de Davos, actuellement au pouvoir presque partout en Occident, démontre qu'elle n'a AUCUNE intention de nous restituer nos droits ni de les respecter. Évidemment, la secte de Davos a sciemment procédé par étapes, de manière à minimiser les dommages pour elle (tout en se foutant complètement des dommages pour le peuple, peuple qu'elle méprise profondément) et en accordant de brefs répits pour bon comportement, avant de biffer encore d'autres droits. Il est temps de se poser des questions sur la destination qu'ils ont prévue... (Anonyme)

Malheur à toi qui ravages, et qui n'as pas été ravagé! Qui pilles, et qu'on n'a pas encore pillé!
Quand tu auras fini de ravager, tu seras ravagé; Quand tu auras achevé de piller, on te pillera.
(Isaïe 33: 1)

L'homme violent séduit son prochain, et le fait marcher dans une voie qui n'est pas bonne. (Prov. 16: 29)

While the administrators of permanently increasing power in the past era of moderate imperialism did not even try to incorporate conquered territories, and preserved existing backward political communities like empty ruins of bygone life, their totalitarian successors dissolved and destroyed all politically stabilized structures, their own as well as those of other peoples. (...) However, one should not overlook the fact that Hobbes wanted most of all to protect private interests by pretending that, rightly understood, they were the interests of the body politic as well, while on the contrary totalitarian regimes proclaim the nonexistence of privacy.
(Hannah Arendt - The Origins of Totalitarianism - 1948/1976 pp. 138-139)

Des trésors acquis par une langue mensongère sont une vanité fugitive et l'avant-coureur de la mort. La violence des méchants les emporte, parce qu'ils refusent de faire ce qui est juste.
(Prov. 21: 6-7)

There will be no curiosity, no enjoyment of the process of life. All competing pleasures will be destroyed. But always — do not forget this, Winston — always there will be the intoxication of power, constantly increasing and constantly growing subtler. Always, at every moment, there will be the thrill of victory, the sensation of trampling on an enemy who is helpless. If you want a picture of the future, imagine a boot stamping on a human face— forever.
(George Orwell - 1984) -> Ebook

La question ne se limite toutefois pas à l'usage que les régimes totalitaires actuels feront de l'ordinateur. La question est de savoir ce que toutes ces techniques de manipulation disponibles signifieront dans nos propres pays. Nous ne devons pas penser à un changement du jour au lendemain, mais plutôt à une tendance subtile des dirigeants vers un contrôle et une manipulation toujours plus grande de l'individu. Bien sûr, certains pourraient se sentir mal à l'aise face à ce contrôle et cette manipulation accrus à une époque relativiste, mais où traceraient-ils une limite ? Beaucoup de ceux qui parlent de libertés civiles sont également attachés au concept de la responsabilité de l'État de résoudre tous les problèmes ; ainsi, à une époque de pressions de plus en plus fortes (et avec la perte moderne de toute distinction qualitative entre l'homme et le non-homme), à un moment donné, le sentiment de malaise [face aux pertes de liberté] sera submergé.
(Francis Schaeffer - How Should we Then Live?/L'héritage du christianisme - 1976)

I believe a man is happier, and happy in a richer way, if he has 'the freeborn mind'. But I doubt whether he can have this without economic independence, which the new society is abolishing. For economic independence allows an education not controlled by Government; and in adult life it is the man who needs, and asks, nothing of Government who can criticise its acts and snap his fingers at its ideology. Read Montaigne; that's the voice of a man with his legs under his own table, eating the mutton and turnips raised on his own land. Who will talk like that when the State is everyone's schoolmaster and employer? Admittedly, when man was untamed, such liberty belonged only to the few. I know. Hence the horrible suspicion that our only choice is between societies with few freemen and societies with none.
Again, the new oligarchy must more and more base its claim to plan us on its claim to knowledge. If we are to be mothered, mother must know best. This means they must increasingly rely on the advice of scientists, till in the end the politicians proper become merely the scientists' puppets. Technocracy is the form to which a planned society must tend. Now I dread specialists in power because they are specialists speaking outside their special subjects. Let scientists tell us about sciences. But government involves questions about the good for man, and justice, and what things are worth having at what price; and on these a scientific training gives a man's opinion no added value. Let the doctor tell me I shall die unless I do so-and-so; but whether life is worth having on those terms is no more a question for him than for any other man.
(CS Lewis - Is Progress Possible? Willing Slaves of the Welfare State - 1958 - Etext)

"If we will not be governed by God, we must be governed by tyrants." (William Penn - Some Fruits of Solitude - 1644-1718)

Et lorsque la Mark de la Bête (Apocalypse chapitre 13) sera imposé les lobotomisés diront tous: "Pourquoi pas? Après tout on arrête pas le Progrès!" [Ouais, enfin le progrès de l'esclavage...]

Il n'y aura pas d'argent ou de monnaie entre les mains des non-élites. Toutes les transactions doivent être effectuées au moyen d'une carte de débit portant le numéro d'identification du titulaire. Toute personne qui, de quelque manière que ce soit, enfreint les règles et règlements du Comité des 300 verra l'utilisation de sa carte suspendue pour des durées variables selon la nature et la gravité de l'infraction… Ces personnes constateront, lorsqu'elles iront faire des achats, que leur carte est sur liste noire et ils ne pourront pas obtenir de services de quelque nature que ce soit. Tenter d'échanger de "vieilles" pièces, c'est-à-dire à-dire les pièces d'argent des nations précédentes et aujourd'hui disparues, sera traité comme un crime capital passible de la peine de mort. Toutes ces pièces doivent être remises dans un délai donné ainsi que les fusils, les explosifs et les automobiles. Seule l'élite et les hauts fonctionnaires du gouvernement mondial seront autorisés à voyager à titre privé, et à posséder armes, pièces de monnaie et automobiles.
(John Coleman - Conspirators' Hierarchy: The Story of The Committee of 300. -1991)





Les vidéos affichant cet image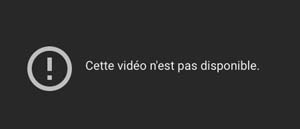 ont été censurés par YouTube depuis leur mise en ligne....
Les articles sont en ordre chronologique croissant (plus vieux d'abord) / Articles are in chronological order (oldest first, recent articles at the bottom) -> articles plus récents
---
Anecdote personnelle:
Quelque temps après le déclenchement du confinement et de la crise du Covid je suis allé dans une pharmacie de la ville de Québec où je voulais payer un petit truc à 3.40$ et la caissière a insisté, il fallait payer avec carte de crédit (et la BBC note que de telles directives étaient en vigueur en Angleterre également, au même moment...). J'ai dit non, l'argent liquide c'est l'argent du pays, vous avez l'obligation légale de l'accepter.
Et on a fait venir la gérante, ensuite un agent de sécurité (pour me faire voir la raison). Moi j'ai dit mon argent est là sur le comptoir, si vous ne le voulez pas, donnez moi l'article et je pars avec, mais moi je veux bien payer et je suis prêt à payer. Suffi de ramasser les sous que j'ai mis devant vous sur le comptoir. J'ai ajouté qu'ici si quelqu'un cherche à payer avec des Yens, Pesos ou des Euros, ils ont tout à fait le droit de refuser, mais au Canada les billets canadiens sont la monnaie du pays et ils sont OBLIGÉS de les accepter. Et pour ce qui est du PRÉTEXTE que les billets sont dangereux pour le covid19, il faut noter que le commerçant ne court aucun risque que le client ne court pas déjà. Le commerçant ne peut en AUCUN cas garantir à 100% que les biens que le client achète ne sont PAS contaminés au Covid19 ? Si le client DOIT accepter ce risque, alors pourquoi pas le commerçant?? (sans compter que les billets canadiens sont plastifiés et peuvent être lavés tout autant que les pièces métalliques...). Il est manifeste que cette justification (de la contamination) est compètement bidon...
Et derrière ce décor, il faut se poser une autre question: QUI a décrété que les billets ne seraient pas acceptés et est-ce que cette personne a l'AUTORITÉ pour faire un tel décret?? Ce n'est PAS un directeur de Chambre de commerce qui peut décider une telle chose. Ça relève du gouvernement fédéral canadien et personne d'autre.
Même si ce n'est pas tout de suite la vraie marque de la Bête dont il est question dans l'Apocalypse (chap. 13), il reste que se retrouver dans un système où TOUT notre argent devient digital, ça donne immédiatement un pouvoir répressif ÉNORME et EXTRAORDINAIRE à l'État... Même si tu as bossé toute ta vie et que tu as des millions dans ton compte de banque, si par hasard tu déplait à quelqu'un dans le système, alors d'un seul « click », tu devient un sans abris (SDF pour les copains hexagonaux)... C'est un moyen de pression (et d'oppression) EXTRAORDINAIRE.
J'ai d'ailleurs mentionné les conséquences d'une économie sans argent physique à l'agent et il m'a répliqué qu'il ne fallait pas fabuler. Je n'ai pas eu la présence d'esprit de lui dire: « Mais qui sait, si d'ici peu tu vas peut-être voir tout ça de tes propres yeux...?? Alors on pourra fabuler ensemble...»

Apple Has Plans for Better AI, Cashless Society. (Jeff Gamet - Mac Observer - 17/10/2016)
Mark of the Beast: Digital Identity and the Cashless Cartel. (Martin Edwards - UK Column - 14/9/2017)
Dix prévisions économiques pour 2030. (Jean-François Codère - La Presse - 4/1/2020) -> voir section: Bye bye, billets -> Et il faut se demander quel est l'intérêt de ceux qui font de telles prédictions... À quoi cela leur servirait si l'argent papier disparaîtrait?? À qui cela serait UTILE??
The death of the wallet: Why we'll soon be combining payments, loyalty cards and ID. (Vince Graziani - Global FInance & Banking - 9/3/2020)
Le Forum économique mondial avoue son projet criminel de ruiner la population mondiale par l'intermédiaire de la grande réinitialisation. (Guy Boulliane - 24/8/2020)
A New World Monetary Order Is Coming. (Stefan Gleason - Daily Coin - 27/10/2020)
Christine Lagarde nous prépare à l'«euro numérique» et au «grand reset». (Jonathan - ExoPortail - 5/11/2020)
Cashless World Signals a Global End to Privacy. (Martin Armstrong - Armstrong Economics - 11/11/2020)
"This Pandemic Was The Final Blow to Our Collective Notion of Money as Something Real". (Tyler Durden - Zero Hedge - 15/11/2020)
The "Great Reset" And Plans For a Global War on Savings. (Daniel Lacalle/The Mises Institute - Tyler Durden/Zero Hedge - 9/12/2020)
Catherine Austin Fitts | Full Interview | Planet Lockdown - Jan. 2020. -> The End of Cash. (Honey.Lightwings - BitChute - video, 48 minutes - 6/1/2021) -> using the Covid crisis to use fear to pressure the population to accept digital currency. -> interview done: Dec. 22, 2020
From "Event 201" to "Cyber Polygon": The WEF's Simulation of a Coming "Cyber Pandemic"'. (Johnny Vedmore & Whitney Webb - Unlimited Hangout - 5/2/2021)
How Big Banks Are Planning to Force Americans into the 'Great Reset' Trap. (Justin Haskins - TownHall - 30/3/2021)
War On Cash: The Next Phase Begins. (James Rickards/The Daily Reckoning - Tyler Durden/Zero Hedge - 8/4/2021)
The Threat of Cashless Societies (A cashless society truly is a scary world. Picture everything that you've read about in history books within other totalitarian regimes, and you'll get a taste of what is to come). (Brandon Campbell - Bill Kloss - 28/5/2021)
L'euro numérique permettra-t-il de mieux espionner l'utilisation de votre argent ? (SputnikNews/Aphadolie - Les moutons enragés - podcast/15 minutes - 19/6/2021)
The Covid Lockdowns Showed us How Dangerous Social Engineers Have Become. (Birsen Filip - The Mises Institute - 22/6/2021)
L'euro numérique ne remplacera pas l'argent liquide et ne gardera pas la trace des achats. (FranceSoir - 22/7/2021) -> il faut s'attendre que les promesse de préserver la vie privée avec les monnaies digitales sont rien d'autre que des mensonges éhontés.
Digital Health Passports Are Trojan Horse For Cashless Society: Several new technologies that appear separate and unrelated will soon converge, creating a giant digital trap that will easily entice the uninformed masses. (LeoHohmann - Tyler Durden/Zero Hedge - 10/8/2021)
Macron contrôle désormais la médecine en France: Par décret passé en catimini, Macron et Véran créent « le Conseil national de certification », soumis au gouvernement, pour reconduire ou retirer le droit d'exercer des médecins qui n'obéissent pas… pas un mot dans les médias. (Blog de le Moine copiste - 12/8/2021)
2021 Is 1984 – Our Liberties And Freedoms Are Being Ripped Away From Us And America Is Almost Gone. (Tyler Durden - Zero Hedge - 12/8/2021)
The New Covid Untouchables: Yes we are now seeing a new medical Apartheid. (Bill Muehlenberg - 14/8/2021)
Passeports de sante numériques : le piege qui attirera de nombreuses personnes dans le système mondial sans argent liquide. (Joseph Stroberg - Nouveau Monde - 20/8/2021)
Mais en quoi le Great Reset a-t-il vraiment besoin du passe sanitaire pour se mettre en place ? (Françoise G./Le Courrier des Stratèges - Les moutons enragés - 23/8/2021) -> éventuellement, le portefeuille digital remplacera le passeport vaccinal...
Apple Wallet Will Allow Digital Version of Your Driver's License in These States. (Tyler Durden - Zero Hedge - 1/9/2021)
Biden's Total Financial Surveillance. (Matt Welch/Reason - Tyler Durden - Zero Hedge - 12/9/2021)
1930S Germany Revisited: We MUST learn from history, or we will lose it all. (Bill Muehlenberg - CultureWatch - 13/9/2021)
Central Bank Visions of Absolute Control. (MN Gordon/EconomicPrism - Tyler Durden/Zero Hedge - 12/9/2021)
The War on Cash, Is It A Real Thing? The Answer Is Yes. (Bruce Wilds - AdvancingTime Blog - 15/9/2021)
'Do you understand, America, what that means?': World Economic Forum publishes SHOCKING Great Reset strategy. (The Blaze - 16/9/2021)
Le puzzle de la pandémie – #1 L'argent. (Senta Depuydt - Children's Health Defense Europe - 8/10/2021)
One Ring To Rule Us All: A Global Digital Fiat Currency. (Tyler Durden - Zero Hedge - 9/10/2021)
Republicans Warn Biden's IRS $600 Disclosure Plan Could Lead to "Surveillance State". (Masooma Haq/The Epoch Times - Tyler Durden/Zero Hedge - 13/10/2021)
Video: Rand Paul Warns COVID Mandates Are "About Conditioning The American Individual to Submit to Government": "If you love the dictates on vaccines, you'll love it when Fauci is in charge of who can be dialyzed". (Steve Watson - Summit News - 14/12/2021)
War on Cash: The Digital Dollar. (SchiffGold - Tyler Durden/Zero Hedge - 28/1/2022)
The War on Cash Entering Bold New Phase. (James Rickards - The Daily Reckoning - 15/2/2022)
BOOM, Trudeau Reversal Motive Surfaces – Canadian Banking Association Was Approved by World Economic Forum to Lead the Digital ID Creation. (Sundance - The Conservative Treehouse - 23/2/2022) -> digital ID and TOTAL government control of personal finances...
Canada's Freezing of Protesters' Finances Shows How the "War on Cash" Ends. (Robert Fellner - Mises Wire - 26/2/2022)
Bientôt un pass vaccinal mondial ? L'OMS invoque le prétexte sanitaire et avance ses pions. (Axel Messaire - Android MT - 3/3/2022)
Will The World Soon Be Ready For Central Bank Digital Currencies? The IMF Thinks So... (Nick Corbishley/NakedCapitalism - Tyler Durden/Zero Hedge - 4/3/2022)
The fallout from COVID jabs will come with economic collapse, warns finance executive Restrictions on travel, vaccine passports and rampant censorship enacted as measures to control the pandemic are all a global way to control the collapse and its aftermath, argued Edward Dowd. (Dr. Joseph Mercola - LifeSite - 7/3/2022)
To Punish Putin, U.S. Firms Develop Social Credit System That Would Make Him Proud. (Elle Reynolds - The Federalist - 8/3/2022)
Warning: Controlling All Absolute Data About You is Controlling You Absolutely. (Dr. Joseph Mercola - Technocracy.News - 8/3/2022)
L'Ukraine, terrain de jeu des oligarques? Pendant ce temps, la Monnaie Unique Mondiale se précise sur fond de Dépossession. (Liliane held Khawam - Les moutons enragés - 9/3/2022)
Government Control of What You Buy Grows More Popular, With governments, that is. You'd be surprised at how far along they are with digital currency and how detailed the control could be. (MindMatters.ai - 10/3/2022)
Red Alert: With New EO [Executive Order], Biden Is Probing How to Terminate Fiat Currency, Implement Digital Money. (Patrick Wood - Technocracy News - 14/3/2022)
The Coming Carbon Social Credit Currency Over 100 countries, including the U.S., want to centralize banking and take control over your financial decisions. (Connor Tomlinson - The American Spectator - 15/3/2022)
Digital Tyranny: Beware of the Government's Push for a Digital Currency. (John W. Whitehead & Nisha Whitehead - The Rutherford Institute - 14/3/2022)
Arizona becomes first state to offer driver's license and state ID in Apple Wallet. (Sarah Perez - TechCrunch - 23/3/2022)
Le Sommet mondial des gouvernements annonce l'interdiction de l'argent liquide. (Anguille sous Roche - Les mouton enragés - 5/4/2022)
BBC Lauds Implantable Microchip "Wallet": Nothing to see here. Just the BBC reporting on implantable microchips, like it's totally normal. (Steve Watson - Summit News - 20/4/2022)
The 'Great Reset' & The Future of Money... Here's What You Need to Know. (Nick Giambruno/InternationalMan - Tyler Durden/Zero Hedge - 3/5/2022)
"À méditer" (Danny Chichinskas - Twitter - 24/5/2022) -> Matière à réflexion suite aux pannes de courant au Québec: dans la merde sans argent papier...
Mastercard CEO: SWIFT Payment System May Be Replaced By CBDCs In Five Years. (Tyler Durden - Zero Hedge - 30/5/2022) -> CBDCs = Central Bank Digital Currencies
Great Reset: Federal Reserve Announces 'Global Digital Currency' to Replace US Dollar. (Sean Adl-Tabatabai - News Punch - 18/6/2022)
"Anything But A Cashless Society": Physical Money Makes Comeback As UK Households Battle Inflation. (Tyler Durden - Zero Hedge - 10/8/2022)
Dictature en Israël : Utiliser du cash devient criminel ! (Franck Pengam/Géopolitique Profonde - Les moutons enragés - 15/8/2022)
'Move Over Freedom': Actor Russell Brand Warns About Amazon's New Convenient Way to Pay. (Katie Jerkovich - DailyWire - 23/8/2022)
Millions of Brits would struggle in cashless society favoured by wealthy. (The Counter Signal - 1/9/2022)
La monnaie, partie 1 : apocalypses monétaires. (Charles de Mercy - FranceSoir - 20/9/2022)
La Chine étend le test de sa monnaie numérique à quatre autres régions. (FranceSoir - 29/9/2022)
La monnaie, partie 6 : une anecdote. (Charles de Mercy - FranceSoir - 30/9/2022)
Turkey to connect digital ID to Digital Currency. (Mike Campbell - The Counter Signal - 7/11/2022)
What, No Cash?! Central Bank Digital Currency, Digital ID and Freedom. (Daily Sceptic - 30/11/2022)
It Begins: Nigeria Limits Cash Withdrawals to $45 To Usher in WEF-Approved 'Cashless Society'. (Baxter Dmitry - News Punch - 8/12/2022)
'If we allow a cashless society to happen, that will be the end to your financial autonomy.' (Mark Dolan - Twitter - video, 4 minutes - 9/12/2022)
Former Chinese Central Banker Admits Results of Digital Yuan Experiment "Not Ideal". (Jesse Coghlan/CoinTelegraph - Tyler Durden/Zero Hedge - 30/12/2022)
Brett Scott: Beware a cashless society: The former broker spoke to UnHerd about the risks of digital money. (UnHerd - 3/1/2023)
CBDCs: digital wolves in sheep's clothing? (John Butler - Fortune & Freedom - 6/1/2023) -> CBDCs = Central Bank Digital Currencies = Monnaie digitale de banque centrale
Comment votre carte SIM vous espionne à votre insu. (Éric Verhaeghe - Le Courrier des Stratèges - 12/1/2023)
Don't want to get mugged? Stop using cash, says Chicago Mayor Lori Lightfoot. (Andrew Chapados - The Blaze - 23/1/2023) -> using threats and blackmail to promote a cashless society??
The "Great Reset" and the Future of Money… Here's What You Need to Know. (Nick Giambruno - The International Man - 26/1/2023)
UK Is "Likely" To Need Digital Currency, Says BoE & Treasury. (Ana Paula Pereira/CoinTelegraph - Tyler Durden/Zero Hedge - 7/2/2023)
L'avenir de la biométrie dans les veines de la main: Ingenico et Fujitsu Frontech Amérique du Nord ont dévoilé une "solution unique" de paiement biométrique pour éliminer les files d'attente en magasin. (Claude Gelinas - Notes utiles - 13/2/2023)
L'Investisseur sans costume – La guerre contre l'argent liquide : un mouvement déjà en cours depuis plusieurs années. (Média en 4-4-2 - vidéo, 15 minutes - 27/3/2023)
Brave New Europe: Pay fine and go directly to JAIL if you use more than $1,000 in cash… (Revolver - 13/4/2023)
Rich Dad Poor Dad Author Warns "Dystopian" CBDCs will Allow Government to Track Purchases: "Big Brother will be constantly monitoring our financial activity." (Paul Joseph Watson - Summit News - 25/4/2023)
Une société sans argent liquide marquera la fin de notre autonomie – ne payez pas par carte ! (Mark Dolan - Profession Gendarme - vidéo, 6 minutes - 10/5/2023)
On the Death of Privacy… and What Comes Next. (Doug Casey - The International Man - 23/5/2023)
Withdrawing Your Own Cash? NatWest Bank Wants to Know Why... And See Proof. (Mark Jeftovic/BombThrower - Tyler Durden/Zero Hedge - 24/5/2023)
'Cash Is Printed Freedom' - 530,000 Austrians Betrayed After Referendum on Cash Payments In The Constitution. (John Cody/Remix News - Tyler Durden/Zero Hedge - 1/6/2023)
IMF Leader Declares "Our Global CBDC Will Be Mandatory for All'. (Sean Adl-Tabatabai - The People's Voice - 20/6/2023)
French Bank Governor Says It's: "Very Probably Our Duty to Issue a CBDC". (Ken Macon/Reclaim The Net - InfoWars - 24/6/2023)
Australian Banks Refusing to Honor Cash Withdrawals As WEF Declares War on Cash. (Baxter Dmitry - The People's Voice - 7/7/2023)
WEF: Governments Can Program Digital Currency To Prohibit "Less Desirable" Purchases, Add Expiry Dates "We'd do well to think long and hard about the implications of handing power over to people who so explicitly reject the idea that there is any power over them." (Ben Davis - Caldron Pool - 8/7/2023)
CBDCs are a solution for a problem we don't have, and they want to implant it under our skin. (Rhoda Wilson - The Exposé - 9/7/2023)
WEF Says CBDCs Must Be 'Implanted Under Your Skin' if You Want to Participate in Society. (Sean Adl-Tabatabai - The People's Voice - 10/7/2023) -> Examining statements by WEF pawn Professor Richard Werner.
The War On Cash Centers on "Controlling The Individual". (Bruce Wilds/Advancing Time blog - Tyler Durden/Zero Hedge - 16/7/2023)
CEO of Worldcoin Says "Something Like World ID Will Eventually Exist…Whether You Like It Or Not". (Didi Rankovic/Reclaim The Net - Summit News - 18/7/2023)
RFK Jr: 'Plot for Cashless Society Is About Turning Humans Into Slaves'. (Sean Adl-Tabatabai - The People's Voice - 24/7/2023)


Amsterdam...ned!
(Bizouskes Stefan Cuvelier - YouTube - 16 minutes - 5/8/2023)
-> à partir de 5 minutes, discute du refus du cash par des commerces à Amsterdam

World Reaches New Level of Dystopia as The Cashless Society Gains Terrifying Traction. (Kay Smythe - Daily Caller - 7/8/2023)
Resistance Isn't Futile: The Global Rejection of CBDCs. (Ari Patinkin & John Berlau - Technocracy News - 8/8/2023)
Confirmed: Digital currency will be used to "control" the masses… (Revolver - 18/8/2023)
La date approche : Gaffe de Christine Lagarde qui révèle la date du lancement de l'euro numérique. (Média en 4-4-2 - vidéo, 3 minutes - 20/8/2023)
Don't Kill Cash "I don't want to live in a society where you're one wrong word from going bankrupt." (Rod Lampard - Caldron Pool - 25/8/2023)
"Ban CBDC's NOW!" Congressman pushes total BAN on Central Bank Digital Currency: Minnesota Representative Tom Emmer proposed a ban on central bank digital currencies this week. (Redacted News - YouTube - video, 14 minutes - 23/9/2023)
Cash Will Be No Refuge Under CBDCs. (Mark Jeftovic/BombThrower - Tyler Durden/Zero Hedge - 25/9/2023) -> CBDCs = Central Bank Digital Currencies.