HYPOCRISIE, incohérences et malhonnêteté des technocrates
et élites postmodernes...
Postmodern Technocratic Incoherence and Hypocrisy...
Deux poids, deux mesures (de confinement)
To sum it all up, I must say that I regret nothing.
Adolf Eichmann

When SAGE scientists call for another national lockdown (an idea Boris Johnson rejected), you get the impression that the job security and economic comfort enjoyed by these experts makes them blind, at least partially, to the devastation lockdown has wreaked on other people's livelihoods and their mental and spiritual health. When middle-class commentators and academics bark at Boris for failing to lock down sooner and harder, what I hear are the entitled voices of people who are largely bubble-wrapped from the worst consequences of the manmade recession of the Covid era. Still working at home, Zooming their colleagues, having meals delivered by underpaid Deliveroo workers, making their sourdough bread – there is a whiff of Marie Antoinette to the lack of concern for other people's lives implied in their lockdown fanaticism.
We have to get out of this spiral of authoritarianism. (Brendan O'Neill - Spiked - 13/10/2020)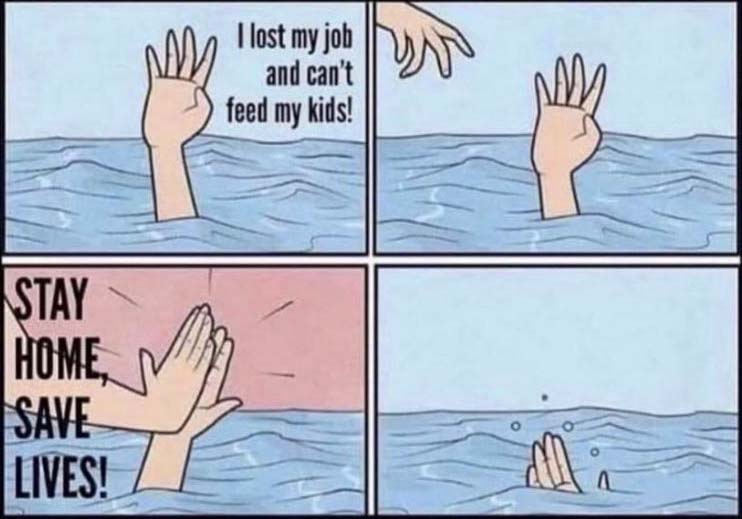 Les vidéos affichant cet image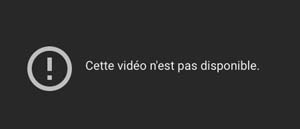 ont été censurés par YouTube depuis leur mise en ligne....
Les articles sont en ordre chronologique croissant (plus vieux d'abord) / Articles are in chronological order (oldest first, recent articles at the bottom) -> articles plus récents
---


Spreading Coronavirus Classified As "Domestic Terrorism" But Democrats Want to Decriminalize Spreading AIDS. (Pen and Pulpit - 31/3/2020)
Did Bill Gates Just Reveal the Reason Behind the Lock-Downs? (Rosemary Frei - OffGuardian - 4/4/2020)
Mass. Governor Targets Churches For Shutdown Rules He Didn't Apply To Home Depot. (Carol McKinley - The Federalist - 15/5/2020)
Democrat Lockdowners Keep Getting Caught Breaking Their Own Rules. (Tristan Justice - The Federalist - 27/5/2020)
Gretchen Whitmer Encourages 'Areas for Peaceful Demonstrations' While Churches Are Still Restricted. (Kyle Olson - Breitbart - 30/5/2020)
Wisconsin city refuses to arrest rioters, but hands out hefty fines to churches with more than 50 worshipers: The city is more strict about church services than criminals looting businesses. (Paul Sacca - The Blaze - 31/5/2020)
The hypocrisy of the BLM lockdown-breakers: For months the left warned us not to break the lockdown, yet now they are doing so with impunity. (Brendan O'Neill - Spiked - 4/6/2020)
CNN's Cooper: Protesters Risking Getting COVID Because They 'Urgently' Want Change – Trump Ignored COVID Warnings at Presser. (Ian Hanchett - Breibart - 6/6/2020)
The Collapse of Social Distancing and Establishment Authority. (Richard Fernandez - PJMedia - 5/6/2020)
The Tale of 3 Gatherings. (Andrew Rouchotas - Druthers - 6/6/2021)
The extraordinary hypocrisy of public-health experts: They support BLM marchers but wanted to deny medical care to lockdown protesters. (Michael Cook - Spiked - 8/6/2020)
Trudeau defends decision to attend protest despite advice to avoid large crowds during COVID-19: 'As best I could, I followed social distancing measures... It is a difficult situation where we are trying to balance very important competing interests'. (Ryan Tumilty - National Post - 8/6/2020)
Hillary Clinton Criticizes Trump Campaign over Coronavirus Waiver: 'Shouldn't Be Holding' Rallies. (Hannah Bleau- Breitbart - 13/6/2020)
New York City Instructed Contact Tracing Team Not To Ask About Protest Participation. (Tristan Justice - The Federalist - 15/6/2020)
De Blasio: 'We're not going to allow people to take the law into their own hands.' He wasn't talking about the protesters, he was talking about Jewish families. (Leon Wolf - The Blaze - 16/6/2020)
Media Raises Hysteria Over Trump Tulsa Rally After Celebrating Mass Protests: The mainstream media suddenly cares about social distancing again. (Tristan Justice - The Federalist - 19/6/2020)
Massive crowds gather in Chicago and NYC for Pride month as global COVID-19 deaths surpass 500,000. (Paul Sacca - The Blaze - 28/6/2020)
Sen. Marco Rubio Shreds Ruling Class Hypocrisy: 'Why Would People Trust You?'. [Sen. Marco Rubio ripped into politicians and so-called experts over their glaring double standard for Wuhan virus regulations and lawless mobs last week, and it was exactly the kind of boldness the GOP desperately needs right now.] (Kylee Zempel - The Federalist - 2/7/2020)
Health Experts 'Grappling' With Double-Standard Between Anti-Lockdown And BLM Protests. (Tim Pearce - DailyWire - 7/7/2020)
NYTimes Blames Churches For CV Spike. (Prophecy Update - 10/7/2020)
3 churches sue Newsom after California bans singing in places of worship because of coronavirus: They claim a double standard because of Newsom's support of protests. (Morgan Phillips - Fox News- 16/27/2020)
« Le problème, ce sont les rassemblements privés », dit François Legault. (Joëlle Girard (Joëlle Girard - Radio Can - 17/7/2020) -> mais les bars, c'est ok. Exemple flagrant et extraordinaire d'hypocrisie...
Andrew Cuomo: I'm 'Appalled' At People Attending Saturday Concert. He's Silent About Sunday's March. (Hank Berrien - DailyWire - 28/7/2020)
Dr. Fauci: 'There's No Inconsistency' in Banning Church and Business But Allowing Mass Protests. (Tyler O'Neil - PJMedia - 31/7/2020)
Chicago Mayor Lori Lightfoot Broke Up Gay Beach Party; Failed to Protect Downtown. (Joel B. Pollak - Breitbart - 10/8/2020)
Jacinda Ardern's Covid autocracy: New Zealand has delayed its election, even though just five people are in hospital with Covid. (Spiked - 17/8/2020)
Chicago Mayor Who Can't Contain Rioting Elsewhere Bans Protests From Her Block. (Paulina Enck - The Federalist - 21/8/2020)
New York exempts celebrities from forced mandatory quarantine — which normal people could be jailed for violating: Different rules for the rich and famous. (Chris Enloe - The Blaze - 24/8/2020)
Hey California! Just Because Nancy Pelosi's Nephew Shut Your Business Down Doesn't Mean She Can't Get a Haircut! (Bryan Preston - PJMedia - 1/9/2020)
Protesters hang hair dryers on tree outside Pelosi's house amid salon uproar: 'It's a freedom tree, everybody!' (Breck Dumas - The Blaze - 3/9/2020)
Protest for me, but not for thee: The left silence on the state's clampdown on protest is deafening. (Tom Slater - Spiked - 4/9/2020)
Our political police won't allow protests they disagree with: Police are clamping down on anti-lockdown protests, while woke causes are largely given free rein. (Paddy Hannam - Spiked - 22/9/2020)
British Man Arrested For Not Wearing Mask Asks Cops Where They Were During BLM Riots. (Tyler Durden - Zero Hedge - 25/9/2020)
Free speech group warns university after it allowed Black Lives Matter protest but banned other gatherings. (Rachelle Hernandez - The College Fix - 28/9/2020)
The hypocrisy of Margaret Ferrier: The SNP MP slammed Dominic Cummings for bending Covid rules. Then she broke them herself. (Fraser Myers - Spiked - 2/10/2020)
Gavin Newsom Sends His Kids Back to Class at Fancy Private School While Public Schools Remain Closed. (Ashe Schow - DailyWire - 1/11/2020)
It seems the rules don't apply to everyone. (Chris Woodward - OneNewsNow - 11/11/2020)
Lori Lightfoot Tells Chicago: Cancel Thanksgiving, Avoid Family, Days After Hosting Crowded Biden Street Party. (Tyler Durden - Zero Hedge - 14/11/2020)
Democrats Hold Big, Fancy Dinners While Telling America to Cancel Thanksgiving. (Tristan Justice - The Federalist - 15/11/2020)
Media goes nuts after Alito warns religious freedoms at risk. (Billy Davis, Steve Jordahl - OneNewsNow - 16/11/2020)
California Governor Breaks His Own COVID Rules To Eat Fancy French Food While Americans Go Hungry In Lockdown. (Christopher Jacobs - The Federalist - 17/11/2020)
CA Judge Orders San Diego Strip Clubs to Reopen as Churches Fight For Same Right. (Jon Brown - DailyWire - 18/11/2020)
Your Political Leaders Hate You And Think You're Stupid: Their hypocrisy knows no bounds. (John Daniel Davidson - The Federalist - 20/11/2020)
Laughter Will Win Against Totalitarianism. (Annie Holmquist - Chronicles Mag - 20/11/2020)
The great lockdown hypocrites: Maybe politicians should stop preaching what they won't practise. (Douglas Murray - UnHerd - 20/11/2020)
Gov. Cuomo blasted as a hypocrite for inviting his 89-year-old mother to Thanksgiving dinner: He has now reportedly changed his holiday plans. (Breck Dumas - The Blaze - 23/11/2020)
Fauci on SCOTUS Ruling on Religious Gatherings: 'Considerable Risk' for Coronavirus Spread. (Pam Key - Breitbart - 29/11/2020)
COVID-19 Lockdowns: Liberty and Science. (Sam Jacobs - Libertas Bella - 29/11/2020)
Why Is Big Media Hiding That Illinois Has Far More COVID Cases Than Florida? Because Illinois Has A Democrat In Charge And Tighter Lockdowns. (Jordan Davidson - The Federalist - 27/11/2020)
Covid Hypocrite of the Week. (LockDown Sceptics - 29/11/2020) -> Mayor of Denver, Michael B. Hancock
Texas County Judges Caught Red-Handed Violating Their Own COVID Rules. (Evita Duffy - The Federalist - 1/12/2020)
California Bureaucrat Eats at Restaurant Just Hours After Voting to Ban Outdoor Dining. (Jordan Davidson - The Federalist - 1/12/2020)
Hypocrite! LA County Sup. who is Forbidding John MacArthur's Church from Opening Breaks Own Rules. (Protestia - 2/12/2020)
Popular Los Angeles lifestyle boutique goes viral for mercilessly mocking Democrats, leftist celebrities over hypocrisy and more: On the nose. (Sarah Taylor - The Blaze - 3/12/2020)
'Daily Show' host Trevor Noah sounds off on Democratic leaders like Gov. 'hair gel' Gavin Newsom over COVID hypocrisy: 'Everyone has given up their lives and then you've got these politicians who are just hypocrites out here'. (Phil Shiver - The Blaze - 4/12/2020)
Rick Santelli Demands CNBC Panel Defend Big Box Stores Opening While Churches, Restaurants Closed. (Jordan Davidson - The Federalist - 4/12/2020)
Rich People & Journalists Made Exempt From Having to Enter COVID Quarantine in UK. (Tyler Durden - Zero Hedge - 6/12/2020)
California business owner says 'pick-and-choose' lockdown policies from hypocritical Democrats don't make sense: 'It's been very, very difficult'. (Chris Pandolfo - The Blaze - 7/12/2020)
Govt Closes Churches but Allows Sex Shops: They're 'Safety Supply Stores'. (Protestia - 7/12/2020) -> Canada
Calls for Hypocritical State Governments to Ease Restrictions on Churches After Thousands Allowed to Pack Sporting Events. (Caldron Pool - 12/12/2020)
Why the well-off love the lockdown: Julia Hartley-Brewer and Brendan O'Neill discuss Britain's slide into Covid tyranny. (Spiked - 16/12/2020) -> podcast


Top Ontario doctors: "I just say whatever they write down for me".
(Rebel News - YouTube - 6 minutes - 16/12/2020)
-> Dr. David Williams + Dr. Barbara Yaffe
«Passeport Vert» pour les vaccinés: comment rendre indispensable un vaccin non obligatoire. (Adrien Peltier - Sputnik News - 18/12/2020)
Dr. Birx took family trip to Delaware vacation home, flouting her own coronavirus guidance: Three generations of her family from two households ate a meal together. (Paul Sacca - The Blaze - 20/12/2020)
The year journalists stopped doing their job: Why did so much of the media become cheerleaders for lockdown? (Paddy Hannam - Spiked - 21/12/2020)
If Dr. Birx Doesn't Worry About Coronavirus, Why Should Anyone Else? (John Nolte - Breitbart - 21/12/2020)
Van Morrison: Politicians 'Haven't Missed a Paycheck Since Lockdown Began'. (Paul Bois - DailyWire - 22/12/2020)
Head of Scotland's government gets caught breaking her own COVID-19 law: 'This was a stupid mistake': The hypocrisy isn't limited to U.S. politicians. (Chris Field - The Blaze - 23/12/2020)
Lockdowns Were Inspired by the CCP, admits Professor Pantsdown. (James Delingpole - Breitbart - 27/12/2020)
5 Big Things We Learned About Our Elites In 2020: It's been a hard year but at least we know, beyond all doubt, that our elites despise us and will do anything to expand their power. (John Daniel Davidson - The Federalist - 28/12/2020)
Every time a Canadian politician broke coronavirus rules. (True North Wire - 2/1/2021)
Swedish Official Defends Christmas Vacation to Canary Islands After Telling Citizens Not to Travel. (Elizabeth Louise - Daily Caller - 3/1/2021)
Democratic Rep. Gwen Moore Traveled to D.C. For Pelosi Vote Despite Positive COVID Test. (Tristan Justice - The Federalist - 4/1/2021)
UK: Public Blamed For COVID Spread For Lack Of Obeisance to Government Orders. (Kurt Zindulka - Breitbart/Technocracy - 6/1/2021)
Don't exaggerate the threat of the Capitol rioters: This was a nasty anti-democratic mob. But I'm more worried about the anti-democratic elites. (Brendan O'Neill - Spiked - 7/1/2021)
If Twitter Can Deny Service to a Customer, Why Not Christian Bakeries, Florists and NGOs? (Rod Lampard - Caldron Pool - 14/1/2021)
UK Police Chief: 'Now Is Really Not the Time' for Freedom of Speech, Right to Assembly. (Jack Montgomery - Breitbart - 15/1/2021)


Face Masks - A 2020 Timeline, Who's U-Turn & Still No High Quality Evidence
(Yabba - BitChute - 18 minutes - 18/1/2021)


Biden doesn't wear mask at Lincoln Memorial hours after mandating masks be worn at all federal property: Vice President Kamala Harris and celebrities were also seen maskless on Inauguration Day. (Paul Sacca - The Blaze - 21/1/2021)
Leftists Must Be Punished At The Ballot Box For Their COVID-19 Hypocrisy Many deserve to be held accountable at the ballot box and in public memory for every shuttered business, stunted education, and livelihood lost. (Chip Roy - The Federalist - 30/1/2021)
Which Dr. Fauci Should We Listen To? (Michael Knowles - DailyWire - 1/2/2021)
Project Veritas: Mark Zuckerberg Expressed Concern About 'Modifying DNA and RNA'. (Allum Bokhari - Breitbart - 16/2/2021)
Project Veritas : Mark Zuckerberg s'inquiète de la « modification de l'ADN et de l'ARN ». (Allum Bokhari - Breitbart – Traduit par Anguille sous roche - 17/2/2021)
How to Spread the Virus in Hospital. (LockDown Sceptics - 19/2/2021)
Flashback: Fauci describes Ebola quarantines as 'draconian,' warns of 'unintended consequences' "You don't want to have policy that would have negative unintended consequences." (Jordan Schachtel - Substack - 19/2/2021)
Coronacircus : des journalistes de BFMTV et des consultants santé de l'AP-HP se font verbaliser dans un restaurant clandestin ! (Aguelid - Le libre penseur - 3/3/2021)
Fauci: 'I Might Modify' Statements about Vaccinated People Transmitting Virus in a Few Months to Say 'It Would Be Extremely Unusual'. (Ian Hanchett - Breitbart - 13/3/2021)
Assembly for me, but not for thee: The anger over the police assault on the Sarah Everard vigil has exposed the double standards of the liberal elite. (Brendan O'Neill - Spiked - 14/3/2021)
Democrats Want 'Vaccine Passports' Required to Attend Concerts, But No IDs Required to Vote. (Gabe Kaminsky - The Federalist - 15/3/2021)
Despising Liberal Coercion and Hypocrisy — And Knowing You Are Not Alone. If millions of fed-up Americans stand up and resist, we can truly make America great again. (Dov Fischer - TheAmerican Spectator - 19/3/2021)


Les Nouvelles de la VÉRITÉ BRUTALE #6
(Amélie Paul - Odysée - 14 minutes - 22/3/2021)



Former Trump chief of staff wants to know why Dr. Fauci isn't saying something about the COVID dangers of the border crisis: Curiously quiet. (Chris Field - The Blaze - 1/4/2021)
French Politicians Investigated Over Claims of Secret Parties Despite Lockdown. (Andrew Jose - Daily Caller - 5/4/2021)
French Police Tell Airbnb to Report Customers Who Violate Lockdown Rules While Parisian elite break the law with secret dinner parties. (Paul Joseph Watson - Summit News - 9/4/2021)
While GraceLife Church is Shut Down, Islamic Mosques are Left Alone. (Protestia - 9/4/2021) -> Canada
'Data is in': Dr. Makary on Fauci cautioning against indoor dining after being vaccinated 'Medical officials are losing credibility' because of mixed messaging. (Dr. Marty Makary - Fox News - 13/4/2021)
Why the elites have no shame Like every aristocrat, Boris Johnson thinks he's exempt from moral norms. (Mary Harrington - UnHerd - 29/4/2021)
Biden's go Maskless During Visit with Elderly, Frail Carters. (John Nolte - Breitbart - 4/5/2021)
Top Democrat grilled for spending $29K on travel last year after urging constituents to 'stay home' and 'stop spreading this virus': Democratic New York Rep. Sean Maloney's unusual spending habits have prompted ethics concerns. (Phil Shiver - The Blaze - 5/5/2021)
Counting Down Dr. Fauci's 5 Biggest COVID Flip-Flops. (Beth Baumann - DailyWire - 10/5/2021)
Over A Year Into The Pandemic, Politicians Are Still Getting Caught Ignoring Their Own COVID Restrictions. (Mary Margaret Olohan - Daily Caller - 12/5/2021)
Logique sanitaire: Les bordels rouvrent, les discothèques restent fermées. (WikiStrike - 13/5/2021)
Canadian pastor jailed while pro-Hamas protesters attacked Jews over weekend. (Andrew Lawton - Rebel News - 17/5/2021)
Mass Anti-Israel Protests Celebrated While Pastors Are Arrested for Holding Church Services. (Rod Lampard- Caldron Pool - 17/5/2021) -> People can't do Church. They can join a mass protest to hate on Israel because it's part of the approved narrative – COVID rules need not apply.
Rand Paul wins: Dr. Fauci admits he wore a mask for show to avoid sending 'mixed signals'. (Chris Pandolfo - The Blaze - 18/5/2021)
A 10-Year-Old Kid Just Outed COVID Mask Tyrants as Total Hypocrites. (Kylee Zempel - The Federalist - 18/5/2021)
Emails Show Anthony Fauci Recommended Canceling Religious 'Services' but Approved Campaign Rallies, Cruise Ships Days Later. (Wendell Husebø- Breitbart - 2/6/2021)
Hypocrites! Govt Shuts Down Canadian Church Days After Being Caught Breaking Their Own Rules. (Protestia - 5/6/2021)
No Masks, No Distancing – The Disgraceful Covid Hypocrisy of the G7 Elite. (James Delingpole - Breitbart - 12/6/2021)
Urgent !! Vous doutiez de la mascarade ?? En Voici la preuve !! Réveillez-vous bordel !! (Profession-Gendarme - 13/6/2021)
The G7 and the arrogance of Covid theatre - Politicians know how pointless many Covid rules are. But they still expect the rest of us to follow them. (Fraser Myers - Spiked - 14/6/2021)
Report: California 'Fully Re-Opens' with Many Restrictions Still in Place. (Penny Starr - Breitbart - 15/6/2021)
Party dans la rue pour un gain du Canadien [équipe de hockey à Montréal]. (Samuel Grenier - FaceBook - 21/6/2021) -> et le silence radio des politiciens ou grands médias, eux qui protestaient haut et fort les manifestations anti-covid...
"Vaccins" : le double langage du gouvernement. (Alain Tranchant - FranceSoir - 23/6/2021) -> France
The hypocrisy of Matt Cockblock: His lockdown rules kept couples apart. Now he's been caught with his trousers down. (Tom Slater - Spiked - 25/6/2021)
Make-a-Wish Foundation will only grant wishes to terminally ill children who are fully vaccinated. (Paul Sacca - The Blaze - 26/6/2021)
Jailed Canadian Pastor Alleges Double Standard For Muslims Regarding Lockdown Enforcement: "...their heads would be chopped off." (Jon Brown - DailyWire - 27/6/2021)


Corruption sans limites [des élites d'Occident]
(Aldo Sterone - YouTube - 18 minutes - 27/6/2021)


Les séries du Canadien révèlent au monde entier l'absurdité des mesures sanitaires québécoises. (Félix Racine - QuebecNouvelles.info - 3/7/2021)
Was it Personal? Health Minister that ordered GraceLife Church Shut Down Was President of Atheist Club. (Protestia - 4/7/2021)
Ex-Planned Parenthood CEO Is Not 'Pro-Choice' When It Comes To Vaccine Mandates. (Haley Strack - The Federalist - 12/7/2021)
CONFIRMED: UK's Return to 'Freedom' Will See Continued Use of Masks, Government Tracking and Introduction of Vaccine Passports: It's the complete antithesis of freedom. (Steve Watson - Summit News - 13/7/2021)
Fauci on L.A. Mask Mandate: One Might Want 'Extra Degree of Protection' – Not Worried It'll Hurt Trust in Vaccine Efficacy. (Ian Hanchett - Breitbart - 17/7/2021)
On 'Freedom Day', Boris Johnson Announces Mandatory Vaccine Passports: Oh, the irony. (Paul Joseph Watson - Summit News - 19/7/2021)
HIV, herpès, gastro, grippe… Le pass sanitaire doit d'urgence être étendu à d'autres pathologies ! (Erwan Lubovski - FranceSoir - 20/7/2021)
Never-Ending Leftist Hypocrisy: Leftism and hypocrisy are now fully synonymous. (Bill Muehlenberg - 22/6/2021)
"Doesn't Apply": MPs Exempt Themselves from Vaccine Passport in the House of Commons: "It would be outrageous if the executive were to attempt to prevent any Member of Parliament attending this House to represent our constituents without first undergoing a medical procedure." (Caldron Pool - 23/7/2021)
Billionaires Segregate Themselves on Luxury Private Islands as Ordinary People Told They Can't Travel Neo-feudalism: The elite is hiding out from the devastation their policies have caused. (Paul Joseph Watson - Summit News - 23/7/2021)
Fauci: Bringing Back Mask Mandates Is 'Under Active Consideration'. (Pam Key- Breitbart - 25/7/2021) -> National Institute of Allergy and Infectious Diseases head Dr. Anthony Fauci said Sunday on CNN's "State of the Union" that mask mandates for vaccinated Americans was "under active consideration."
Why is The CDC Quietly Abandoning The PCR Test For COVID? (Tyler Durden - ZeroHedge - 25/7/2021)
Former acting ICE director slams Biden for restricting travel while border is 'wide open' for COVID-positive migrants. (Chris Pandolfo - The Blaze - 26/7/2021)
"The CDC just raised its travel advisory warning to Level 3 for one of the most vaccinated countries in the world—Israel. "We need to emulate vaccine distribution in Israel…but it's too dangerous to travel there." (James Todaro, MD - Twitter - 26/7/2021)
CDC to Reverse Course, Recommend Masks for Vaccinated People. (Wendell Husebø - The Blaze - 27/7/2021)
'Vaccines Work. This Sign Says That They Do': Peter Doocy Challenges Jen Psaki on Mask Mandates For Vaccinated People. (Virginia Kruta - Daily Caller - 27/7/2021)
Medical Doctor Responds to Health Minister Calling the Unvaccinated "Extremely Selfish": "...despite one-third of the Australian population being obese, the doctrine of 'fat acceptance,' never once condemned by these bureaucrats, has taken off even more impressively than their BMIs." (Caldron Pool - 29/7/2021)
Trans Activists Object to Vax Pass Because It Would Reveal Their Gender. (Chris Tomlinson - Breitbart - 31/7/2021)
«Un ton grave et catastrophique»: le préfet de Guadeloupe filmé donnant des instructions polémiques – vidéo. (Youlia Zvantsova - FR.SputnikNews - 3/8/2021)
Safety For me But Not For Thee: Rep. Cori Bush Justifies Her Private Security Before Demanding to Defund The Police. (Evita Duffy - The Federalist - 5/8/2021)
One Rule For Us… Google Co-Founder Allowed To Enter Country With Closed Border While Others, Including Citizens, Were Blocked: Elites making their own rules amid pandemic. (Steve Watson - Summit News - 5/8/2021)
Mandatory Vaccinations Undermine Roe v. Wade and Choice Suddenly Democrats no longer subscribe to "my body, my choice." (Jeffrey Lord - The Spectator - 5/8/2021)
If They Want Compliance, Officials Should Follow Their Own Rules: History shows that true leaders choose to suffer alongside those they lead, as did Alexander the Great. Democrats should take note. (Robert Busek - The Federalist - 6/8/2021)
Pro-lockdown bureaucrats seemingly 'immune' from the effects of restrictions. (Sky News - 6/8/2021)
'Your body, my choice' is the new guiding principle. (Daniel Horowitz - The Blaze - 9/8/2021)
Dr. Fauci complains about Sturgis motorcycle rally — but somehow misses Obama's birthday bash. (Chris Enloe - The Blaze - 9/8/2021)
MSNBC Host: It Was OK To Be An Anti-Vaxxer When Trump Was President: "If a psychopath is telling you, this vaccine is what you should take, there's a good reason not to trust that." (Steve Watson - Summit News - 10/8/2021)
Liberal Hypocrisy: Private Jets Clogged Martha's Vineyard Airport Ahead of Obama's Maskless Party. (Tyler Durden - ZeroHedge - 10/8/2021)
Macron Says Showing Police Your Papers to Visit a Cafe is About "Freedom": Orwell rolls in his grave. (Paul Joseph Watson - Summit News - 11/8/2021)
Russell Crowe Slammed for Shooting Movie in Locked Down Australia: 'People Can't See Family … But 'A-Listers' Producing Movies Is Essential?' (David Ng - Breitbart - 12/8/2021)
'Save Our Paychecks' Tour to Expose Democrat Policies Leveling Small Businesses: 'I thought if I ever lost my business, I would've lost it in an earthquake,' Kious said. 'Never did I ever think that I would've lost everything I worked for to leftist politics.' (Haley Strack - The Federalist - 13/8/2021)
Nancy Pelosi torched for swanky maskless Napa Valley fundraiser: 'It's utter hypocrisy'. (Paul Sacca - The Blaze - 22/8/2021)
'My Body, My Choice' Was Always A Lie, And Injection Mandates Prove It: The raw abuse of authority shows that the actual agenda is often 'my choice, your compliance,' whether the issue is abortion, COVID-19, or anything else. (Kristan Hawkins - The Federalist - 23/8/2021)
In Viral Video, Fed Up Mother Unloads On Kafka-esque School Mask Rules. (Haley Strack - The Federalist - 24/8/2021)
Dr. Fauci moves the goalposts again, says US could return to 'normal' by spring 2022 — IF vaccination rates increase. (Sarah Taylor - The Blaze - 24/8/2021)
Will Doctors Refusing Service For Unvaccinated Patients Also Refuse Treatment For Obese People? (Tristan Justice - The Federalist - 25/8/2021)
How not to talk to a science denier A Harvard professor's new book is filled with sneering conceit. (Tom Chivers - UnHerd - 31/8/2021)
ACLU Says the State Forcing People to Take Vaccines is a Victory For Civil Liberties: Good God... (Paul Joseph Watson - Summit News - 2/9/2021)
House of Lords Member Asked Why Brits Are Forced to Take PCR COVID Tests on Returning to UK But Illegal Migrants Aren't Brits face harsher restrictions than foreign asylum seekers. (Paul Joseph Watson - Summit News - 3/9/2021)
Australians erupt after PM takes advantage of COVID double standards to see family while millions remain in lockdown: 'What a disgrace of a leader'. (Phil Shiver - The Blaze - 7/9/2021)
The ACLU, Prior to COVID, Denounced Mandates And Coercive Measures to Fight Pandemics. (Glenn Greenwald - ZeroHedge - 8/9/2021)
Biden's COVID-19 vaccine mandate for 100 million Americans doesn't apply to illegal immigrants. (Paul Sacca - The Blaze - 10/9/2021)
Biden, Fauci, Pelosi, & Newsom All Objected to Mandatory Vaccines. (Tyler Durden - Zero Hedge - 10/9/2021)
Health Minister Says He's Not Concerned About Crowds Gathering at the Beach After Rejecting Church's Request for Outdoor Service. (Caldron Pool - 11/9/2021)
Today, Fauci Is Worried About A 'Monster Variant.' But Watch What He Said Last Week. (Ben Johnson - DailyWire - 14/9/2021)