Peu importe ce que l'on peut penser de la mortalité due au Covid19, je pense qu'il faut constater que dans l'histoire de la médecine, même en examinant les événements d'épidémies beaucoup plus mortelles du passé, il n'y a aucun précédent pour toutes les restrictions extraordinaires imposées depuis l'apparition du Covid19. Dans aucun cas antérieur a-t-on procédé au confinement de populations en santé non seulement sur le plan régional, mais aussi national et continental. Ça, c'est complètement sans précédent et sans justification médicale... Par exemple on estime que la pandémie grippale de 1918-19, ou grippe espagnole, a causé de 20 à 50 millions de morts selon l'Institut Pasteur. À l'époque les mesures sanitaires sont prises ville par ville. Il n'est donc pas question de mesures nationales et encore moins continentales. Et si on rejette l'affirmation que le pandémie justifie les mesures de confinement des populations en santé alors inévitablement cela pose la question à QUI ces mesures sont jugées utiles ? En toute logique ces mesures doivent servir des objectifs autres que médicaux. Lesquels? Évidemment si on place notre confort au sommet de nos valeurs, alors toutes ces questions ne se posent pas...
(Paul Gosselin - mai 2020)

Qu'en sera-t-il si la confiance du peuple dans les médecins et le système de santé servait d'arme contre le peuple??
Les articles sont en ordre chronologique croissant (plus vieux d'abord)
---
Médecins et scientifiques pas d'accord sur la gravité du Covid19 ou l'utilité du confinement.
Coronavirus: Why masks don't work: Quebec's public health director and medical experts say they can do more harm than good. (René Bruemmer - Montreal Gazette - 18/3/2020) - > featuring comments by Horacio Arruda.
How to understand – and report – figures for 'Covid deaths'. (Dr John Lee - The American Spectator - 29/3/2020)
Le nombre de décès lié au Covid19 est "considérablement surestimé". (Kit Knightly - Le-Blog-Sam-La-Touch - 6/4/2020)
La panique générale autour du coronavirus n'est pas justifiée. (P.C. Gøtzsche - Dr. Marc Girard - 15/4/2020 - traduction)
Dr John Lee : "Il n'existe aucune preuve que le confinement fonctionne". (SOTT - 20/4/2020)
The Superstition of 'Science': Can the media's favorite experts predict the pandemic's future? (Robert Stacy McCain - The American Spectator - 20/4/2020)
There is no empirical evidence for these lockdowns: Comparing US states shows there is no relationship between lockdowns and lower Covid-19 deaths. (Wilfred Reilly - Spiked - 22/4/2020)
Herd Immunity, Not Herd Mentality. (Michael Egnor - EvolutionNews - 28/4/2020)
Big Tech's Big Brother Moves: YouTube and Facebook can't act as purveyors of public forums while banning legitimate opinions they don't like. (Scott McKay - The American Spectator - 1/5/2020)
Germany's Bild Newspaper Says 'Lockdown Was a Huge Mistake'. (Thomas D. Williams, Ph.D. - Breitbart - 11/5/2020)
How Becoming A Partisan Weapon Will Destroy Medicine: Our country is in trouble. Mutually exclusive worldviews now hinder the quest for scientific truth. The accelerated politicization of medicine has me more concerned than ever. (Gregg Schmedes - The Federalist - 12/5/2020)
We Need to Stop Running From the Virus: A North Carolina Congressman and Physician Explains Why. (Greg Murphy - The American Spectator - 13/5/2020)
Surveillance de l'épidémie ? Une atteinte au secret médical et à la vie privée. (Gènéthique - 15/5/2020)
Doctors raise alarm about health effects of continued coronavirus shutdown: 'Mass casualty incident'. (Tyler Olson - Fox News - 20/5/2020)
Over 600 doctors send letter to Trump urging an end to lockdowns, calling it a 'mass casualty incident': 'Exponentially growing health consequences'. (Phil Shiver - The Blaze - 21/5/2020) -> Examine les CONSÉQUENCES du confinement.
Physicians: 'Forcing Healthy Americans to Quarantine Inflicted Devastating Harm'. (Dr. Susan Berry - Breitbart - 22/5/2020)
A Year's Worth of Suicide Attempts in the Last Four Weeks : California Doctor Calls for End to Lockdown. (Tobias Hoonhout - National Review - 22/5/2020)
Who Believes the Lockdowns Were About Science?: Genuine epidemiologists questioned the economic interruptions from the beginning. (David Catron - The American Spectator - 22/5/2020)
Nobel Prize-winning scientist explains why COVID lockdowns may have cost more lives than they saved: 'I think lockdown saved no lives'. (Chris Enloe - The Blaze - 24/5/2020)
Does This CDC Study Deliver the Knockout Blow in the COVID Lockdown Debate? (Matt Vespa - TownHall - 24/5/2020)
How Lethal Is COVID-19 For The Young And Healthy? Military Ships Offer Case Study. (Maclen Stanley - The Federalist - 1/6/2020)
« Le confinement est véritablement l'escroquerie sanitaire du XXIe siècle » selon une étude qui souligne la responsabilité de l'OMS. (Covidinfos - 1/6/2020)
Epidemiologist Who Triggered Worldwide Lockdowns Admits: Without Instituting Full Lockdown, Sweden Essentially Getting Same Effect. (Hank Berrien - Daily Wire - 2/6/2020)
Mortalité toutes causes confondues pendant la COVID-19 : Pas de fléau et une signature probable d'homicide de masse par la réponse du gouvernement. (Denis G. Rancourt – The ResearchGate - 2/6/2020)
The COVID Skeptics Were Right: The cure was worse than the disease. (George Neumayr - The American Spectator - 11/6/2020)
Waking Up To the Cost. (Bionic Mosquito blog - 13/6/2020)
The Coronavirus Mask Charade Continues. (John G. Maguire - American Thinker - 14/6/2020)
Données de santé : l'Ordre des médecins demande la suppression d'un article du projet de loi sur la fin de l'état d'urgence sanitaire. (Gènéthique - 16/6/2020)
Oxford Experts: "There Is No Scientific Evidence For COVID Two-Meter-Rule". (Tyler Durden - ZeroHedge - 18/6/2020)
Covid-19 is far more widespread than we think: Epidemiologist Tom Jefferson on the continued uncertainty around coronavirus. (Spiked - 19/6/2020)
'The lockdown is causing so many deaths': Dr Malcolm Kendrick on the disastrous response to Covid-19. (Spiked - 26/6/2020)
«Personne n'est mort du coronavirus» Des révélations importantes partagées par le Dr Stoian Alexov, président de l'Association bulgare de pathologie. (DeToxNews - 10/7/2020)
New study: Millennials think their risk from COVID-19 is exponentially more than the true threat. (Daniel Horowitz - Conservative Review - 14/7/2020)
Covid-19 : regardez les courbes des décès ! (L'Échelle de Jacob - 14/7/2020)
New study shows 17 years of potential T cell immunity in SARS-infected patients. (Daniel Horowitz - The Blaze - 16/7/2020)
Oxford epidemiologists: suppression strategy is not viable. (UnHerd - 18/7/2020)



COVID-19: Contre-propagande sur TV Liberté par la généticienne Alexandra Henrion-Caude (3/8/2020)
(YouTube - 8 minutes)
Le masque : où, quand, pour qui ? (Dr. Jacques Michel Lacroix - Boulevard Voltaire - 6/8/2020)
Masques faciaux, mensonges et responsables de la santé publique: « Un nombre croissant de preuves ». (Denis G. Rancourt, PhD - Guy Bouiliane.com - 9/8/2020)
Pr Jean-François Toussaint : un scientifique compétent et honnête qui donne un avis objectif et documenté sur le port du masque obligatoire 3 mois après la fin d'une épidémie... (Émission Grandes Gueules - FaceBook - 1:47min)
Le chef du CDC confirme qu'il existe une incitation économique "perverse'' pour les hôpitaux à gonfler le nombre de décès dus au coronavirus. (Edwin Mora - Breitbart/Fawkes News - 11/8/2020)
"Get On With Your Lives!" - Oxford Professor Says "People Have Become Overly Frightened" of COVID-19. (Tyler Durden - ZeroHedge - 24/8/2020)
"On ne meurt pour ainsi dire plus du Covid-19" selon le Docteur Olivier de Soyres. (CovidInfos.net - 25/8/2020)
Les directives du CDC indiquent que le port d'un masque pendant une exposition prolongée au coronavirus n'empêchera pas la contagion. (Salim Laïbi - LeLibrepenseur - 26/8/2020)
"STOP ! Manipulations, masques, mensonges, peur…" un collectif international de professionnels de santé dénonce des "mesures folles et disproportionnées" (26/8/2020)
Un collectif de professionnels de santé a lancé le 28 août un "Message d'alerte international" adressé aux gouvernements et citoyens du monde entier. Parmi les signataires, des médecins de nombreux pays et plusieurs professeurs en médecine dont le microbiologiste et spécialiste en maladies infectieuses et tropicales Martin Haditsh.

Le collectif revient sur la dangerosité réelle du virus, la manipulation des chiffres, le rôle de l'OMS, les conséquences du confinement ou du port du masque, et demande notamment aux gouvernements de "lever toutes les restrictions et les obligations sur les citoyens". Vous pouvez télécharger l'intégralité de cette lettre ici en français, ou ici en anglais.

Les professionnels de santé´ qui le souhaitent sont invités à rejoindre le collectif "United Health Professionnals" en le contactant à l'adresse join.unitedhealthprofessionals@gmail.com
Mask-wearing for schoolkids is a terrible idea: Anyone who has ever worked in a school knows it just won't work. (Ella Whelan - Spiked - 27/8/2020)


Un médecin français dénonce la propagande: "j'ai pas votée pour Rothschild"
[entrevue non-diffusé... avec des journalistes de la chaîne BFM]
(YouTube - 12 minutes - 27/8/2020)

Face à la Covid-19, des professeurs de médecine dénoncent une panique entretenue. (Philippe Oswald - Evangéliques du Bas-Rhin - 27/8/2020)
Oops: It Looks Like the Vast Majority of Positive COVID Results Should Have Been Negative. (Bronson Stocking - TownHall - 29/8/2020)
Coronavirus : un délire collectif ? (Jean-Yves Jézéquel - Mondialisation.ca - 31/8/2020)
Message d'alerte international de professionnels de santé aux gouvernements et aux citoyens du monde. (Cogiito - 2/9/2020)


Médiapart censure un pneumologue lanceur d'alerte !
(La chaîne qui pique ! - YouTube - 7 minutes - 6/9/2020)





Viral Issue Crucial Update Sept 8th: the Science, Logic and Data Explained.
(Ivor Cummins - YouTube - 37 minutes - 8/9/2020)


E-MASK-ulation: How we have been lied to so dramatically about masks. (Patriots 4 Life - 10/9/2020)
Les médecins se manifestent massivement et exigent l'arrêt immédiat de toutes les mesures coronariennes. (DOCS4 - Mondialisation.ca - 11/9/2020)
SRAS-CoV-2 – Lettre ouverte des médecins et des professionnels de la santé à toutes les autorités belges comme aux médias belges. (Médecins et professionnels de la santé belge - Mondialisation.ca - 11/9/2020)


Pas plus dangereux qu'une grippe ! Docteur Rosenberg sur CTV News 14/9/2020
(La chaîne qui pique ! - YouTube - 7 minutes - 21/9/2020)


Covid-19: Do many people have pre-existing immunity? (Peter Doshi - British Medical Journal - 17/9/2020)
Mask Fanatics Have Officially Abandoned Science To Control Your Life: Michigan Gov. Gretchen Whitmer is now requiring people to wear masks while playing sports. 'Experts' say that's dangerous, but mask fanatics apparently know better than those they revered just months ago. (Georgi Boorman - The Federalist - 22/9/2020)
Covid-19. Selon un article du BMJ, de nombreuses personnes auraient une immunité préexistante. (Peter Doshi - Le-Blog-Sam-La-Touch - 21/9/2020)
Les tests de coronavirus au laboratoire de Boston suspendus après près de 400 faux positifs ! C'est le énième laboratoire à produire des centaines – voire milliers -faux positifs qui vont pourtant induire des décisions politiques parfois très graves et lourdes de conséquences économiquement et socialement! (Lelibrepenseur - 24/9/2020)
The making of Britain's Covid catastrophe: A witches' brew of weak leadership, scientific groupthink and the precautionary principle has caused our current crisis. (John Lee - Spiked - 25/9/2020)
Viral Loads In COVID-19 Infected Patients Drop, Along With Death Rate, Study Finds: Researchers find "a downward trend in the amount of virus detected." (Joseph Curl - DailyWire - 27/9/2020)
Il est urgent de changer de stratégie sanitaire face à la Covid-19: Dans cette tribune, près de 250 scientifiques, universitaires et professionnels de santé critiquent la dérive de la politique sanitaire du gouvernement français. (Laurent Mucchielli - MédiaPart - 27/9/2020)
---
Un peu d'histoire médicale pour comparer notre situation
France : « Sur les dix semaines d'épidémie grippale, le nombre de décès en excès est estimé à 21.200 » … en 2017. (Covidinfos - 10/4/2020)
Our Ancestors Would Be Amazed At Our Cowardly Coronavirus Hysteria: The Venerable Bede and his contemporaries knew there are things worse than physical death, which is why their fear in the midst of epidemics was not paralyzing. (Keith Stanglin - The Federalist - 6/5/2020)
Half a century ago stoic Britons battle a similar health crisis without any lockdown. (Asa Bennett - The Telegraph - 2/5/2020)
Time to Stop the Madness: Given what is now known about the coronavirus, governors opposed to ending the shutdown are on a fool's errand. (George Parry - The American Spectator - 11/5/2020)
The last pandemic couldn't even stop Woodstock: The Hong Kong Flu is now largely forgotten because governments didn't use it to disrupt our lives. (Norman Lewis - Spiked - 17/8/2020)
---
Stratégies de gestion/confinement alternatives?
Suède: l'épidémie se termine même sans confinement. (Covidinfos - 23/4/2020)
Et si le confinement n'avait servi à rien pour éviter les morts du COVID-19 ? La Suède pourrait en apporter la preuve. (Jeanne Smits - 30 avril 2020)
Science and liberty over power: Ron DeSantis delivers for the people of Florida. Can anyone say Ron DeSantis for president in 2024? (Daniel Horowitz - The Blaze - 21/5/2020)
---
Et le vaccin (OBLIGATOIRE ou imposé de FORCE???) -> Un vaccin pour les sauver tous...*
The issue of mandatory and forced vaccination in light of COVID-19. (Justice Centre Staff - Justice Centre for Constitutional Freedoms - 7/5/2020) [au Canada]
Will We All Be Forced to Get COVID Vaccines? Even Alan Dershowitz has chosen the coercion route. (Wesley J. Smith - The American Spectator - 20/5/2020) -> Intéressant de constater que ce n'est pas un médecin qui affirme qu'il FAUT appliquer le vaccin à tout le monde, mais un avocat... Un avocat qui croit savoir ce qu'il FAUT sur le plan médical... intéressant...
Experts raise doubts about Oxford University vaccine after it fails to stop Covid-19 in animal trials. (New Statesman - 18/5/2020)
Why Colleges May Be Able To Order Students To Get Covid-19 Vaccinations. (Christopher Rim - Forbes - 20/5/2020)
Breaking: ALL Test Subjects of Bill Gates' Vaccine Got Coronavirus When Exposed. (Pulpit and Pen - 27/5/2020)
Universities may require COVID vaccine when it comes out, begin requiring flu shot. (Jessica Resuta - The College Fix - 16/7/2020)
Trump to mobilize military to deliver COVID vaccine to millions 'very, very quickly': Trump said that a military general is overseeing the logistics of delivering the vaccine once it is developed. (Martin Bürger - LifeSite - 31/7/2020)
Doctors lay out plan to 'punish' people who refuse coronavirus vaccine: 'There is no alternative': 'Simply put, getting vaccinated is going to be our patriotic duty,' and America should consider making it difficult for the unvaccinated to participate in society, three doctors wrote. (Claire Chretien - LifeSite - 11/8/2020)
Moderna Neglected to Disclose Pentagon's Financial Support In Applications For More Than 100 Patents: Darpa is now looking into which patents may have been developed with US government money... (Tyler Durden - ZeroHedge - 30/8/2020)
Hundreds Rally at Massachusetts State House Against Mandatory Flu Vaccine For All Students: "We feel like we have to just comply". (Joseph Curl - DailyWire - 31/8/2020)
Selon la loi sur la Santé publique, Québec peut ordonner et imposer la vaccination de tous ses citoyens. (José Soucy - CMATV - 2/9/2020)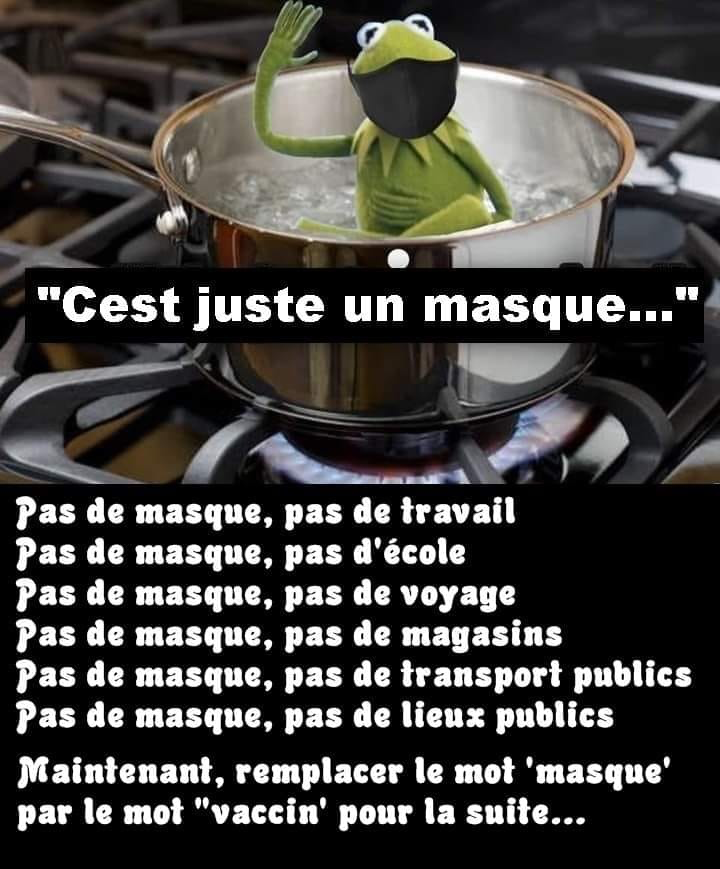 ---
On exploite le Covid19 pour pousser l'Euthanasie?
MAiD lobby using Covid-19 crisis to pressure Canadian governments to force Catholic hospitals to do euthanasia. (Alex Schadenberg - Euthanasia Prevention Coalition - 4/5/2020)
Texas Man with Disability Dies after Doctors Refuse to Treat him for COVID-19. (LiveAction - 26/6/2020)
Stealth euthanasia. How many Canadian seniors with COVID-19 were killed? (Alex Schadenberg - Euthanasia Prevention Coalition - 26/6/2020)
California Governor Newsom forced nursing homes to accept contagious COVID-19 residents. (Alex Schadenberg - Euthanasia Prevention Coalition - 20/7/2020)
---
On prévoit/on a besoin de/ une 2e vague de Covid19?? -> c'est-à-dire Il FAUT entretenir la crise...
94% of Democrats Think A Second Coronavirus Wave Is Coming. (John Carney - Brietbart - 20/5/2020)
The Los Angeles letter mentioned remarks made last week when Ferrer said that absent a COVID-19 vaccine, some form of restrictions would last "the next three months," and Garcetti said the city would "never be completely open until we have a cure." (Source: Justice Department Warns Los Angeles Stay-at-Home Extension Could be Illegal. - Breitbart News)
Health Expert: Mask Wearing, Some Social Distancing Will Continue For 'Several Years'. (Tim Pearce - DailyWire - 7/7/2020)
Will the government ever let the crisis end?: Excess deaths have been below average for five weeks now. So why are we facing new restrictions? (Simon Marcus - Spiked - 29/7/2020)
Anthony Fauci Floats Eye Protection and Masks for Every Flu Season Ever. (John Nolte - Breitbart News - 30/7/2020)
'We're in for a bad and rocky ride:' Ex-WHO doctor who helped eradicate smallpox predicts COVID-19 turmoil for years. (Ken Alltucker - USA TODAY - 3/8/2020)
Dr. Fauci issues dire warning on 'lurking' viruses, says COVID-19 is 'worst-case scenario,' 'worst nightmare.' A professor of virology weighs in without the alarmism. (Sarah Taylor - The Blaze - 7/8/2020)
Joe Biden: I am 'Prepared' to 'Shut' The United States 'Down' to Stop The Coronavirus. (Ryan Saavedra - DailyWire - 21/8/2020)
WHO Chief 'Hopes' "Once-In-A-Century Health Crisis" Will End In Two Years. (Tyler Durden - ZeroHedge - 24/8/2020)
Fauci casts another shadow on recovery, says US won't return to normal until 'end of 2021': Doom and gloom (Phil Shiver - The Blaze - 11/9/2020)
---
Allusion abusive à Tolkien: "One Ring to bind them and in the darkness find them"...