Peu importe ce que l'on peut penser de la mortalité due au Covid19, je pense qu'il faut constater que dans l'histoire de la médecine, même en examinant les événements d'épidémies beaucoup plus mortelles du passé, il n'y a aucun précédent pour toutes les restrictions extraordinaires imposées depuis l'apparition du Covid19. Dans aucun cas antérieur a-t-on procédé au confinement de populations en santé non seulement sur le plan régional, mais aussi national et continental. Ça, c'est complètement sans précédent et sans justification médicale... Par exemple on estime que la pandémie grippale de 1918-19, ou grippe espagnole, a causé de 20 à 50 millions de morts selon l'Institut Pasteur. À l'époque les mesures sanitaires sont prises ville par ville. Il n'est donc pas question de mesures nationales et encore moins continentales. Et si on rejette l'affirmation que le pandémie justifie les mesures de confinement des populations en santé alors inévitablement cela pose la question à QUI ces mesures sont jugées utiles ? En toute logique ces mesures doivent servir des objectifs autres que médicaux. Lesquels? Évidemment si on place notre confort au sommet de nos valeurs, alors toutes ces questions ne se posent pas...
(Paul Gosselin - mai 2020)

Qu'en sera-t-il si la confiance du peuple dans les médecins et le système de santé servait d'arme contre le peuple??

Et si, pour certains, il serait inconcevable que les autorités puissent nous mentir ouvertement au sujet de la gravité du Covid19, il faut songer à QUI on fait affaire, c'est-à-dire les mêmes qui partout en Occident ont ouvert les portes à la destruction du mariage (lois sur le divorce), qui nous ont apporté l'avortement, le mariage gai, qui imposent la propagande LGBT aux plus petits et Drag Queen story time pour les corrompre, et qui depuis longtemps font des démarches pour éliminer les cours de religion au primaire et éroder les libertés religieuses (Canada et France). Ce sont les mêmes qui tentent d'éliminer toute trace d'influence des croyances judéo-chrétiennes en Occident. Ce sont eux qui font avancer le djihad sexuel postmoderne. Ce sont eux qui font la promotion de l'euthanasie (et veulent jouer à Dieu, décidant qui vivra, qui mourra). Ce sont ces intolérants qui étouffent de plus en plus la liberté d'expression. Ce sont ceux-là, nos élites postmodernes, qui sont aux contrôles.
Est-ce raisonnable de penser que ceux-là ne pourraient jamais nous mentir si cela leur semblait utile ? Leur vision du monde postmoderne n'offre aucun obstacle au mensonge...
Les articles sont en ordre chronologique croissant (plus vieux d'abord) / Articles are in chronological order (oldest first, recent articles at the bottom)
Les vidéos affichant cet image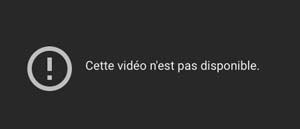 ont été censurés par YouTube depuis leur mise en ligne....
---
Ressources
World Doctors Alliance: Uniting around the world with integrity and right action.



---
Médecins et scientifiques pas d'accord sur la gravité du Covid19 ou l'utilité du confinement.
Coronavirus: Why masks don't work: Quebec's public health director and medical experts say they can do more harm than good. (René Bruemmer - Montreal Gazette - 18/3/2020) - > featuring comments by Horacio Arruda.
CORONAVIRUS, Après les questions, les certitudes ? (Claude MEUNIER BERTHELOT - Volontaires pour la France - 26/3/2020)
How to understand – and report – figures for 'Covid deaths'. (Dr John Lee - The American Spectator - 29/3/2020)
Bill Gates calls coronavirus pandemic a 'nightmare scenario,' but predicts lower death toll than Trump: Gates predicted things won't "go back to truly normal until we have a vaccine that we've gotten out to basically the entire world". (Michael Wayland - CNBC - 5/5/2020) -> VERY strange, Bill Gates pretends to be an epidemiologist...
Le nombre de décès lié au Covid19 est "considérablement surestimé". (Kit Knightly - Le-Blog-Sam-La-Touch - 6/4/2020)
La panique générale autour du coronavirus n'est pas justifiée. (P.C. Gøtzsche - Dr. Marc Girard - 15/4/2020 - traduction)
Dr John Lee : "Il n'existe aucune preuve que le confinement fonctionne". (SOTT - 20/4/2020)
The Superstition of 'Science': Can the media's favorite experts predict the pandemic's future? (Robert Stacy McCain - The American Spectator - 20/4/2020)
There is no empirical evidence for these lockdowns: Comparing US states shows there is no relationship between lockdowns and lower Covid-19 deaths. (Wilfred Reilly - Spiked - 22/4/2020)
Herd Immunity, Not Herd Mentality. (Michael Egnor - EvolutionNews - 28/4/2020)
Big Tech's Big Brother Moves: YouTube and Facebook can't act as purveyors of public forums while banning legitimate opinions they don't like. (Scott McKay - The American Spectator - 1/5/2020)
COVID-19: le doc qui dérange. (Élisabeth Fleury - Le Soleil - 8/5/2020)
Germany's Bild Newspaper Says 'Lockdown Was a Huge Mistake'. (Thomas D. Williams, Ph.D. - Breitbart - 11/5/2020)
Face Masks Pose Serious Risks To The Healthy. (Russell Blaylock, MD - Technocracy.News - 11/5/2020)
How Becoming A Partisan Weapon Will Destroy Medicine: Our country is in trouble. Mutually exclusive worldviews now hinder the quest for scientific truth. The accelerated politicization of medicine has me more concerned than ever. (Gregg Schmedes - The Federalist - 12/5/2020)
We Need to Stop Running From the Virus: A North Carolina Congressman and Physician Explains Why. (Greg Murphy - The American Spectator - 13/5/2020)
Surveillance de l'épidémie ? Une atteinte au secret médical et à la vie privée. (Gènéthique - 15/5/2020)
Doctors raise alarm about health effects of continued coronavirus shutdown: 'Mass casualty incident'. (Tyler Olson - Fox News - 20/5/2020)
Over 600 doctors send letter to Trump urging an end to lockdowns, calling it a 'mass casualty incident': 'Exponentially growing health consequences'. (Phil Shiver - The Blaze - 21/5/2020) -> Examine les CONSÉQUENCES du confinement.
Physicians: 'Forcing Healthy Americans to Quarantine Inflicted Devastating Harm'. (Dr. Susan Berry - Breitbart - 22/5/2020)
A Year's Worth of Suicide Attempts in the Last Four Weeks : California Doctor Calls for End to Lockdown. (Tobias Hoonhout - National Review - 22/5/2020)
Who Believes the Lockdowns Were About Science?: Genuine epidemiologists questioned the economic interruptions from the beginning. (David Catron - The American Spectator - 22/5/2020)
Nobel Prize-winning scientist explains why COVID lockdowns may have cost more lives than they saved: 'I think lockdown saved no lives'. (Chris Enloe - The Blaze - 24/5/2020)
Does This CDC Study Deliver the Knockout Blow in the COVID Lockdown Debate? (Matt Vespa - TownHall - 24/5/2020)
How Lethal Is COVID-19 For The Young And Healthy? Military Ships Offer Case Study. (Maclen Stanley - The Federalist - 1/6/2020)
« Le confinement est véritablement l'escroquerie sanitaire du XXIe siècle » selon une étude qui souligne la responsabilité de l'OMS. (Covidinfos - 1/6/2020)
Epidemiologist Who Triggered Worldwide Lockdowns Admits: Without Instituting Full Lockdown, Sweden Essentially Getting Same Effect. (Hank Berrien - Daily Wire - 2/6/2020)
Mortalité toutes causes confondues pendant la COVID-19 : Pas de fléau et une signature probable d'homicide de masse par la réponse du gouvernement. (Denis G. Rancourt – The ResearchGate - 2/6/2020)
The COVID Skeptics Were Right: The cure was worse than the disease. (George Neumayr - The American Spectator - 11/6/2020)
Waking Up To the Cost. (Bionic Mosquito blog - 13/6/2020)
The Coronavirus Mask Charade Continues. (John G. Maguire - American Thinker - 14/6/2020)
Données de santé : l'Ordre des médecins demande la suppression d'un article du projet de loi sur la fin de l'état d'urgence sanitaire. (Gènéthique - 16/6/2020)
Oxford Experts: "There Is No Scientific Evidence For COVID Two-Meter-Rule". (Tyler Durden - ZeroHedge - 18/6/2020)
Covid-19 is far more widespread than we think: Epidemiologist Tom Jefferson on the continued uncertainty around coronavirus. (Spiked - 19/6/2020)
'The lockdown is causing so many deaths': Dr Malcolm Kendrick on the disastrous response to Covid-19. (Spiked - 26/6/2020)
«Personne n'est mort du coronavirus» Des révélations importantes partagées par le Dr Stoian Alexov, président de l'Association bulgare de pathologie. (DeToxNews - 10/7/2020)
New study: Millennials think their risk from COVID-19 is exponentially more than the true threat. (Daniel Horowitz - Conservative Review - 14/7/2020)
Covid-19 : regardez les courbes des décès ! (L'Échelle de Jacob - 14/7/2020)
New study shows 17 years of potential T cell immunity in SARS-infected patients. (Daniel Horowitz - The Blaze - 16/7/2020)
Oxford epidemiologists: suppression strategy is not viable. (UnHerd - 18/7/2020)
Un médecin antimasque. (Nicolas Saillant - Journal de Québec/TVA Nouvelles - 27/7/2020)


COVID-19: Contre-propagande sur TV Liberté par la généticienne Alexandra Henrion-Caude (3/8/2020)
(YouTube - 8 minutes)
Le masque : où, quand, pour qui ? (Dr. Jacques Michel Lacroix - Boulevard Voltaire - 6/8/2020)
Masques faciaux, mensonges et responsables de la santé publique: « Un nombre croissant de preuves ». (Denis G. Rancourt, PhD - Guy Bouiliane.com - 9/8/2020)
Pr Jean-François Toussaint : un scientifique compétent et honnête qui donne un avis objectif et documenté sur le port du masque obligatoire 3 mois après la fin d'une épidémie... (Émission Grandes Gueules - FaceBook - 1:47min)
Le chef du CDC confirme qu'il existe une incitation économique "perverse'' pour les hôpitaux à gonfler le nombre de décès dus au coronavirus. (Edwin Mora - Breitbart/Fawkes News - 11/8/2020)
"Get On With Your Lives!" - Oxford Professor Says "People Have Become Overly Frightened" of COVID-19. (Tyler Durden - ZeroHedge - 24/8/2020)
"On ne meurt pour ainsi dire plus du Covid-19" selon le Docteur Olivier de Soyres. (CovidInfos.net - 25/8/2020)
Les directives du CDC indiquent que le port d'un masque pendant une exposition prolongée au coronavirus n'empêchera pas la contagion. (Salim Laïbi - LeLibrepenseur - 26/8/2020)
"STOP ! Manipulations, masques, mensonges, peur…" un collectif international de professionnels de santé dénonce des "mesures folles et disproportionnées" (26/8/2020)
Un collectif de professionnels de santé a lancé le 28 août un "Message d'alerte international" adressé aux gouvernements et citoyens du monde entier. Parmi les signataires, des médecins de nombreux pays et plusieurs professeurs en médecine dont le microbiologiste et spécialiste en maladies infectieuses et tropicales Martin Haditsh.

Le collectif revient sur la dangerosité réelle du virus, la manipulation des chiffres, le rôle de l'OMS, les conséquences du confinement ou du port du masque, et demande notamment aux gouvernements de "lever toutes les restrictions et les obligations sur les citoyens". Vous pouvez télécharger l'intégralité de cette lettre ici en français, ou ici en anglais.

Les professionnels de santé´ qui le souhaitent sont invités à rejoindre le collectif "United Health Professionnals" en le contactant à l'adresse join.unitedhealthprofessionals@gmail.com
Mask-wearing for schoolkids is a terrible idea: Anyone who has ever worked in a school knows it just won't work. (Ella Whelan - Spiked - 27/8/2020)


Un médecin français dénonce la propagande: "j'ai pas votée pour Rothschild"
[entrevue non-diffusé... avec des journalistes de la chaîne BFM]
(YouTube - 12 minutes - 27/8/2020)

Face à la Covid-19, des professeurs de médecine dénoncent une panique entretenue. (Philippe Oswald - Evangéliques du Bas-Rhin - 27/8/2020)
Oops: It Looks Like the Vast Majority of Positive COVID Results Should Have Been Negative. (Bronson Stocking - TownHall - 29/8/2020)
Message d'alerte international de professionnels de santé aux gouvernements et aux citoyens du monde. (Cogiito - 2/9/2020)


Médiapart censure un pneumologue lanceur d'alerte !
(La chaîne qui pique ! - YouTube - 7 minutes - 6/9/2020)





Viral Issue Crucial Update Sept 8th: the Science, Logic and Data Explained.
(Ivor Cummins - YouTube - 37 minutes - 8/9/2020)


E-MASK-ulation: How we have been lied to so dramatically about masks. (Patriots 4 Life - 10/9/2020)
Les médecins se manifestent massivement et exigent l'arrêt immédiat de toutes les mesures coronariennes. (DOCS4 - Mondialisation.ca - 11/9/2020)
SRAS-CoV-2 – Lettre ouverte des médecins et des professionnels de la santé à toutes les autorités belges comme aux médias belges. (Médecins et professionnels de la santé belge - Mondialisation.ca - 11/9/2020)


Pas plus dangereux qu'une grippe ! Docteur Rosenberg sur CTV News 14/9/2020
(La chaîne qui pique ! - YouTube - 7 minutes - 21/9/2020)


Covid-19: Do many people have pre-existing immunity? (Peter Doshi - British Medical Journal - 17/9/2020)
Covid Madness. (Dr. Manfred Horst - Lockdown Sceptics - 18/9/2020)
Lies, Damned Lies and Health Statistics – the Deadly Danger of False Positives. (Dr Michael Yeadon - Lockdown Sceptics - 20/9/2020)
The Real Science of Covid. (Lockdown Sceptics - 20/9/2020)
Covid-19. Selon un article du BMJ, de nombreuses personnes auraient une immunité préexistante. (Peter Doshi - Le-Blog-Sam-La-Touch - 21/9/2020)
Mask Fanatics Have Officially Abandoned Science To Control Your Life: Michigan Gov. Gretchen Whitmer is now requiring people to wear masks while playing sports. 'Experts' say that's dangerous, but mask fanatics apparently know better than those they revered just months ago. (Georgi Boorman - The Federalist - 22/9/2020)
Les tests de coronavirus au laboratoire de Boston suspendus après près de 400 faux positifs ! C'est le énième laboratoire à produire des centaines – voire milliers -faux positifs qui vont pourtant induire des décisions politiques parfois très graves et lourdes de conséquences économiquement et socialement! (Lelibrepenseur - 24/9/2020)
The making of Britain's Covid catastrophe: A witches' brew of weak leadership, scientific groupthink and the precautionary principle has caused our current crisis. (John Lee - Spiked - 25/9/2020)
Viral Loads In COVID-19 Infected Patients Drop, Along With Death Rate, Study Finds: Researchers find "a downward trend in the amount of virus detected." (Joseph Curl - DailyWire - 27/9/2020)
Il est urgent de changer de stratégie sanitaire face à la Covid-19: Dans cette tribune, près de 250 scientifiques, universitaires et professionnels de santé critiquent la dérive de la politique sanitaire du gouvernement français. (Laurent Mucchielli - MédiaPart - 27/9/2020)


ADRESSE à M. Olivier VÉRAN Ministre de la Santé.
(Jean-Dominique Michel - YouTube - 5 minutes - 27/9/2020)




Censuré par la presse, Jean François Toussaint clash le gouvernement Macron.
(interview - CNews/ Break Time TV - 7 minutes - 28/9/2020)


Horowitz: Tennessee data exposes the lie of coronavirus panic & masks. (Daniel Horowitz - The Blaze - 29/9/2020)
Elon Musk Says He And His Family Won't Get Covid Vaccine: Says his family's "not at risk," lockdowns did not "serve the greater good". (Joseph Curl - DailyWire - 29/9/2020)
Hold-Up: Film. (Tprod et Tomawak - 3 minutes - 1/10/2020)
La grippe et la pneumonie ont tué 10 fois plus de Britanniques que le coronavirus encore la semaine dernière ! (Aguelid - Le Libre Penseur - 2/10/2020)
The Absurdity of COVID "Cases". (Jeff Deist/The Mises Institute - Tyler Durden/Zero Hedge - 3/10/2020)
The Great Barrington Declaration. (Sunetra Gupta, Jay Bhattacharya & Martin Kulldorff - 4/10/2020) -> version française. (document signé par 33,000 personnel médical et 12,000 scientifiques)
La Déclaration de Great Barrington. (Sunetra Gupta, Jay Bhattacharya & Martin Kulldorff - 4/10/2020)
Covid experts: there is another way: Three eminent epidemiologists met in Massachusetts to plan a better response to the pandemic. (Sunetra Gupta, Jay Bhattacharya & Martin Kulldorff - UnHerd - 5/10/2020)
Crise sanitaire : vers un « humanicide ? ». (Stephen ELLIS, Médecin - Front Populaire - 5/10/2020)
If Lockdowns, Masks and Social Distancing Work, Why Haven't Deaths From Flu and Pneumonia Declined? (LockDown Sceptics - 5/10/2020)
ANOTHER 10 Experts Questioning the Coronavirus Panic. (OffGuardian - 6/10/2020)
Did WHO official just admit that COVID-19 death rate is similar to that of the flu?: It's just what we thought. (Daniel Horowitz - The Blaze - 6/10/2020)
Medical Experts, Scientists Denounce Pandemic Lockdowns, Urge 'Focused Protection'. (Dr. Susan Berry - Breitbart - 8/10/2020)
'Lockdown is a terrible experiment': Harvard epidemiologist Martin Kulldorff on the Great Barrington Declaration and why lockdown harms public health. (Spiked - 9/10/2020)
Traitement du Covid-19 : interdit de savoir. (Dr. Gérard Maudrux [Chirurgien urologue] - 10/10/2020)
Top WHO official to world leaders: 'Stop using lockdowns' to control COVID; 'Terrible, ghastly, global catastrophe': '...making poor people an awful lot poorer'. (Chris Enloe - The Blaze - 11/10/2020)
Covid : questions sur le couvre-feu. (Dr. Gérard Maudrux [Chirurgien urologue] - 15/10/2020)
What SAGE Has Got Wrong. (Mike Yeadon - Lockdown Sceptics - 16/10/2020)
Two Doctors Document Growing Medical Consensus That Lockdowns Make COVID Worse. (Jordan Davidson - The Federalist - 16/10/2020)
Science Findings Can Be Counter-Intuitive: It takes honesty and courage to report findings that don't make sense or go against "common knowledge." (David F. Coppedge - Creation/Evolution Headlines - 17/10/2020)
Peru has the toughest lockdown in the world and still ended up with the worst fatality rate" – We would rather demand crackdowns than accept that we are dealing with something outside our control. (Daniel Hannan - The Telegraph - 18/10/2020)
Herd Immunity To COVID Is Not Reckless. It Would Protect The Vulnerable. (Jay W. Richards, Douglas Axe and William Briggs - The Federalist - 19/10/2020)
America's Frontline Doctors : Sommet des blouses blanches II - Conférence de presse SCOTUS: Anglais avec sous-titres français - October 20th, 2020
Purges covidiennes : chapeau bas au Dr Pascal Sacré, coup de gueule et cri du cœur. (Blogue Jean-Dominique Michel - 24/10/2020) -> discute de l'illusion de la « deuxième vague »...
La stratégie du coronavirus génère intentionnellement l'anxiété et la peur. (SOTT/Kla.tv - 25/10/2020)


Ce collectif résistant récuse l'utilité du reconfinement
(Sputnik France - YouTube - 20 min. - 30/10/2020)
Depuis le 30 octobre, la France est à nouveau confinée. Face à un Président de la République qui s'est voulu pédagogue, Louis Fouché, médecin anesthésie-réanimation au CHU de Marseille et membre actif du collectif «Réinfo Covid», dénonce «une manipulation» et «une politique sanitaire actuelle injuste, inadaptée et disproportionnée».


Dr Astrid Stuckelberger - Conférence. [exposé dans le cadre de la conférence de presse que les Ami.e.s de la constitution ont tenue à Lausanne le 30.10.202] - Viméo - 20 min. -> remise en question des stats de décès et relate quelques magouilles à l'OMS où Stuckelberger a travaiilé... Et Stuckelberger n'est PAS payé par l'industrie pharmaceutique... [le son n'est pas très bon...]
Another COVID-19 'Myth' Busted: Schools Aren't Driving Infection Rates, Study Finds. (Tyler Durden - Zero Hedge - 4/11/2020)


Hold-Up
[mensonges étatiques et médiatiques au sujet du Covid]
(Tprod & Tomawak - YouTube - 2: 38hres. - 5/11/2020)


Joe Biden's Coronavirus Adviser Has Argued That Nobody Should Live Past 75. (Matt Walsh - DailyWire - 10/11/2020)
Why Did New York Have COVID Policy That Killed Elderly Patients?: For all practical purposes, the government directive was essentially an order to spread COVID to people in nursing homes. (Michael Egnor - Mind Matters - 13/11/2020)
New data show hospital levels not much worse than flu season: From watching the news, you'd get the impression that there has never been such a run on hospital bed space in the history of our country. (Daniel Horowitz - - The Blaze - 17/11/2020)
Selon l'ancien président de la commission Covid du Collège royal des médecins et chirurgiens : « C'est le plus grand canular jamais perpétré sur un public sans méfiance ». (SOTT - 18/11/2020)
Landmark Danish study finds no significant effect for facemask wearers. (Prof Carl Heneghan & Tom Jefferson - The Spectator - 19/11/2020)
Health and Safety Breaches at a Lighthouse Lab. (LockDown Skeptics - 20/11/2020)
Les dix pires erreurs décisionnelles dans la gestion du Covid selon les meilleurs experts. (Jean-Dominique Michel - Anthropo-Logiques - 20/11/2020)
If Lockdown Was a Drug, Would We Use It? (LockDown Skeptics - 21/11/2020)
Dr Roger Hodkinson Was a Lockdown Sceptic Back in April. (LockDown Skeptics - 24/11/2020)
Politicians' Attacks on Thanksgiving Gatherings Are Not 'Data-Based,' Epidemiologists Say. (Tim Pearce - DailyWire - 25/11/2020)
Pourquoi tout le monde semble-t-il avoir oublié comment fonctionne le système immunitaire ? Le « terrain », les nutriments essentiels, le Covid-19 et les vaccins. (Dr Alan Palmer/Children's Health Defense - Sott.net - 29/11/2020)
Renowned Doctor Blasts Government Officials: 'Greatest hoax ever perpetrated on an unsuspecting public'. (Justin Plosz - Public Relations Canada - 30/11/2020)
Brase: Mandate won't work because masks don't work: A Registered Nurse says she does not support the latest push for legislation that calls for a national mask mandate. (Chris Woodward - OneNewsNow 2/12/2020)
Claire-Anne Siegrist, vaccinologue, refuse de se vacciner ! (Aguelid/Le LIbre Penseur - 3/12/2020)
Anti-Lockdown Medical Experts Rip Fauci Over 'Erroneous Statements' on Pandemic, Lockdowns: "He really does seem blind to the harms of the lockdown". (Tim Pearce - DailyWire - 8/12/2020)
Whistleblowers Claim Pandemic is The Greatest Hoax Ever Perpetuated on The Human Race. (Dr. Joseph Mercola - Technocracy.News - 9/12/2020)
Rumours of Covid Deaths Have Been Greatly Exaggerated. (LockDown Skeptics - 12/12/2020)


Discerning Truth: COVID-19 Part 1.
(Jason Lisle - Biblical Science Institute - YouTube - 41 min. - 14/12/2020)





L'épidémie, les mutants, les visons et le traitement
Bulletin d'information scientifique de l'IHU - Nous avons le droit d'être intelligents !
Pr Didier Raoult, Directeur de l'IHU Méditerranée Infection.
(YouTube - 18 minutes - 15/12/2020)

Have COVID-19 Lockdowns Saved Any Lives? Let's Take a Look at Federal Data. (Stacey Lennox - PJMedia - 15/12/2020) -> United States
Mask Wearing Can Do Harm: For those who claim to "follow the science," here is a lesson on the difficulty of proving the benefit of a blanket policy. (David F. Coppedge - Creation - Evolution Headlines - 16/12/2020)


Nurse Union from Edmonton Canada, Sharing the Truth about the Hospitals.
(BitChute - 15 minutes - 16/12/2020)


Colorado coroner outraged over 'inflated' COVID death tolls after finding gunshot victims were included in toll: Uh-oh. (Sarah Taylor - The Blaze - 17/12/2020)
Le virus a peur d'attraper le palu ! (Aguelid - Le libre penseur - 17/12/2020)
Lockdowns Do Not Control The Coronavirus: The Evidence. (Tyler Durden/Zero Hedge - The American Institute for Economic Research - 21/12/2020)
Twelve Principles of Public Health. (Tyler Durden/Zero Hedge - Dr. Martin Kulldorff/The American Institute for Economic Research - 21/12/2020)
New Study Shows Mask Mandates Had Zero Effect in Florida or Nationwide, But the Lie Continues. (Scott Morefield - TownHall - 21/12/2020)
"On veut m'abattre" : rassemblement en soutien à Christian Perronne devant l'hôpital de Garches : Mardi 22 décembre 2020, un rassemblement en soutien à Christian Perronne a été organisé devant l'hôpital de Garches (Hauts-de-Seine) où le Professeur n'est plus en fonction. (Maxime Gil - Actu.FR - 22/12/2020)
330,000 Americans Die 'With' China Coronavirus – CDC says Number Who Died "From" Coronavirus Is Much Less, Around 6 Percent. (Joe Hoft - Gateway Pundit - 27/12/2020)
Stanford's Dr. Jay Bhattacharya: Lockdowns Haven't 'Contributed In Any Meaningful Way' To [Reduce] California's COVID-19 Death Toll. (Scott Morefield - Daily Caller - 28/12/2020)
"If The New COVID-19 Strain is More Transmissible, Why Isn't It Taking Over in Every Region?" (Lockdown Sceptics - 30/12/2020)
Abortion Was The Leading Cause of Death in 2020. (Caldron Pool - 3/1/2021)
Première grande étude allemande importante sur les dégâts occasionnés par le port du masque chez les enfants. (Salim Laïbi - Le libre penseur - 4/1/2021)
Abortion Was the Leading Cause of Death Worldwide in 2019, Ending the Lives of Over 73 Million Unborn Babies. (Reformation Charlotte - 8/1/2021)
Canadian expert's research finds lockdown harms are 10 times greater than benefits. (Anthony Furey - Toronto Sun - 9/1/2021)
What They Said about Lockdowns before 2020. (Amelia Janaskie, Micha Gartz - American Institute for Economic Research - 13/1/2021)
Are COVID-19 Patients in Hospital Really Getting Younger? (LockDown Sceptics - 17/1/2021)
The Empirical Case for a Mask Mandate Lacks Scientific Grounding. (Phillip W. Magness - American Institute for Economic Research - 19/1/2021)
New Study Indicates Lockdowns Didn't Slow the Spread of Covid-19. (Ethan Yang - American Institute for Economic Research - 19/1/2021)
Infectious Diseases Expert Says UK Lockdown is Not Working: Infections higher after lockdown went into place. (Paul Joseph Watson - Summit News - 21/1/2021)