While the administrators of permanently increasing power in the past era of moderate imperialism did not even try to incorporate conquered territories, and preserved existing backward political communities like empty ruins of bygone life, their totalitarian successors dissolved and destroyed all politically stabilized structures, their own as well as those of other peoples. (...) However, one should not overlook the fact that Hobbes wanted most of all to protect private interests by pretending that, rightly understood, they were the interests of the body politic as well, while on the contrary totalitarian regimes proclaim the nonexistence of privacy.
(Hannah Arendt - The Origins of Totalitarianism - 1948/1976 pp. 138-139)

There will be no curiosity, no enjoyment of the process of life. All competing pleasures will be destroyed. But always — do not forget this, Winston — always there will be the intoxication of power, constantly increasing and constantly growing subtler. Always, at every moment, there will be the thrill of victory, the sensation of trampling on an enemy who is helpless. If you want a picture of the future, imagine a boot stamping on a human face— forever.
(George Orwell - 1984) -> Ebook

La question ne se limite toutefois pas à l'usage que les régimes totalitaires actuels feront de l'ordinateur. La question est de savoir ce que toutes ces techniques de manipulation disponibles signifieront dans nos propres pays. Nous ne devons pas penser à un changement du jour au lendemain, mais plutôt à une tendance subtile des dirigeants vers un contrôle et une manipulation toujours plus grande de l'individu. Bien sûr, certains pourraient se sentir mal à l'aise face à ce contrôle et cette manipulation accrus à une époque relativiste, mais où traceraient-ils une limite ? Beaucoup de ceux qui parlent de libertés civiles sont également attachés au concept de la responsabilité de l'État de résoudre tous les problèmes ; ainsi, à une époque de pressions de plus en plus fortes (et avec la perte moderne de toute distinction qualitative entre l'homme et le non-homme), à un moment donné, le sentiment de malaise [face aux pertes de liberté] sera submergé.
(Francis Schaeffer - How Should we Then Live?/L'héritage du christianisme - 1976)

"There are no sciences like Sociology. And if I found chemistry beginning to fit in with a secret police run by a middle-aged virago who doesn't wear corsets and a scheme for taking away his farm and his shop and his children from every Englishman, I'd let chemistry go to the devil and take up gardening again."
"I think I do understand the sentiment that still attaches to the small man, but when you come to study the reality as I have to do—"
"I should want to pull it to bits and put something else in its place. Of course. That's what happens when you study men: you find mare's nests. I happen to believe that you can't study men: you can only get to know them, which is quite a different thing. Because you study them, you want to make the lower orders govern the country and listen to classical music, which is balderdash. You also want to take away from them everything which makes life worth living and not only from them but from everyone except a parcel of prigs and professors."
(CS Lewis - That Hideous Strength. 1946) -> Ebook

Lorsque la superstructure (politique, culture, etc.) entrave le développement de la base économique, les transformations politiques et culturelles deviennent la chose principale, décisive.
(Mao Tse Toung - Cinq essais philosophiques/Petit livre Rouge. Éditions en langues étrangères Pékin 1976 pp. 111-112)

Or, les philosophies officielles des régimes totalitaires proclament unanimement que la conception de la vérité objective, une pour tous, n'a aucun sens; et que le critère de la "Vérité" n'est pas sa valeur universelle, mais sa conformité à l'esprit de la race, de la nation ou de la classe, son utilité raciale, nationale ou sociale. Prolongeant et poussant jusqu'au bout les théories biologistes, pragmatistes, activistes, de la vérité, et consommant ainsi ce que l'on a très bien nommé "la trahison des clercs". Les philosophies officielles des régimes totalitaires nient la valeur propre de la pensée qui, pour eux, n'est pas une lumière, mais une arme; son but, sa fonction, nous disent-ils, n'est pas de nous révéler le réel, c'est-à-dire, ce qui est, mais de nous aider à le modifier, à le transformer en nous guidant vers ce qui n'est pas. Or, pour cela, ainsi qu'on l'a reconnu depuis bien longtemps, le mythe est souvent préférable à la science, et la rhétorique qui s'adresse aux passions, à la démonstration qui s'adresse à l'intelligence. Aussi dans leurs publications (même dans celles qui se disent scientifiques), dans leurs discours et, bien entendu, dans leur propagande, les représentants des régimes totalitaires s'embarrassent-ils très peu de la vérité objective. Plus forts que Dieu tout puissant lui-même, ils transforment à leur guise le présent, et même le passé [5]. On pourrait en conclure – et on l'a fait parfois que les régimes totalitaires sont au-delà de la vérité et du mensonge. Nous croyons, pour notre part, qu'il n'en est rien. La distinction entre la vérité et le mensonge, l'imaginaire et le réel, reste bien valable à l'intérieur même des conceptions et des régimes totalitaires. C'est leur place et leur rôle seulement qui sont, en quelque sorte, intervertis: les régimes totalitaires sont fondés sur la primauté du mensonge.
(Alexandre Koyré - Réflexions sur le mensonge - 1943)

Benda explique l'État totalitaire: « où, par définition, la notion de personne et a fortiori de droits de la personne disparaît, l'Etat dont l'âme est cette maxime qu'on pouvait lire sur tous les établissements nazistes : Du bist nichts, dein Volk ist alles, et leur mépris pour l'Etat conçu comme un ensemble de personnes distinctes, revêtues d'un caractère sacré en tant que personnes. »
Et dans une note il pousse plus loin son explication de ce que c'est l'État totalitaire
« On peut encore l'appeler totalitaire (le mot est loin d'être univoque) en ce qu'il exige que la totalité de l'homme lui appartienne, alors que l'État démocratique admet que le citoyen, une fois qu'il a satisfait aux obligations de l'impôt et du sang, connaisse la libre disposition d'une grande partie de lui-même dès qu'il n'use pas de cette liberté pour le détruire : éducation de ses enfants, choix de son culte religieux, droit d'adhérer à des groupes philosophiques, voire politiques, non conformistes. Cette liberté laissée à l'individu est d'ailleurs un grand élément de faiblesse pour l'État démocratique ; mais celui-ci, encore une fois, n'a pour idéal d'être fort. Les systèmes totalitaires ne sont d'ailleurs pas nouveaux. « A Sparte, dit Plutarque, on ne laissait à personne la liberté de vivre à son gré ; la ville était comme un camp où l'on menait le genre de vie imposé par la loi. » (Vie de Lycurgue.) Chose naturelle dans un État où les citoyens étaient, dit Aristote (Politique, II, 7), « comme une armée permanente en pays conquis ». L'exemple de Sparte montre une fois de plus combien l'idée d'ordre est liée à l'idée de guerre. »
(Julien BENDA - La trahison des clercs. 1926 [citations tirés de la Préface à l'édition de 1946] Ebook)

John Wither's plan
"That idea is a survival from conditions which are rapidly being altered. A few centuries ago, war did not operate in the way you describe. A large agricultural population was essential; and war destroyed types which were then still useful. But every advance in industry and agriculture reduces the number of work-people who are required. A large, unintelligent population is now becoming a deadweight. The real importance of scientific war is that scientists have to be reserved. It was not the great technocrats of Koenigsberg or Moscow who supplied the casualties in the siege of Stalingrad: it was superstitious Bavarian peasants and low-grade Russian agricultural workers.The effect of modern war is to eliminate retrogressive types, while sparing the technocracy and increasing its hold upon public affairs. In the new age, what has hitherto been merely the intellectual nucleus of the race is to become, by gradual stages, the race itself. You are to conceive the species as an animal which has discovered how to simplify nutrition and locomotion to such a point that the old complex organs and the large body which contained them are no longer necessary. That large body is therefore to disappear. Only a tenth part of it will now be needed to support the brain.The individual is to become all head. The human race is to become all Technocracy."
(CS Lewis - That Hideous Strength. 1946) -> Ebook

Legally, government by bureaucracy is government by decree, and this means that power, which in constitutional government only enforces the law, becomes the direct source of all legislation. Decrees moreover remain anonymous (while laws can always be traced to specific men or assemblies), and therefore seem to flow from some over-all ruling power that needs no justification. (...) It is true that decrees are used by all governments in times of emergency, but then the emergency itself is a clear justification and automatic limitation. In governments by bureaucracy decrees appear in their naked purity as though they were no longer issued by powerful men, but were the incarnation of power itself and the administrator only its accidental agent. There are no general principles which simple reason can understand behind the decree, but ever-changing circumstances which only an expert can know in detail. People ruled by decree never know what rules them because of the impossibility of understanding decrees in themselves and the carefully organized ignorance of specific circumstances and their practical significance in which all administrators keep their subjects. (...) Rule by decree has conspicuous advantages for the domination of far-flung territories with heterogeneous populations and for a policy of oppression. Its efficiency is superior simply because it ignores all intermediary stages between issuance and application, and because it prevents political reasoning by the people through the withholding of information. It can easily overcome the variety of local customs and need not rely on the necessarily slow process of development of general law. It is most helpful for the establishment of a centralized administration because it overrides automatically all matters of local autonomy. (...)
And it is this pseudomysticism that is the stamp of bureaucracy when it becomes a form of government. Since the people it dominates never really know why something is happening, and a rational interpretation of laws does not exist, there remains only one thing that counts, the brutal naked event itself. (...) One of the most glaring differences between the old-fashioned rule by bureaucracy and the up-to-date totalitarian brand is that Russia's and Austria's pre-war rulers were content with an idle radiance of power and, satisfied to control its outward destinies, left the whole inner life of the soul intact. Totalitarian bureaucracy, with a more complete understanding of the meaning of absolute power, intruded upon the private individual and his inner life with equal brutality. The result of this radical efficiency has been that the inner spontaneity of people under its rule was killed along with their social and political activities, so that the merely political sterility under the older bureaucracies was followed by total sterility under totalitarian rule.
(Hannah Arendt - The Origins of Totalitarianism - 1948/1976 Harvest/Harcourt pp. 243-245)

Alors que nous envisageons la venue d'une élite, d'un État autoritaire, comblant le vide laissé par la perte des principes chrétiens, nous ne devons pas penser naïvement aux modèles de Staline et d'Hitler. Nous devons plutôt penser à un gouvernement autoritaire manipulateur. Les gouvernements modernes ont à leur disposition des formes de manipulation que le monde n'a jamais connues auparavant.* (p. 228)
Nous ne devons pas penser à un changement du jour au lendemain, mais plutôt à une tendance subtile des dirigeants à contrôler et à manipuler davantage l'individu. Bien sûr, certains pourraient se sentir mal à l'aise face à ce contrôle et cette manipulation accrus à une époque relativiste, mais où traceraient-ils leur limite ? Beaucoup de ceux qui parlent des libertés civiles sont également attachés au concept que l'État doit résoudre tous les problèmes ; ainsi, à une époque de pressions écrasantes (et avec la perte moderne de toute distinction qualitative entre l'homme et le non-homme), à un moment donné, le sentiment de malaise sera submergé/étouffé.* (p. 244)
(Francis Schaeffer - How Should we Then Live?/L'héritage du christianisme - 1976)

To the propaganda assertion that all happenings are scientifically predictable according to the laws of nature or economics, totalitarian organization adds the position of one man who has monopolized this knowledge and whose principal quality is that he "was always right and will always be right." To a member of a totalitarian movement this knowledge has nothing to do with truth and this being right nothing to do with the objective truthfulness of the Leader's statements which cannot be disproved by facts, but only by future success or failure. The Leader is always right in his actions and since these are planned for centuries to come, the ultimate test of what he does has been removed beyond the experience of his contemporaries.
(Hannah Arendt - The Origins of Totalitarianism - 1948/1976 Harvest/Harcourt p. 383)

La conception de la liberté autonome de Rousseau se heurta à sa propre description quand il passa de l'individu à la société. Dans le Contrat social, de 1762, il écrit: « Afin donc que le pacte social ne soit pas un vain formulaire, il renferme tacitement cet engagement qui seul peut donner de la force aux autres, que quiconque refusera d'obéir à la volonté générale y sera contraint par tout le corps: ce qui ne signifie autre chose sinon qu'on le forcera d'être libre. » Une fois de plus, un humanisme utopique finit par la tyrannie, soit dans les écrits de Rousseau, soit sous le règne de la Terreur, qui poussa ce point de vue jusqu'à sa conclusion logique. Robespierre, le roi de la Terreur, réglera rationnellement ses actions, en disciple doctrinaire de Rousseau.
(Francis Schaeffer - How Should we Then Live?/L'héritage du christianisme - 1976)

Et alors que ces nouveaux droits d'urgence en voie d'être imposés présentent certaines caractéristiques de systèmes totalitaires, elles nous invitent à nous rassurer (et à avaler docilement la pilule) au motif que, précisément, nous ne sommes pas en dictature. Le débat helvétique est un modèle du genre : la loi Covid prévoit ainsi expressément la possibilité d'imposer une vaccination généralisée - contraire au droit de la santé telle que la déclaration de Nuremberg, au sortir de la guerre et des atrocités nazies, l'avait coulé dans le bronze : nul acte médical ne peut être imposé de force à quiconque contre son gré !
(Jean-Dominique Michel - Anthropo-Logiques - 28/11/2020)

The compulsion of total terror on one side, which, with its iron band, presses masses of isolated men together and supports them in a world which has become a wilderness for them, and the self-coercive force of logical deduction on the other, which prepares each individual in his lonely isolation against all others, correspond to each other and need each other in order to set the terror-ruled movement into motion and keep it moving. Just as terror, even in its pre-total, merely tyrannical form ruins all relationships between men, so the self-compulsion of ideological thinking ruins all relationships with reality. The preparation has succeeded when people have lost contact with their fellow men as well as the reality around them; for together with these contacts, men lose the capacity of both experience and thought.
(Hannah Arendt - The Origins of Totalitarianism - 1948/1976 Harvest/Harcourt pp. 473-474)





Les articles sont en ordre chronologique croissant (plus vieux d'abord)
Les vidéos affichant cet image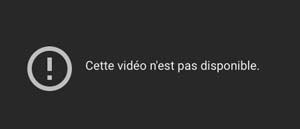 ont été censurés par YouTube depuis leur mise en ligne....
---
Regards sur l'actualité du mois de mars 2020. (Jean-Marc Berthoud - Lausanne - 20/3/2020)
Former UK Prime Minister Calls For Global Government to Fight Coronavirus: Gordon Brown wants new powers for international bodies to deal with outbreak. (Paul Joseph Watson - Summit News - 26/3/2020)
COVID-19 Lockdown: A Global Human Experiment: No matter what's the origin of COVID-19, the response to this virus lead to a series of drastic and unprecedented changes on a global level. The dystopian future is now. Here's how this pandemic created the largest human experiment in history. (Vigilant Citizen - 27/3/2020)
Gordon Brown, envoyé spécial de l'ONU, prône le gouvernement global face au coronavirus, ennemi invisible de l'humanité. (Jeanne Smits - Reinformation.tv - 27/3/2020)
Antonio Guterres présente le rapport de l'ONU qui réclame des solutions « globales » contre le coronavirus en vue du « rebirthing » de la société. (Jeanne Smits - Reinformation.tv - 3/4/2020)
Coronavirus : le rapport de l'ONU qui annonce la globalisation des solutions en vue d'une société plus égalitaire et plus inclusive . (Jeanne Smits - Reinformation.tv - 9/4/2020)
« Laissez-nous mourir comme nous voulons ! » (André Comte-Sponville - Le Temps – Société et culture – 17/4/2020)
La gestion de la crise cache mal une espèce de coup d'Etat de l'oligarchie… (Blog de Liliane Held-Khawam - 30/4/2020)
Darwinism, Totalitarianism, and the Lockdown. (Michael Egnor - Evolution News - 7/5/2020)
How You Can Help Roll Back The Coronavirus Police State: Not everyone seething about the ongoing abuses by local potentates is going to file a lawsuit, but everyone can contribute to a shift in the national mood. (Molly McCann - The Federalist - 12/5/2020)
Totalitarisme sanitaire : "C'est pour ton bien"... Le mal radical. (Ariane Bilheran [normalienne, psychologue, docteur en psychopathologie] - 12/5/2020)
Police State Dry Run a Huge Success. (Carol Brown - American Thinker - 19/5/2020)
Britain's chilling slide into totalitarianism: The arrest of peaceful anti-lockdown protesters heralds a new era of authoritarianism. (James McSweeney - Spiked - 22/5/2020)
Attorney who warns about Big Tech and Big Brother sees big problem. (Chris Woodward, Billy Davis - OneNewsNow - 22/5/2020) Public health officials in a majority of states are sharing information about coronavirus cases with first responders, a privacy issue that is raising concerns with a civil liberties attorney.
Mandatory Masks Aren't About Safety, They're About Social Control: To those looking to benefit politically from emergencies, COVID presents an opportunity to advance plans targeted to transform American freedom and the American way of life. (Molly McCann - The Federalist - 27/5/2020)
Les élites mondialistes se réunissent à Davos pour planifier la « grande réinitialisation » post-COVID. (LifeSite/Paroles de Dieu - 15/6/2020)
Le Covid-19 : la plus vaste opération d'ingénierie sociale de l'histoire ? – Lucien Cerise répond aux questions de Rivarol. (Égalité et Réconciliation - 17/6/2020)
Our Totalitarian Moment. (Ben Shapiro - Jewish World Review - 17/6/2020)
«Nous sommes en train de dériver vers un totalitarisme qui ne dit pas son nom». (Amèle Debey - L'Impertinent - 19/7/2020)
Federal Government sued over refusing to accept passport applications. (Justice Centre for Constitutional Freedoms - 2/7/2020)
If We Don't Fight Back Against Corona Fascism, It Will Never End. (Scott Morefield - Townhall - 12/10/2020)
How to resist the new totalitarianism: Those who fled Communist regimes for the West are hearing terrifying echoes from the past. (Niall Gooch - UnHerd - 12/11/2020)
Federalist Staff: Big Tech Totalitarianism Runs Deeper Than Controlling Social Media. (Jordan Davidson - The Federalist - 12/1/2021)
A lockdown of the mind: Big Tech wants us to outsource all our thinking to the authorities. (Emma Webb - Spiked - 13/1/2021)
---
Stratégies de manipulation / Psy-op manipulation
How Social Engineers Use Weaponized Psychology to Push Unproven Vaccines. (Ben Bartee/The Daily Bell - Zero Hedge - 30/12/2020)
---
Violations de libertés fondamentales, restrictions de la liberté, usurpation du processus démocratique, le gouvernement par décrets et la dictature des technocrates
Je marquerai enfin dans le même ordre une idée dont on peut dire qu'elle est honorée, du moins implicitement, par tous les clercs de l'heure présente, lesquels montrent ainsi – maint d'entre eux, c'est le plus grave, sans s'en douter – leur trahison à leur fonction ; je veux parler de l'idée d'organisation. Cette idée est portée au sommet des valeurs par les docteurs fascistes, communistes, monarchistes comme par les démocrates, ceux-ci, là encore, étant battus d'avance lorsqu'ils prétendent la soutenir au nom de leurs principes, vu que leurs principes en sont la négation. Elle est, en effet, fondée sur la suppression de la liberté individuelle, comme l'a nettement articulé son inventeur déclarant (ce qui me semble indéniable) que la liberté est une valeur toute négative avec laquelle on ne construit rien, ou encore un de ses grands adeptes, par une franchise qu'on ne trouve pas chez tous ses confrères, quand il [Hitler] écrit : « Le dogme de la liberté individuelle ne pèsera pas un fétu le jour où nous organiserons vraiment l'Etat. » [Mein Kampf, p. 91, trad. française.]
(Julien BENDA - La trahison des clercs. 1926 [citation tiré de la Préface à l'édition de 1946] Ebook) -> Pour actualiser le texte de Benda, remplacer le mot clercs par intellectuels, journalistes ou technocrates...


COVID-19 et démocratie, la rétraction du politique. (Étienne Cardin-Trudeau - Le Devoir - 23/3/2020)
Confinement: ce qui change avec le nouveau décret signé par Édouard Philippe. (Hugo Septier - BFMtv - 24/03/2020)
Covid-19 : en Hongrie, le virus emporte la démocratie: Sous couvert de lutter conte la pandémie, Viktor Orban s'est fait voter les pleins pouvoirs pour une « durée illimitée » par le parlement qui a ensuite suspendu ses travaux. (Henri Vernet - Le Parisien - 31/3/2020)
WHO Doctor Suggests Door-to-Door Searches To Find Sick and Then 'Remove Them and Isolate Them'. (Christine Favocci - The Western Journal - 7/4/2020)
Epidémie de COVID-19 : l'expérience du « biopouvoir » ? (Gènéthique - 21/4/2020)
La COVID-19 dangereuse pour la démocratie, dit le lieutenant-gouverneur. (Caroline Plante - La Presse - 22/4/2020)
Les droits en temps de crise – 2e partie. (Louis-Philippe Lampron - ContactUL - 24/4/2020)
Coronavirus COVID-19 : Médecins américains réduits au silence. (Yapasdepresse - 10/5/2020)
Lockdown forever: We cannot allow our freedoms to wither away. (Tom Slater - Spiked - 10/9/2020)
If He's Elected, Biden Will Keep The Pandemic Going To Use Its Power: An erroneous idea is gaining steam on the right: that their consolation prize of a Biden election will be an 'end' to COVID-19. Parties other than Biden have too much invested in the pandemic to let that happen, however. (Georgi Boorman - The Federalist - 15/9/2020)
Don't let Covid kill off democracy: The parliamentary row over lockdown rules exposes the need for a democratic revolution. (Mick Hume - Spiked - 1/10/2020)


Urgence sanitaire et identité numérique.
(Alexis Cossette - Radio-Québec - YouTube - 58 minutes - 20/9/2020)




Doug Ford gov't won't deny COVID-19 quarantine camps are coming to Ontario.
(Randy Hillier - Rebel-News - YouTube - 5 minutes - 9/10/2020)


---
Les propagandistes de l'économie sans argent. (Prélude au 666?) -> ne mentionnent jamais la perte de liberté économique...
Puis je vis monter de la terre une autre bête, qui avait deux cornes semblables à celles d'un agneau, et qui parlait comme un dragon. Elle exerçait toute l'autorité de la première bête en sa présence, et elle faisait que la terre et ses habitants adoraient la première bête, dont la blessure mortelle avait été guérie. Elle opérait de grands prodiges, même jusqu'à faire descendre du feu du ciel sur la terre, à la vue des hommes. Et elle séduisait les habitants de la terre par les prodiges qu'il lui était donné d'opérer en présence de la bête, disant aux habitants de la terre de faire une image à la bête qui avait la blessure de l'épée et qui vivait. Et il lui fut donné d'animer l'image de la bête, afin que l'image de la bête parlât, et qu'elle fît que tous ceux qui n'adoreraient pas l'image de la bête fussent tués. Et elle fit que tous, petits et grands, riches et pauvres, libres et esclaves, reçussent une marque sur leur main droite ou sur leur front, et que personne ne pût acheter ni vendre, sans avoir la marque, le nom de la bête ou le nombre de son nom. C'est ici la sagesse. Que celui qui a de l'intelligence calcule le nombre de la bête. Car c'est un nombre d'homme, et son nombre est six cent soixante-six. (Apoc. 13: 11-18)

Anecdote personnelle:
Quelque temps après le déclenchement du confinement je suis allé dans une pharmacie de la ville de Québec où je voulais payer un petit truc à 3.40$ et la caissière a insisté, il fallait payer avec carte de crédit. J'ai dit non, l'argent liquide c'est l'argent du pays, vous avez l'obligation légal de l'accepter.
Et on a fait venir la gérante, ensuite un agent de sécurité (pour me faire voir la raison). Moi j'ai dit mon argent est là sur le comptoir, si vous ne le voulez pas, donnez moi l'article et je pars avec, mais moi je veux bien payer et je suis prêt à payer. Suffi de ramasser les sous que j'ai mis sur le comptoir. J'ai ajouté que si quelqu'un cherche à payer avec des Yens, Pesos ou des Euros, ils ont tout à fait le droit de refuser, mais au Canada les billets canadiens sont la monnaie du pays et ils sont OBLIGÉS de les accepter. Et pour ce qui est du PRÉTEXTE que les billets sont dangereux pour le covid19, il faut noter que le commerçant ne court aucun risque que le client ne court pas déjà. Le commerçant ne peut en AUCUN cas garantir à 100% que les biens que le client achète ne sont PAS contaminés au Covid19. Si le client DOIT accepter ce risque, alors pourquoi pas le commerçant?? (sans compter que les billets canadiens sont plastifiés et peuvent être lavés tout autant que les pièces métalliques...).
Et derrière ce décor, il faut se poser une autre question: QUI a décrété que les billets ne seraient pas acceptés et est-ce que cette personne a l'AUTORITÉ pour faire un tel décret?? Ce n'est PAS un directeur de Chambre de commerce qui peut décider une telle chose. Ça relève du gouvernement fédéral canadien et personne d'autre.
Même si ce n'est pas tout de suite la vraie marque de la Bête dont il est question dans l'Apocalypse (chap. 13), il reste que se retrouver dans un système où TOUT notre argent devient digital, ça donne immédiatement un pouvoir répressif ÉNORME et EXTRAORDINAIRE à l'État... Même si tu as bossé toute ta vie et que tu as des millions dans ton compte de banque, si par hasard tu déplait à quelqu'un dans le système, avec un clique, tu devient un sans abris (SDF pour les copains hexagonaux)... C'est un moyen de pression et d'oppression EXTRAORDINAIRE.
J'ai d'ailleurs mentionné les conséquences d'une économie sans argent physique à l'agent et il m'a répliqué qu'il ne fallait pas fabuler. Je n'ai pas eu la présence d'esprit de lui dire: « Mais qui sait, tu vas peut-être voir tout ça de tes propres yeux...?? Alors on pourra fabuler ensemble...»
Dix prévisions économiques pour 2030. (Jean-François Codère - La Presse - 4/1/2020) -> voir section: Bye bye, billets -> Et il faut se demander quel est l'intérêt de ceux qui font de telles prédictions... À quoi cela leur servirait si l'argent papier disparaîtrait?? À qui cela serait UTILE??
The death of the wallet: Why we'll soon be combining payments, loyalty cards and ID. (Vince Graziani - TechRadarPro - 26/8/2020) Why we'll soon be combining payments, loyalty cards and ID
A New World Monetary Order Is Coming. (Tyler Durden - Zero Hedge / Stefan Gleason - ActivistPost - 30/10/2020)
Christine Lagarde nous prépare à l'«euro numérique» et au «grand reset». (Jonathan - ExoPortail - 5/11/2020)
Cashless World Signals a Global End to Privacy. (Martin Armstrong - Armstrong Economics - 11/11/2020)
"This Pandemic Was The Final Blow to Our Collective Notion of Money as Something Real". (Tyler Durden - Zero Hedge - 15/11/2020)
The "Great Reset" And Plans For a Global War on Savings. (Daniel Lacalle/The Mises Institute - Tyler Durden/Zero Hedge - 9/12/2020)
---
Mondialisme
Il faut bien s'entendre. Il n'existe pas de "parti politique mondialiste" facilement identifiable avec un programme écrit noir sur blanc, mais les mondialistes existent bel et bien. En effet, si on examine les tendances des grands médias et chez la majorité des politiciens en Occident, on constate une haine et un mépris pour tout ce que représentent les nations autonomes. Et cette haine ne vise, semble-t-il que l'Occident lui-même. Ça ne vise pas l'Afrique ou l'Asie, ça ne vise que les nations occidentales avec leurs vestiges d'influence judéo-chrétienne... Ça c'est la cible. Elle est bien étrange cette haine un peu autodestructrice de l'Occident chez les élites postmodernes. Self-hatred comme disent les Anglais. Une des expressions les plus typiques de cette haine est la condamnation de toute tentative des nations occidentales de gérer l'immigration sur leur territoire. On culpabilise à fond les nations occidentales pour leur refus d'accepter TOUS les immigrants, mais poser des questions sérieuses sur la gestion des pays que quittent ces immigrants (et remédier aux problèmes sur place), non ça jamais... Ce sont des questions sans intérêt et qui ne se posent pas pour nos élites postmodernes... Et derrière ce mépris du concept de nation, on discerne une soif de pouvoir, toujours plus concentré, toujours plus étendu, toujours plus centralisé... L'autre face de cette pièce de monnaie, c'est le mépris extraordinaire qui cible toute forme de nationalisme, aussi bien le "Make America Great Again" du président américain Donald Trump que le projet Brexit en Angleterre ou les Gilets Jaunes en France...

Power tends to corrupt and absolute power corrupts absolutely.
(Lord Acton - 1887)





Nicolas Sarkozy - Élysée.fr - 2009
(YouTube - 23 secondes)
Source originale, discours du 16 janv. 2009


Ces "élites" qui considèrent que les humains sont une plaie sur terre. (Yacine - MetaTV - 28/9/2014) -> Beaucoup de gens refusent de le croire, mais les personnes les plus influentes du monde et leurs proches, ceux qui pourraient être considérés comme les élites au niveau mondial et leurs assistants, sont convaincus que la surpopulation est la cause principale des problèmes du monde.
The Path to Total Dictatorship: America's Shadow Government and Its Silent Coup. (John W. Whitehead - The Rutherford Institute - 24/10/ 2016)
Tony Blair: 'Our Teams Are Embedded in Governments Around the World'. (Kurt Zindulka - Breitbart - 10/5/2020)
Has the post-Covid future already been decided?: Few will have heard of the 'Great Reset', but it already has the backing of the Davos elite. (Simon Marcus - Spiked - 17/8/2020)
The New Globalism Looks a Lot Like the Old Imperialism. (Liam Richards - Caldron Pool - 24/10/2020)


The Great Reset: Where Do We Go From Here?
(The Conscious Resistance - 17/8/2020 - YouTube - 10 min.)


Globalist Klaus Schwab: World Will "Never" Return to Normal After COVID. (Tyler Durden - ZeroHedge - 11/11/2020)
This Is How the World Economic Forum Wants to Reset You: But you'll have to be at your resilient best. (Itxu Díaz - American Spectator - 14/11/2020)
U.N. Chief Guterres Demands End to Coal-Fired Power in a Reset World. (Simon Kent - Breitbart - 15/11/2020)
The Great Reset Is Trending. Here's Why… (James Delingpole - Breitbart - 18/11/2020)
We've Been Warned About the Great Reset and Technocrat Tyranny. (Bill Muehlenberg - Caldron Pool - 19/11/2020)
John Kerry Talks 'Great Reset': 'We're at the Dawn of Extremely Exciting Time'. (John Binder - Breitbart - 19/11/2020)
---
Idéologie mondialiste / New World Order Ideology
Maurice Strong and the Roots of the Great Reset Agenda. (Matthew Ehret - Strategic Culture Foundation - 25/11/2020)
H.G. Wells' Dystopic Vision Comes Alive With the Great Reset Agenda. (Matthew Ehret - Strategic Culture Foundation - 24/12/2020)




Et jettons un clin d'oeil sur le mépris profond de la démocratie chez nos élites postmodernes (un cas américain)
George Soros – The Face of the 'New World Order' – Targets Trump2020 Campaign. (Jim Kouri - News With Views - 10/4/2020)
Multi-billionaire, America hater George Soros — the public face of the New World Order — has issued fresh instructions to his minions that underscore Soros' growing fear of President Trump. "If things keep going this way, Trump is going to get re-elected. So we've decided to take emergency action," MoveOn wrote to their deep state disciples.
Et en France, on rencontre une attitude semblable pour les Gilets Jaunes. Voici un article intéressant.
Do French Lives Matter?: Where was the outrage when police were maiming protesters in France? (Fraser Myers - Spiked - 2/6/2020)
Dans cet article on compare les attitudes médiatiques (et policières) contrastées. Dans un cas les émeutes aux États-Unis qui ont suivi la mort de George Floyd et, en France, le mouvement de protestation des gilets jaunes... Évidemment les grands médias sont très favorables aux émeutes Black Lives Matter (protestations...) aux États-Unis, mais on constate que le mouvement de protestation des gilets jaunes (généralement non-violent) a été traité avec un très grand mépris justement par ces "grands médias" car les gilets jaunes représentent la perspective du peuple, non pas celle des élites postmodernes...
Ce qui invite inévitablement la question, pourquoi appuyer un mouvement (violent) et rejeter mépriser l'autre (non-violent)? Ou, pour pousser plus loin la question, quel projet idéologique motive ces diverses prises de position??